Spanish Broadcasting System, Inc. (NASDAQ:SBSA) has offered $275 million senior notes for sale. Before closing the offering, SBS might call Berkshire Hathaway (NYSE:BRK.A) and consider four distinct possibilities.
It's the evening of January 31, 2012. Berkshire issued $1.1 billion 5-year senior notes at 1.9%. Leaving aside the question of who in their right mind would accept so little return on corporate debt, there's an opportunity here.
Berkshire has charged its subsidiary Clayton Homes 1% over Berkshire's borrowing cost to finance Clayton's loans. As Warren Buffett explained in his 2003 annual letter,
It's because of our 'every tub on its own bottom' philosophy. We believe that any subsidiary lending money should pay an appropriate rate for the funds needed to carry its receivables and should not be subsidized by its parent. Otherwise, having a rich daddy can lead to sloppy decisions.
If Berkshire would lend to SBS at 1% over its borrowing cost, SBS could pay 3% interest for 5 years. Why might Berkshire do it? Start with a sweetener, sustained earnings, a path to rapid repayment and aligned incentives. If Berkshire would do it, the economics for SBS could be mouthwatering.
A Sweetener
Jeff Benedict recounted how Bill Child bought ads for retailer R.C. Willey in his book, How to Build a Business Warren Buffett Would Buy:
Bill recognized TV as a powerful way to reach new customers all over Utah. He started buying a few spots on all three local network affiliates. Almost immediately, LeGrand Young, the account executive from KSL who handled advertising sales, started dropping by the store on a weekly basis to see Bill in an attempt to persuade him to buy more television spots. KSL enjoyed the largest viewership of the three network stations.

Bill had been paying close attention to KSL's television commercials and had observed that they had a number of prime-time slots filled by advertisements for KSL programming. He couldn't imagine why the station would waste valuable prime-time spots promoting television shows, convincing him that the station must have failed to sell those spots to companies or businesses. That got him thinking.

A television advertisement spot is a lot like a seat on an airplane. Even if a commercial jet has a few empty seats, the plane still takes off. But the airline loses revenue on the unsold seats. Television stations are in the same predicament. The shows must go on whether or not all the ad spots are sold. The next time Bill met with Young, he asked a question: "What happens if the station has ad spots that aren't sold?"

Young explained that the revenue would be lost, confirming what Bill had thought-television ad spots were perishable. So he made Young an offer: R.C. Willey would pay $50 for every unsold spot that normally went for anywhere from $250 to more than $1,000. The prices were predicated on the audience levels. The proposal guaranteed that the station would collect at least some revenue for every advertisement slot that would otherwise generate no revenue for the station.

KSL accepted Bill's proposal, and R.C. Willey started airing a lot more commercials, including some that ran during the evening news and prime-time programming hours on weeknights. The exposure established R.C. Willey all over the state, but particularly in the Salt Lake City market. R.C. Willey's competitors couldn't figure out how Bill could afford to advertise on television so much.
Spanish Broadcasting System runs the most listened-to Spanish language radio station in America, along with radio or television stations in markets with about 40% of the U.S. Hispanic population, per its reports. A sweetener in this loan deal could let Berkshire Hathaway subsidiaries buy some portion of SBS' unsold advertising slots for a nominal amount while the loan is outstanding.
Sustained Earnings
Old media businesses of nearly any kind may be at risk of digital displacement, and yet Spanish radio may have legs. A gentleman who frequented my floor last year listened to Spanish radio on his cleaning cart. I never heard him listening to anything else. While newspaper advertising is in decline, radio advertising may be rising.
"Over the past 20 years, radio advertising has consistently represented approximately 7% of the overall U.S. advertising spending" per SBS' 1/30/2012 8-K report (SEC file number 000-27823 accessed via a subscription to Morningstar's 10kwizard.com).
And the Hispanic U.S. population grew over eight times faster than the remaining U.S. population in 2000-2010 per the same 8-K.
SBS' average radio business EBIT (earnings before interest and taxes) in its last ten annual reports, excluding intangible assets impairment and its television segment, looks similar to its most recent operating income even in a recession:
click to enlarge

A Path to Rapid Repayment
SBS generated a reported $42.4 million EBITDA minus capital expenditures in the twelve months ended September 30, 2011, excluding expenditures associated with a television station acquisition and reported non-recurring items (8-K ibid.). Imagine Berkshire would replace SBS' net debt at 3% for 5 years conditional on SBS' Series B preferred owners tendering the interest-bearing Series B at par.
SBS could then pay $11 million annual interest, leaving $31 million effective pretax earnings on trailing results. SBS has sizable tax assets and may be able to pay out a super majority of its pretax earnings for several years.
A $30 million expected annual dividend for 5 years plus potentially considerable value in SBSA thereafter may be worth over $188 million: $25 per share. SBS could offer 14.7 million shares at $25 when the share price exceeds that, bringing its total common shares outstanding (including conversion of its Series C preferred) to 22 million. Proceeds of the share offering could retire its debt, leaving SBS, at $25 per SBSA share, with a $550 million market capitalization and enterprise valuation for potentially $42 million pretax earnings in a recession. And that's before any earnings contribution from its television division.
Four Possibilities
SBS may:
Reach out to Berkshire and do an innovative deal that absorbs unused advertising slots and fixes SBS' total interest expense at around $11 million annually for 5 years. Initiate a $30 million annual dividend from the balance of SBS earnings: over $4 per SBSA share. See SBSA rise to $25: a $188 million market capitalization. Offer 14.7 million SBSA shares at $25 to retire all debt. Maintain the $30 million annual dividend: $1.36 for each of 22 million future SBSA shares in this scenario. And grow the business debt-free.
Sell the senior notes conventionally leaving SBS a weighted average 8% debt cost. Including $92.35 million of 10.75% Series B preferred, that requires issuing the $275 million senior notes at about 7%. That could leave SBS about $13 million pretax earnings with few taxes given tax assets. Rather than pay down the fixed-rate debt, welcome inflation while starting a $10 million annual dividend: $1.36 per SBSA share. See a teens SBSA share price as earnings continue. Then consider a secondary offering of SBSA shares to retire the pricey interest-bearing Series B.
Forget the senior notes offering and secure a $275 million credit facility at a variable rate that's less than 7% in the near-term. That could leave SBS over $13 million pretax earnings with few taxes payable. Start a $10 million annual dividend: $1.36 per SBSA share. Await a teens SBSA price as earnings persist. Consider a secondary offering of SBSA shares to retire the 10.75% Series B. Then, with interest-bearing obligations reduced to a variable credit facility, issue senior notes fixed at about 7% to replace the credit facility.
A fourth possibility: sell the $275 million senior notes at whatever interest rate financial advisers say is doable now, even about 10%. This could be a regrettable decision that precludes near-term SBSA value of $20-25 per an above course of action. Advisers who commend financing at any price may be conflicted (prioritizing relationships with credit investors over minimizing financing cost), motivated by fees regardless of interest cost or [and] not care about SBSA value.
Management at SBS should care. It's their call.
Tabular View of Figures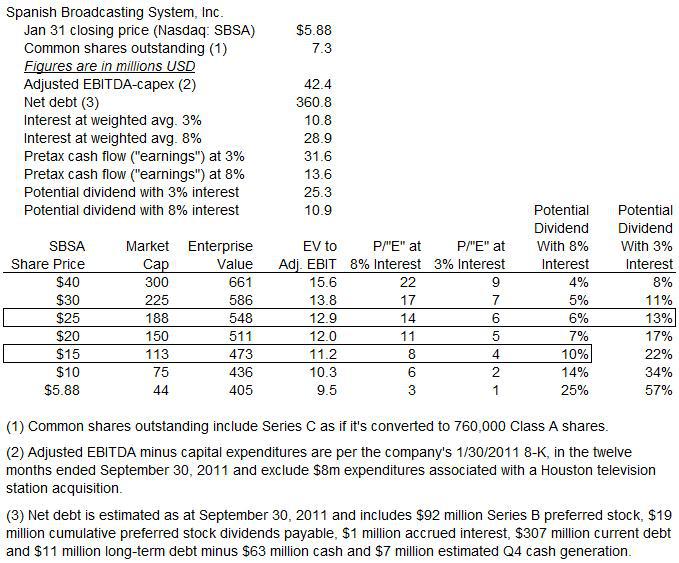 Postmortem
I wrote the above note mostly in the evening of January 31st and morning of February 1, 2012, before seeing SBS' pricing of $275 million senior notes at 12.5%. Thereafter, all accounts that I manage promptly sold all SBSA in the accounts at around $6 per share, acquired for a weighted average $1.5 per share approximately. At $1-3 per share, SBSA looked like a cheap option given some material probability that SBS would refinance its debt at a reasonable sub-10% rate.
Accepting 12.5% on the senior notes appears to leave SBS little if any near-term earnings, little prospect of substantial near-term debt repayment and a challenging 5 years ahead.
It's as if an investment bank estimated the most interest SBS could pay now and priced the 12.5% senior notes accordingly. It may have behooved SBS management to say "heck no" and invite its bank to extend its credit facility at a variable rate not more than about 6% over Libor or to run the business itself.
Businesses with $40 million annual free cash flow need not pay 12.5% on their first dollar of senior debt when banks can borrow at near 1%. Now that SBS faces a weighted average 12.1% cost of $367 million interest-bearing capital ($275 million senior notes at 12.5% and $92.35 interest-bearing Series B preferred shares that cost 10.75%), SBSA looks like an unworthy speculation at any price much above $0.
SBS' 12.5% senior notes offering is scheduled to close on or about February 7th. Maybe it's not too late for SBS management to decline 12.5% notes and to pursue action 1, 2 or 3 under "Four Possibilities" above. I suspect, however, the 12.5% financing is a done deal.
Disclosure: The author manages a limited partnership (LP) and separate accounts (Accounts). The LP has an in-the-money call option on BRK shares. Neither the LP nor the Accounts have any direct position in BRK or SBSA shares (excluding SBSA shares sold with settlement pending). The author does not intend to transact in shares of any company mentioned above in the next 72 hours. The author has never spoken with SBS management. The author left one voicemail for SBS' Chief Financial Officer and one voicemail for SBS' contact Brad Edwards at Brainerd Communicators, Inc. before 10am New York time February 1st, 2012. As of 6pm February 2nd, neither call was returned.