When a biotechnology company receives approval for a new drug, that is almost always a catalyst for a huge rally in that company's stock price. And Amylin Pharmaceuticals (AMLN) is no exception.
On January 27, the FDA announced that it had approved Bydureon, the first weekly diabetes pill for sale in the United States. Amylin's stock has soared on news of the approval, gaining almost 49% over the last 5 days alone.

Click to enlarge
While this is an impressive rally, and we congratulate investors who bought the stock in the previous few days, it is important to keep the rally in context. Over the past 5 years, the stock has lost over half its value, as numerous delays in Bydureon approval and partnership changes have dimmed investor enthusiasm for the stock.

Click to enlarge
We think that there are many better opportunities right now in the biotech space relative to Amylin, and caution investors not to get caught up in the hype surrounding the launch of Bydureon. (We happen to be long Amylin via the First Trust NYSE Arca Biotech Index Fund (NYSEARCA:FBT), which tracks a basket of biotech stocks. As such, we have no control over which stocks are held in this ETF at any given point in time.) Amylin faces numerous issues, which we profile below.
Competition
At its core, Bydureon, known scientifically as exenatide, is essentially a weekly version of Byetta, Amylin's previous diabetes drug, which was dosed daily. The press release announcing Bydureon's approval states as much. In it, Amylin says that, "Bydureon is a long-acting form of the medication in Byetta (exenatide)."
As such, Bydureon brings few meaningful improvements over Byetta, and it faces fierce competition in the diabetes space, especially from Novo Nordisk's (NYSE:NVO) Victoza. While Victoza is dosed daily, those dosings are easier to perform that with Bydureon. What is perhaps more important is that Amylin faces competition from Sanofi (NYSE:SNY). Lixisenatide, Sanofi's developmental diabetes drug is a GLP-1 (glucagon-like peptide-1). And in clinical trials, it has shown to be superior to Byetta in terms of side effects. Bydureon has been plagued with concerns over thyroid cancer and pancreatitis. While lixisenatide is dosed daily, it would not be that difficult for Sanofi to amend it to be dosed weekly, like Bydureon. And given that lixisenatide is superior to Byetta, it would be superior to Bydureon as well, since both Byetta and Bydureon are based on the same biological compounds.
Competition in the biotechnology space is nothing new, and the best companies are the ones that work to mitigate its effects. Vertex Pharmaceuticals (NASDAQ:VRTX) is a prime example. Its hepatitis C drug, Incivek, is the first of its kind on the market, for it improves greatly on existing treatments for hepatitis C. But clinical data from trials of new drugs, which do not need to use interferon, prove that Incivek is inferior to them. Everyone knows this to be true, even Vertex. But, Vertex is not sitting idly by. It is developing its own interferon-free therapies, and even more importantly, it is diversifying. On January 31, the FDA approved Kalydeco, for the treatment of a rare form of cystic fibrosis. Kalydeco has no competitors. In addition, Vertex is rapidly advancing other compounds through its pipeline.
By contrast, Amylin currently sells only diabetes drugs, which face numerous competitors, and its pipeline leaves a lot to be desired. Other than new trials of exenatide, metreleptin (for a rare form of diabetes), and a proclamation of an agreement with Takeda Pharmaceuticals regarding therapies for obesity, Amylin currently has no other products in development. Amylin's competitive position is much weaker than the bulls would like to believe.
Financials
The ironic thing about most biotech companies is that they actually have relatively healthy balance sheets, despite their sustained losses until the drugs they are developing launch (although, to be fair, most bioecths fund themselves with dilutive stock offerings). Amylin, however, has a rather weak balance sheet.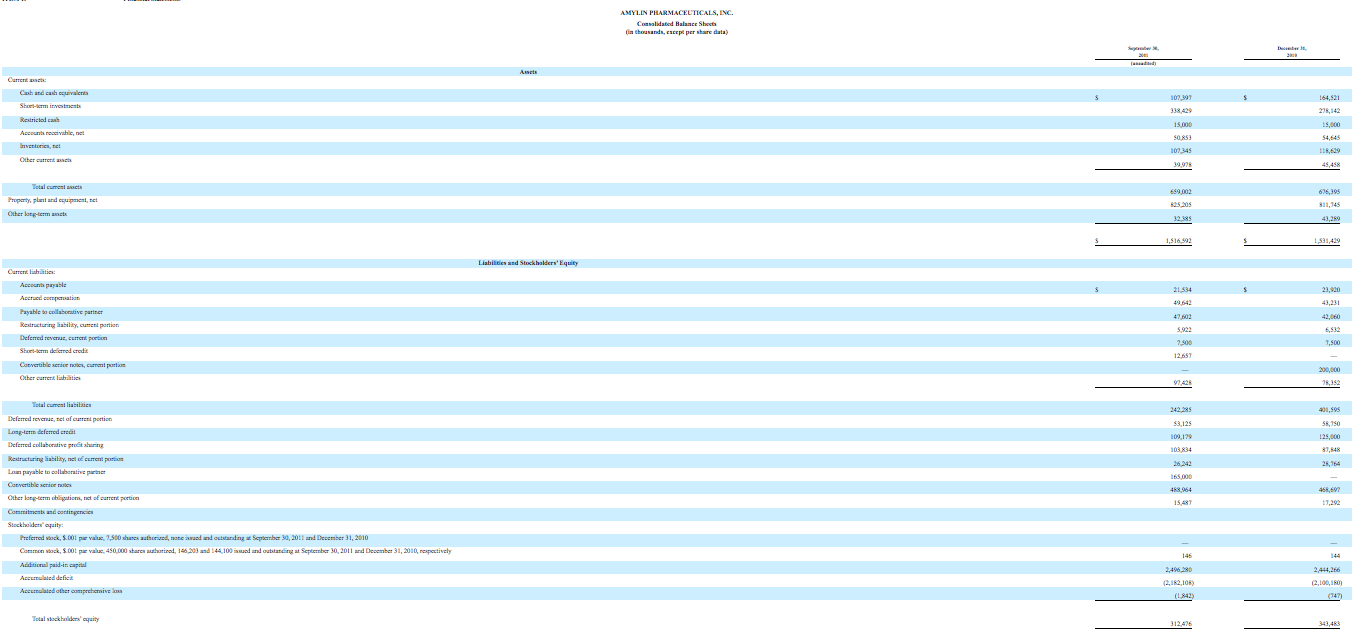 Click to enlarge
Amylin has just over $460 million in cash on the balance sheet ($445 million if restricted cash is excluded), and almost $654 million in debt as of the last quarter. In addition, Amylin owes Eli Lilly (NYSE:LLY), its former Bydureon partner, $1.2 billion in future product royalties. Under the terms of the seperation agreement with Eli Lilly, Amylin must pay 15% royalties until that $1.2 billion milestone has been reached. In an unusual move, Amylin is prepaying the royalties by issuing a $1.2 billion note to Eli Lilly, with future royalty payments offsetting the balance of the note. Amylin has gotten the raw end of this deal. Even though all commercialization and developmental rights (and responsibilities) transfer to Amylin by 2013, it must still pay Eli Lilly the full $1.2 billion in royalties. Amylin's balance sheet will be further strained with the addition of $1.2 billion in new debt. While the Bydureon launch could provide Amylin with new financing opportunities, we see little room for Amylin to finance its road to profitability with anything other than stock offerings, which for long-term holders of Amylin stock is a negative.
Profitability & The Future
Since its founding in 1987, Amylin has never posted a profit, despite having multiple drugs on the market. And in addition to its royalty payments to Eli Lilly, Amylin must also pay 8% of all Bydureon sales to Alkermes (NASDAQ:ALKS), which developed the dosing technology for the drug. Amylin is burdened with billions in debt, and must now market and develop its drugs on its own. While Amylin could succeed, the odds are stacked against it. Most analysts agree that Amylin needs to find a new corporate partner soon to remain a viable company. Bydureon could succeed, but its efficacy and viability are in question. Many trials have shown that Victoza is superior to Byetta and Bydureon, and Sanofi is closing in with its own diabetes drug.
It is true, however, that a takeover could be in the cards, as the approval of Bydureon removed a big overhang and the stock is trading at depressed levels compared to just a few years ago. Piper Jaffray believes that Amylin could fetch up to $33 per share in a takeover (a 68.9% premium from current levels). But by that same token, many other biotech companies are takeover targets (Vertex, Alexion (NASDAQ:ALXN), Human Genome Science (HGSI), etc....), and most have much better fundamentals than Amylin. Going forward, we think the risks surrounding Amylin outweigh any of the potential rewards. Amylin could be successful, and the stock could rise. However, we think there are a myriad of better investment opportunities in the biotech sector.
Disclosure: I am long AMLN, VRTX, ALXN, HGSI, LLY.
Additional disclosure: We are long AMLN, VRTX, ALXN, HGSI, and LLY via a combination of ETF's that invest in the biotechnology and pharmaceutical industries. They are the First Trust NYSE Arca Biotech Index Fund (FBT) and the PowerShares Dynamic Pharmaceuticals Portfolio (NYSEARCA:PJP). In addition, we hold shares of VRTX and ALXN on their own.