About
Hastings Entertainment Inc. (NASDAQ:HAST) is an entertainment retailer. HAST operates around 145 superstores that buy,sell, trade and rent various home entertainment products. These products include; books, music, software, periodicals, DVDs, video games, video game consoles and consumer electronics. HAST also offer "trending" products such as apparel, greeting cards and seasonal merchandise. The company operates in medium sized markets, targeting areas with a population of around 250,000. In fiscal 2010, Hastings did $521 million in revenue.
Value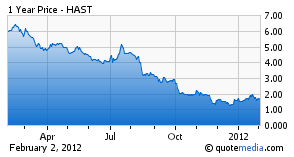 Hastings has generated positive net income over the last ten years and positive FCF over the last five years, while revenues have been decreasing about 2% per year. Fiscal 2010 was a particularly tough year in terms of net income and FCF (FCF was ~$15 million compared to ~$22 million the previous year). Although both were positive they were down about 30% from the previous year. These numbers skewed the annualized negative growth rates but for the purpose of determining if Hastings is undervalued it doesn't matter.
Using a -20% growth rate and 12% and 15% discount rates, Hastings is worth $5.25 or $5.83 per share. I decided on -20% growth because FCF has been decreasing around 13% per year. It was decreasing around 3% per year but the fiscal 2010 numbers were a big drop off. I know these may not be "normalized" but the brick and mortar retailers are facing challenging conditions so I feel using -20% is a logical way to be conservative. This gives us a guide for the low range of value for HAST that we can be comfortable with.
Now, assuming more optimistic conditions of 0% growth, Hastings is worth $11.83 or $14.87 per share. I don't believe this 0% growth is unattainable or that far fetched considering that if the fiscal 2010 FCF had been excluded the CAGR would have been -2% over the previous 4 years. So one of three things will happen. FCF will return to pre 2010 levels (I don't see that happening although I'd be very happy if it did), FCF will hang around the 2010 levels (poorly performing stores will be closed resulting in better number for the performing stores) or lastly growth will continue on negatively which we more than compensated for with the -20% growth rate for the low end of the range of values.
Based on these assumptions I feel comfortable saying HAST is worth somewhere between $5.25 and $14.87. Management is also doing a decent job as CROIC has been around 15% over the last five years. The last value I looked at was net current asset value which comes in at $4.22 per share. The majority, 87%, of this is made up of inventory. This is a large percentage but seeing as Hastings is currently selling for $1.60, NCAV is 2.6x's the current selling price, and as explained above I don't see HAST liquidating anytime soon.
Risks
The main concern with Hastings is the impact of online retailers. Although this is a serious problem it seems that customers are still willing to shop at the store (revenues declining around 3% per year). I have no idea if this will accelerate in the future but the discount being offered more than compensates for this uncertainty in my opinion.
Conclusion
HAST is selling for $1.60. They've maintained positive FCF. Using very conservative numbers it's probably worth somewhere between $5.25 and $14.87. Net current assets per share are $4.22
At $1.60, it's a 62% discount to NCA per share and 69% discount to -20% growth using a 15% discount rate. There is a large margin of safety here using conservative assumptions and if business stabilizes or growth is negative but not 20% the upside is huge. Most logical and conservative assumptions show HAST is worth a good deal more than it's currently selling for.
Disclosure: I have no positions in any stocks mentioned, but may initiate a long position in HAST over the next 72 hours.