The pattern Western Union has been trading in offers a potentially nice profit using an option spread strategy. Here is one that we suggest with nice upside profit with minimal risk.
The Western Union Company (WU) provides money transfer and payment services worldwide. The company's Consumer-to-Consumer segment offers consumer-to-consumer money transfer services through a network of third-party agents using multi-currency and real-time money transfer processing systems. Its services include walk-in money transfer, online money transfer, telephone money transfer, account based money transfer, and mobile money transfer. The company's Global Business Payments segment provides business payments services for consumers to make payments to various organizations, such as utilities, auto finance companies, mortgage servicers, financial service providers, governmental agencies, and other businesses, as well as offers international business-to-business cross-border, and cross-currency payment services.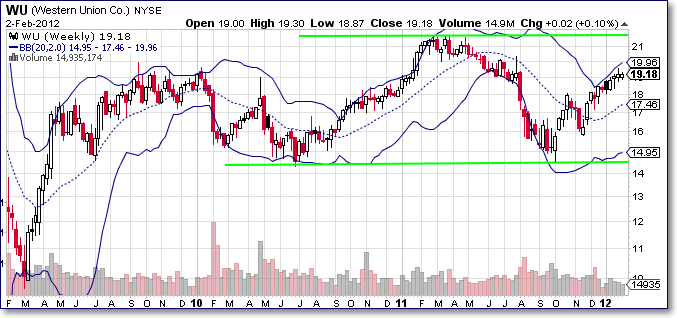 WU has been trading in a zone since the beginning of 2010. A peak and valley formation has has it trading between 15-21. It is now moving up again as we can see on this weekly chart. This gives us the opportunity to notice a nice options trade for 2012 using the support level of 15.
The Option Strategy
Here we like a Bear Put Spread. This type of options strategy is best used when the investor expects a decline in the price of the underlying asset. A Bear Put Spread is achieved by purchasing put options at a specific strike price while also selling the same number of puts at a lower strike price. The maximum profit to be gained using this strategy is equal to the difference between the two strike prices, minus the net cost of the options.
Since it may take WU half way through the year to drop back down to support (provided it continues in the present pattern) we will look into August 2012 Put options. Here is the play we will make:
Buy August 2012 '16' put (presently priced at $0.60)
Sell the August '15' put (presently priced at $0.40)
Here is how the strategy is expected to play out:
Debit Play: (Option bought - option sold) ($.60 - $0.40)= $0.20
Max Risk: (debit) $0.20
Max Reward: (Difference in strikes - debit) (1.00 - .20)= $0.80
There is a nice reward compared to the risk in this type of strategy with WU. It has been very dependable in the pattern we have observed. The rewards are potentially nice while the risk is minimal in a play like this.
Additional disclosure: WU