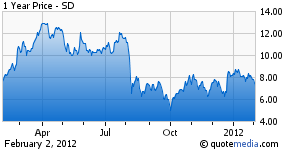 I don't actually own any shares of Sandridge Energy (NYSE:SD) but I follow the company pretty closely. I follow it because at the right price I'd be interested in owning shares, but also because it is a fun company to follow. A Sandridge shareholder from three years ago wouldn't even recognize the company today there have been so many transactions.
Here are the larger Sandridge transactions (that I can recall) from the recent past:
November 2009 - Sandridge acquires for $800 million Forest Oil's (NYSE:FST) Permian Basin property
April 2010 - Sandridge acquires Arena Resources for $1.6 billion
July 2010 - Sandridge sells for $140 million some non-core Oklahoma acreage rights
December 2010 - Sandridge sells for $110 million some Bone Springs assets
February 2011 - Sandridge sells New Mexico properties for $200 million
April 2011 - Sandridge raises $338 million through Mississippian Trust I issuance
August 2011 - Sandridge raises $500 million through Horizontal Mississippian Joint Venture
August 2011 - Sandridge raises $580 million through Permian Trust issuance
September 2011 - Sandridge sells some East Texas properties for $231 million
December 2011 - Sandridge announces $1 billion Horizontal Mississippian Joint Venture
February 2011 - Sandridge announces acquisition of Dynamic Offshore (DOR) for $1.275 billion
Details on these transactions can be found here.
And that excludes all of the preferred equity issuances and debt financing. The investment bankers must love Sandridge Energy.
There have been two phases to all of this deal making so far.
Phase 1 was where Sandridge CEO Tom Ward looked into the future and saw low natural gas prices for a long time to come. Ward realized that his natural gas focused company was going to be in a lot of trouble and went on an acquisition binge to make Sandridge an oil company. Those were the Forest Oil and Arena deals.
Phase 2 was where Sandridge uncovered a great new unconventional play in the Mississippian and bought up as much land as it could on the cheap. This resulted in various asset sales to fund this land grab and the following Mississippian Joint Ventures.
Now apparently there is going to be a third phase, and it is one that shareholders most assuredly did not see coming. And offshore phase. This phase was kicked off with this announcement:
SandRidge Energy, Inc. has entered into an agreement to acquire Dynamic Offshore Resources, LLC for aggregate consideration of $1.275 billion consisting of approximately $680 million in cash and approximately 74 million shares of SandRidge common stock valued at$8.02 per share. These oil rich assets will add reserves, production and cash flow at an attractive valuation that is consistent with the achievement of SandRidge's three year plan to triple EBITDA and double oil production while lowering its debt to EBITDA ratio. Dynamic Offshore Resources operates primarily in water depths of less than 300 feet and their current production is approximately 25 Mboed. Dynamic's year-end 2011 proved reserves are 62.5 MMboe and are valued at approximately $1.9 billion using SEC net present value discounted at 10 percent (PV-10). Of these reserves, 80% of the value and the quantity are proved developed. Approximately 50% of Dynamic's current production and proved reserves consists of oil. The acquisition will be accretive to SandRidge's earnings and cash flow per share as well as improve its leverage metrics.
Yes, Sandridge which has more to do that it can already handle (or pay for) in the Mississippian and Permian basin is making an offshore Gulf of Mexico acquisition. I bet you didn't see that one coming. I know I didn't.
With great interest I tuned into the Sandridge conference call which was held to discuss this acquisition. I wanted to know why this deal made sense for Sandridge.
My take away from the call was basically this. Sandridge actually has a small amount of exposure to the Gulf of Mexico. Last year Sandridge started shopping these assets in order to raise cash for its onshore programs.
What Tom Ward and Sandridge found was that the offers for Sandridge's offshore properties were outrageously low. Generally, the offers Sandridge received were for 1.5 to 2 times cash flow. Sandridge politely declined these offers but upon further investigation found that other companies were actually selling Gulf of Mexico shelf assets for these kinds of prices.
The lightbulb then obviously went off for Ward and Sandridge. Ward wants to make Sandridge as oil focused as possible, and also reduce leverage. The cheapest way to do so right now is apparently buying properties in the Gulf of Mexico. As Ward observed in the conference call, you can't buy production at two times cash flow onshore.
I guess it makes since. All of the action in the oil business today is onshore with unconventional resource plays. That combined with the BP oil spill have made the Gulf of Mexico out of favor.
When I first saw this transaction announced I almost fell off my chair. But after listening to the call I have to say that it sounds pretty sensible. Sandridge has a lot of debt. One way to deleverage is to add cheap oil production which reduces debt to cash flow ratios (even though some debt was incurred for this transaction).
And if you want to create some value, the best position to be in is where you are the only buyer and there are lots of willing sellers. And that is what Sandridge was in this instance as there are few buyers in the market today for Gulf of Mexico reserves.
Ward probably isn't doing himself any favors with the investment community that like a more predictable approach to business. But I like his willingness to take chances and try and create value.
The metrics on the transaction look like this:
Proved reserve PV10 value of $1.9 billion vs purchase price of $1.275 billion
$50,000 per flowing barrel
80% are proved developed and 50% of production and reserves are oil
Sandridge shares are down on the news. If the shares drop a bit further Sandridge might have a new shareholder. Me.
I wonder what Tom will do next?
Disclosure: I have no positions in any stocks mentioned, and no plans to initiate any positions within the next 72 hours.