(Author's Note: This is the third in a series of Premium articles for Seeking Alpha that reviews Sabrient Systems' annual "Baker's Dozen," a list of 13 top-ranked stocks that was presented during a live webcast on Jan. 5th, 2012.)
If you happen to be among those investors who decided to ring in the New Year by filling their portfolio with a "Baker's Dozen" of value-oriented stocks, it may be way too early to celebrate, but no one would blame you if you took a moment to help yourself to a small sip of bubbly.
As of Wednesday's market close, the Baker's Dozen (BD) was up a sturdy 14.8% YTD, compared to 4.8% for SPY over the course of the same time period.
Another popular basket of stocks, the 2012 version of the "Dogs of the Dow," (DOTD) is up slightly less than 4% on the year.
Admittedly, the Baker's Dozen, like the DOTD, is designed as a year-long "Buy and Hold" strategy, and it is impossible to predict how the next 11 months shall unfold. Still, 14.8% is a number that would have to inspire a certain degree of confidence in the picks chosen by David Brown, Sabrient's founder and Chief Market Strategist, which were gleaned from the firm's quantitative models, with an assist from Gradient Analytics, the firm's qualitative division.
And, it certainly would seem to be in step with the BD's past performance, coming in at 36%, 21% and 7.3%, respectively, over the last three years.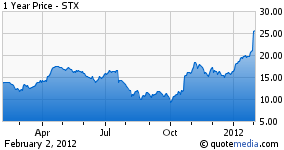 A big reason the Baker's Dozen is performing as well as it is right now is due to Seagate Technology (NASDAQ:STX), which was the top-rated pick on the list. Seagate shot up over 20% on Wednesday, following an early morning earnings announcement that beat both revenue and EPS estimates. STX ended the day at 25.52, up over 50% for the year so far.
So is Seagate a horse that has run its course? Or does it still have some room to run?
If you take a look under the hood, the same fundamentals that enabled it to make it to the top of the BD list remain intact.
STX, the only technology firm on Sabrient's list, is expected to grow earnings by over 160% this year and to average nearly 20% growth per year over the next five years. It has the lowest projected P/E (4.45) among the Baker's Dozen, and it offers a dividend yield of 4.4%.
Seagate's main business is the design and manufacture of hard disk drives (HDD) for a variety of applications, including enterprise servers, mainframes, workstations, desktop and notebook computers, digital video recorders, personal data backup systems, portable external storage systems, and digital media systems.
Of particular note, STX acquired the HDD division of Samsung in December 2011. The fact that Samsung's component manufacturers were untouched by recent flooding in Thailand gives STX, the largest HDD manufacturer in the world, a significant advantage over competitors like Western Digital (NYSE:WDC).
While it is a common trait of investors to chase the boat after missing it, Seagate may stand as a good example of a company with strong enough fundamentals to power this particular vehicle over the course of the year.
Here is a complete list of the Baker's Dozen.
Sabrient Baker's Dozen for 2012

#

NAME

TICKER

SECTOR: INDUSTRY

1

Seagate Technology

Technology: Data Storage Devices

2

Western Refining

Energy: Oil Refining & Marketing

3

Ocwen Financial Corp

Financials: Banking Services & Mortgages

4

Cloud Peak Energy

Energy: Coal

5

Watson Pharmaceuticals

WPI

Health Care: Biotech Pharmaceuticals

6

United Therapeutics Corp

Health Care: Biotech Pharmaceuticals

7

Globe Specialty Metals

Basic Materials: Mineral Resources

8

Dana Holding Corp

Consumer Cyclicals: Auto & Truck Parts

9

AGCO Corp

Industrials: Equipment Manufacturing

10

DXP Enterprises

Industrials: Equipment Service & Distribution

11

Kronos Worldwide

Basic Materials: Chemical Manufacturing

12

United Rentals

Industrials: Equipment Leasing

13

Ameristar Casinos

Consumer Cyclicals: Casinos & Gaming
Disclosure: I have no positions in any stocks mentioned, and no plans to initiate any positions within the next 72 hours.