Unless you happened to be shipwrecked on a deserted island without Internet access, you are probably aware that Facebook (NASDAQ:FB) filed papers with the necessary regulators this past Wednesday, and will be going public sometime in the next several months.
To say that this IPO will be met with enthusiasm is probably a major understatement. It has been so widely anticipated for so long, that it is highly likely that investors will jump on the stock fast and furiously. Whether it is actually a smart investment is a different question, and one that naturally remains to be seen.
However, institutional investors probably will hold off, while retail investors will latch on, regardless of price, because they will have dreams of Google (NASDAQ:GOOG)-like returns of 400% profits in two years.
What may be of greater interest to many Top Gun Options traders is the answer to the question: When will options become available on Facebook stock? It is options, after all, that when used correctly, can give both traders and investors the necessary leverage to take advantage of a particular situation. Usually, it takes a few months before option chains are introduced for IPOs, but with Facebook, don't be surprised if you see them within a month after the stock comes to market.
There is a good chance that the Facebook community will have a certain attachment to the stock that could make it a market darling, if nothing else than for sentimental reasons as opposed to for fundamental ones. For this reason, it may not be too early to start looking at some option strategies that can take advantage of a unique market situation.
How the VIX Fared
As of Thursday afternoon, the VIX (Chicago Board Options Exchange Market Volatility Index) stood at 18.35. Normally, it would be safe to say that a level of support at 18 is being established, but as we are talking about an index that tracks volatility, normal may not apply. However, as a quick glance at a twelve-month chart clearly indicates, the VIX remains within about 20% above its lowest point back in April of 2011.
In other words, if things remain as relatively calm as they have been these last several weeks, you are looking at a 20% downside potential. However, if any sort of problematic event occurs, from eurozone chaos to a natural catastrophe such as Japan experienced last year, the VIX could shoot back up 100% or more over a brief time-frame.
The Washington Post reported on Thursday that Secretary of Defense Leon Panetta fears Israel will attack Iran "in the spring" - April, May, or June. As someone who has sailed the Arabian Gulf, nearly shot down an Iranian helicopter who was heading directly for the USS Abraham Lincoln, and has spent countless hours planning strike missions against Iran, NOT Iraq, I can tell you that I'm amazed Israel has waited this long.
Imagine waking up to the news that Israel has attacked Iran.
It is this "volatile" quality to the index that makes it a perfect hedge against market dives, and right now the price of the options are relatively inexpensive. So, it is an excellent time to pick up some portfolio insurance.
The VXX, (iPath S&P 500 VIX Short-Term Futures ETN) remains as a good vehicle to purchase for this purpose. It is a highly liquid ETF, and the spread on the options are fairly tight, even the relatively far out-of-the-money ones.
On the Options Front
Google (GOOG) took a serious shellacking after earnings were announced two weeks back, shedding over 10% before finding a bit of footing this past week. Will investors start selling off additional shares of the search giant?
Probably not.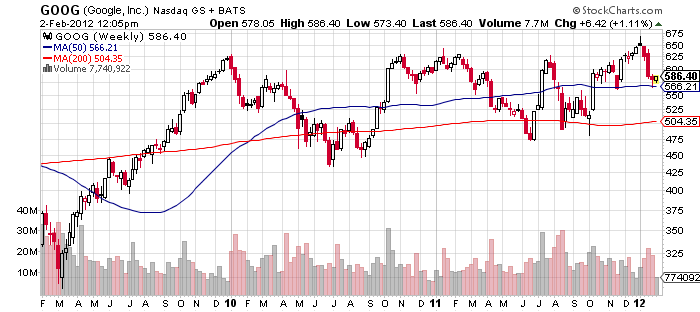 Google retains a huge chunk of the search market, and its pile of cash on hand insulates it from a lot of problems that more debt-ridden companies might face. If you happen to agree with that prognosis, it may be a good time to take advantage of the relatively high volatility built-in to the near month options. A vertical spread could help to achieve that. Here's a trade I'm looking at:
Sell GOOG MAR12 550 PUT
Buy GOOG MAR12 545 PUT
For a credit of 1.05
I'll hold this trade when it achieves 90% of the credit (which likely would occur a few days before March expiration), or, if the trade looks like it is going sour, eject at the 35% loss level and live to fight another day. Happy hunting and make sure you hedge!
Disclosure: I have no positions in any stocks mentioned, and no plans to initiate any positions within the next 72 hours.