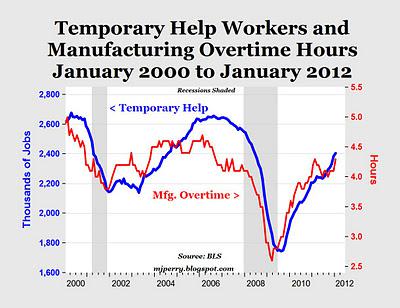 Some highlights of today's employment report:
1. Temporary employment reached a 3.5-year high in January of 2.4 million jobs, the highest level since May 2008 (see chart).
2. Manufacturing overtime hours, at 4.3 hours in January, were at the highest level since 2006 (see chart).
3. Manufacturing companies hired an additional 50,000 workers in January, bringing the 12-month total of new manufacturing jobs to 235,000, and the 24-month total of new manufacturing jobs to almost 400,000.
4. For the eighth consecutive month starting last June, the January manufacturing jobless rate was below the national average rate (not seasonally adjusted).
5. The construction industry has added more than 50,000 jobs in the last two months.
6. Oil and gas extraction employment has increased by 14.2% over the last 12 months to 186,100, the highest level in 20 years.