On Friday, February 3, Weyerhaeuser Company (NYSE:WY) reported net earnings of $65 million for the fourth quarter of 2011, or 12 cents per share, on net sales of $1.6 billion. This is better than was expected and could bode well for similar timber REITs as well as other wood equities.
Other timber REITs include Plum Creek (NYSE:PCL), Potlatch (NASDAQ:PCH) and Rayonier (NYSE:RYN). Also, ETFs such as the iShares S&P Global Timber and Forestry Index (NASDAQ:WOOD) and the Guggenheim Timber ETF (NYSEARCA:CUT) both have large positions in timber REITs as well as traditional corporations.
The recent chart for WOOD: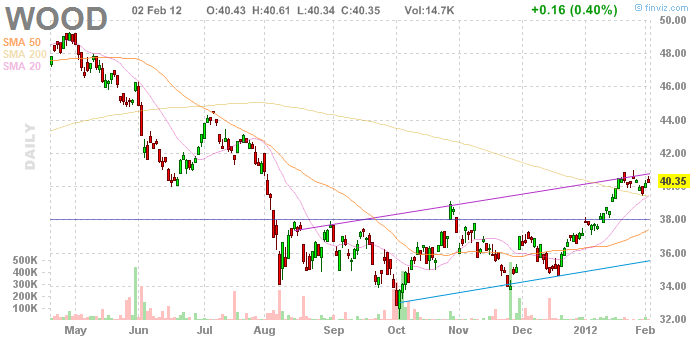 Stronger than expected performance from WY may cause analysts to increase dividend projections, as WY is a REIT. Under current tax treatment, timber REIT dividends are considered long term capital gains. Most REIT dividends are taxed as income. Currently long term capital gains are the lower tax.
Excluding a special tax charge related to restructuring, WY earned another 2 cents per share. WY changed from a corporation to a REIT in 2010 and has continued to take a more land and timber-based position, selling non-core assets and land. REITs distribute at least 90% of their income in order to avoid corporate taxes. Last quarter, WY paid a 15 cent dividend.
This compares with net earnings of $171 million, or 32 cents per diluted share, on net sales from continuing operations of $1.5 billion for the same period last year. Timber REITs are an interesting method of investing in a commodity and obtaining an income stream.
Due to a reduced demand for timber in home-building, prices were depressed. As a result, many timber growers let their trees grow. They will be left with more trees and an older stock, where those older trees may produce superior, high priced wood product at a later date. They could also burn, or get eaten by beetles. Any housing strength would be good for timber.
Both of the listed ETFs hold positions in companies that produce and sell products made from trees, such as paper, packaging, diapers and other common goods.
Disclaimer: This article is intended to be informative and should not be construed as personalized advice as it does not take into account your specific situation or objectives.
Disclosure: I am long WY.