Many have been worried about the oil well services industry's future results with the now evident slow down in natural gas drilling in the US. However, fears of a huge profit drop off in the major drilling services players are overblown.
The natural gas drilling may be slowing down due to the currently very low Nymex futures prices on natural gas ($2.47 at the time of this writing). Companies such as Chesapeake Energy (NYSE:CHK), Occidental Petroleum (NYSE:OXY), ConocoPhillips (NYSE:COP), EnCana (NYSE:ECA), Ultra Petroleum(UPL), and many others are currently substantially cutting back on their natural gas drilling in the hopes that new natural gas will not add to the already considerable glut.
This is definitely decreasing natural gas drilling, but it is not decreasing or even slowing the rise in oil drilling in the new US unconventional oil fields. In fact, net drilling (oil and gas together) is not slowing at all, and as soon as the natural gas slow down effects are over (likely in a few months), net drilling will continue its rapid rise, mostly due to the extremely strong uptrend in oil drilling.
Of course, some companies are little affected by this situation. National Oilwell Varco (NYSE:NOV) is one of those. It has been a leader in consistent growth for some time, and it is showing no signs of faltering. One of the reasons for this is that its business is split between onshore and offshore drilling. It has less exposure to US onshore natural gas drilling to start with, and its offshore business is still picking up after the Macondo well disaster's negative effects on that industry. On top of this NOV is a leader in its field. It is simply the best in many areas of the business.
But the proof is in the pudding. NOV has met or beaten estimates for each of the last four quarters. In Q4 2011 it beat by $0.07 (5.40%), and this was during a time of the natural gas slowdown. On top of this analysts' estimates for NOV are not going down. Three months ago the EPS estimate for FY2012 was $5.89, and now it is $5.90. This is during a time in which the natural gas drilling slowdown has been strongly in place (mostly Q4 2011 and Q1 2012).
When natural gas drilling stops falling, NOV estimates will likely start to rise. It's FY2013 estimates are already doing so. Three months ago the FY2013 estimate was $6.75. Today it is $6.80, and I don't think this is excessive optimism on the part of the analysts. NOV's predicted EPS growth for FY2012 is a healthy 23.70%, and its five year per annum growth is forecast to be 17.50%. You won't be able to go too far wrong investing in this company.
In addition, NOV is actively growing its business. It recently completed the acquisition of a flexible pipe company, from NKT Holding (NKT) and Subsea 7 SA for $673 million. This will be help NOV continue to offer the best products in the business. But this is just the last of NOV's recent positive moves. In August 2011, it announced that it had signed contracts to supply drilling equipment packages for seven drillships for Estaleiro Atlantico Sul, including drilling riser and pressure control equipment. The value of this contract is approximately $1.5B.
In July of 2011 it acquired Ameron International Corp. (NYSE:AMN) for $772 million. This was another strategic acquisition of state of the art technology for the chemical, industrial, energy, transportation, and infrastructure markets. In Jan. 2011 it announced a development agreement with Advanced Coring and Drilling Solutions Inc. (ACDS) of Canada. This was again a move designed to help NOV to maintain its market leading technology position. In addtion NOV says it is close to two new acquisitions. NOV seems to be hitting on all cylinders.
Not surprisingly, NOV was upgraded to BUY from accumulate today by Global Hunter, an accepted expert in the oil and gas space. The reasoning given was the increase in new floater orders and improving PS&S (Physical Structures and Systems) margins. Global Hunter also raised its price target from $78 to $90. This should help the stock rise in the near term.
On top of this, some are now saying that oil well services, which have been depressed by the natural gas slowdown, are now ready to rise. NOV should be one of the leaders in this rise. It is always hard to tell anyone to "at this minute" go out and buy any particular stock. Right now that is more true than ever. No one is sure when the EU credit crisis may blow up in the US stock market's face. Plus the US markets are currently overbought. They have risen more than 20% since the Oct. 2011 low. They are due for a pullback soon. That said, NOV has been a great investment, and its continues to prove itself one. If you are investing long term, you will not go far wrong with this stock.
The five year chart of NOV should show you the best and the worst you can expect, as it includes the US recession.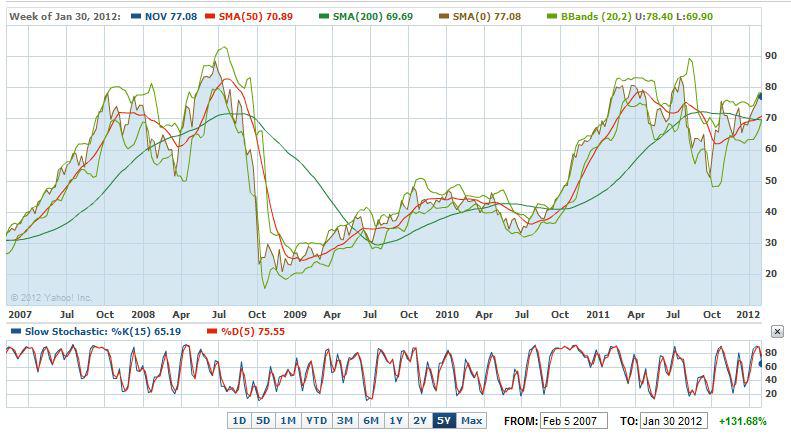 Yes, NOV did get hurt badly by the recession, but the excellent management of NOV likely learned from that experience. The next downturn will be unlikely to affect NOV as much. Plus most economists seem to think that the coming EU recession will not spread to the US. Or if it does, it will have an only very mild effect on the US economy. The going thesis is that the EU recession will only cause a -1% drag on the US GDP, and the US GDP should still remain positive. This should mean a leader in the oil services business should remain healthy, especially with the unconventional oil drilling business in a strong uptrend that shows no signs of weakening. Averaging in is usually a good idea.
If you are not sure you want to buy NOV on a day in which it has been upgraded, but you think the oil well services industry is due for a rebound, you might consider one of the following companies that are all showing flat to upward revisions in their FY2012 average analysts' EPS estimates in the last 90 days: Nabors Industries Ltd. (NYSE:NBR), Weatherford International Ltd. (NYSE:WFT), and Helmerich & Payne Inc. (NYSE:HP) -- perhaps the technologically best land driller. A few others you may want to consider due to their status as market leaders are Halliburton Company (NYSE:HAL), Baker Hughes Inc. (NYSE:BHI), and Schlumberger N.V. (NYSE:SLB).
Disclosure: I have no positions in any stocks mentioned, but may initiate a long position in NOV, NBR, WFT, HP over the next 72 hours.