Today's monthly employment report triggered a strong rally in the stock market. However, digging a little into the numbers published by the Department of Labor shows that the report doesn't look as good as it sounds. Many people focus too much on number of unemployed people and they forget that the important thing is number of employed people rather than unemployed people. For example, if every unemployed person in the country stopped looking for a job, our unemployment rate would be zero, but that would not solve the problem that those people do not have jobs.
Here is a chart showing job participatiio rate from January 2011 to January 2012. Job participation rate refers to number of people who either have a job or actively looking for a job. The number fell sharply in January 2012, which means a large number of people gave up on the job search altogether. It could also be caused by large number of baby boomers starting to retire.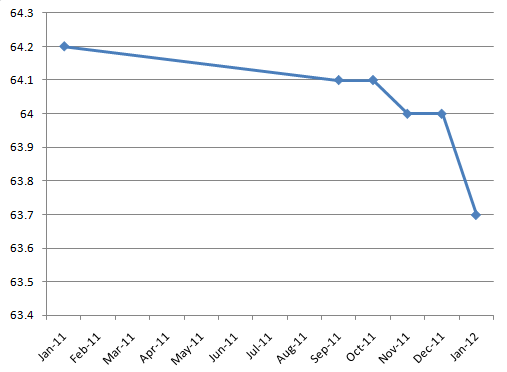 The chart below shows the employment-population ratio. This ratio was 58.4 in January 2011. Currently the rate is 58.5 and it's hasn't changed since November. So, from January to November, employment-population ratio increased by 0.1 and since November, it's been the same. This is not very encouraging about the whole job creation story. Many times, people forget to include population growth when they talk about job creation. Our current job growth barely keeps up with population growth.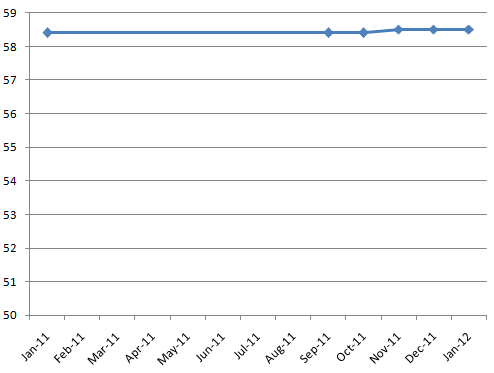 The chart below shows the number of people that are not in the labor force, in millions. This chart includes individuals that are too young or too old to work, but it also includes millions that gave up on the job search.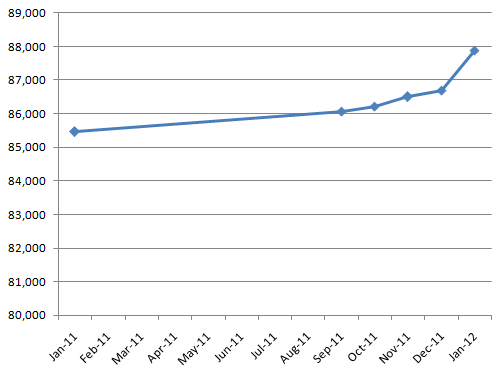 As the chart below shows, the unemployment rate among individuals who have either bachelor's, master's or doctorate degrees has been flat in the last year. When we consider the fact that jobs requiring higher levels of education usually pay more than those that do not, this shows that most of the job creation may not have involved high paying jobs.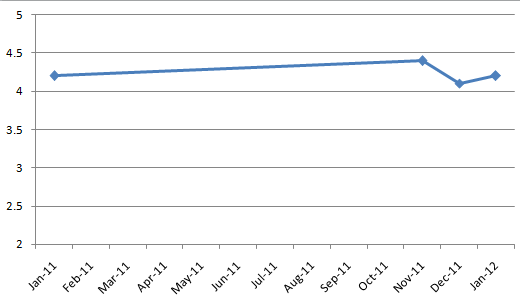 In the last year, full time employees increased from 112.28 million to 113.85 million. This translates to a gain of 1.57 million full time workers and a mere 1.39% raise. The number of part time workers increased from 26.92 million to 27.74 million. This is an increase of 3.05%. This means part time employment has been rising twice as fast as full time employment.
These charts show that in the last year, the employment situation did not change that much. There was some job creation; however, it barely kept up with the population growth. I believe that it is too early to say that employment situation has improved. Investors would benefit from allocating a significant portion of their portfolio to defensive stocks such as Exxon Mobil (NYSE:XOM), Monsanto (NYSE:MON) and 3M (NYSE:MMM). I would stay away from stocks of house builders or construction material producers until there are significant job gains above and beyond population growth.
Disclosure: I have no positions in any stocks mentioned, and no plans to initiate any positions within the next 72 hours.