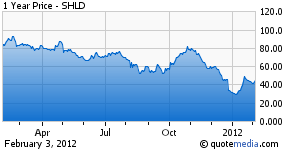 The Bruce Berkowitz 2011 shareholders' letter for Fairholme Funds ignited another spike for Sears' (SHLD) stock. Granted, anything can start a short squeeze in today's market, given how hot it is.
In this case, Bruce Berkowitz simply restated his confidence in Sears and Eddie Lampert:
Sears remains a large position in all of our funds, notwithstanding announcements in late December of falling sales and margins, rising expenses, and write-downs. Investors fled with this New Year's greeting before Chairman Lampert purchased over $150 million of common for his personal account. For many reasons, including management, we continue to believe the assets of this iconic brand to be a multiple of values implied by its current stock market price and continue to see the beginning of a new Berkshire Hathaway.
This is not really surprising, because had Berkowitz sold, the short squeeze we saw in the start of the year would have never materialized. Still, it's helpful for those trading the name to know what's behind today's move.
I myself covered into the frenzy and re-shorted higher. That Berkowitz hasn't sold and is still confident doesn't change the fundamental trajectory that Sears is following or make it any easier to turn around the company.
What to Do?
Though every portfolio is different, for those trading Sears short the important thing to remember during this spike is that the fundamentals haven't changed, and the pressure on Sears' business has not abated, and neither have the stores recovered any of their allure.
Sears has been on an incredible sales decline, now at 18 quarters and getting faster, not slower. This is not something that turns on a dime, and it's not something sustainable either. Unless something changes regarding the sales, there's no motive to cover.
On the other hand, short positions should be kept small enough that they can weather any spikes.