I am very cautious on the market as a whole despite a solid jobs report this morning. However, given my recent gains from Warren Resources (NASDAQ:WRES), I am ready to take a chance with another high risk/high reward stock with a $3 handle.
Vical Incoporated (NASDAQ:VICL)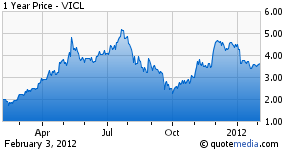 7 Reasons to buy VICL at $3.50 a share:
Allovectin(R , its first-line therapy for patients with Stage III or IV recurrent metastatic melanoma is beginning phase III trials and could be on the market by 2013 if all goes well. The company estimates the worldwide market for this drug to be in the $500mm to $1B sales range annually. This is 2 to 4 times the company's current market capitalization.
Insiders seem to believe in the drug's prospects given that there has been $10mm in new buying so far in 2012.
The company has about 20% of its market capitalization in cash. Given its current burn rate, this gives the company two years before it needs to raise new funding or have a successful drug launch.
The market also believes in VICL's significant upside judging from the fact the stocks Sept 2012 5 Calls are going for more than a buck. The stock has to go up more than 60% by September for that bet to pay off.
Credit Suisse has an "outperform" rating and a $7 price target on Vical. The median analysts' price target on the stock is at $6 a share.
Given the amount of M&A activity going on in the biotech space embodied by Gilead Sciences (NASDAQ:GILD) successful takeover of Pharmasset; it would easy to conceive a bigger player picking up Vical for a very large premium. Note: I have been long GILD for quite some time.
Vical also has a pipeline of vaccine product candidates in earlier stages that you are basically getting for free.