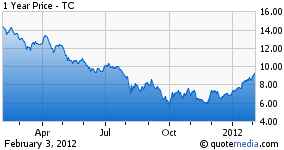 Thompson Creek Metals (TC) is in an uptrend and still cheap, in my view. (Stock prices mentioned are in CAD and financials are reported by the company in USD).
This mid-sized mining company, traditionally a molybdenum producer, is riding the rise in copper and gold prices, with its Mt. Milligan, B.C. development on the go.
The company is the fourth largest molybdenum producer outside of China (Freeport McMoRan (NYSE:FCX), Codelco, Grupo Mexico, China Molybdenum and Thompson Creek are the top five) with fully permitted mines at Thompson Creek in Idaho and a 75% interest in the Endako mine in British Columbia. Its partner at Endako is Japanese trading house Sojitz, which takes much of the production.
Over 80% of molybdenum is used with steel, giving it anti-corrosive, thermal resistance and other beneficial qualities ("moly steel") and super alloys. Moly is also used as a sulfur and oxygen sink in petroleum refining, and in pharmaceutical and other applications.
The CEO of competitor General Moly (NYSEMKT:GMO) recently forecast global primary moly usage would rise from an estimated 250,000 tons in 2011 (USGS estimate) to 295,000 tons in 2015, or growth of 18%.
There does not seem to be a lot of recycled moly "revert" but I cannot confirm this.
I have been watching Thompson Creek Metals' stock for a couple of years. It started rising during the 2010 euro credit crisis and broke above $10 in the fall of 2010.
I thought that was significant and wanted to buy it, but I felt I did not have enough information at that time.
TCM subsequently went to $15.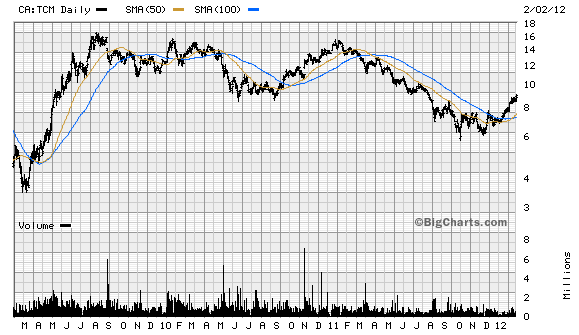 Then I watched patiently as the stock steadily declined to the $6 area last fall and made a low of $5.79 on October 4.
TCM turned around in late December and has slowly but steadily crept higher. Lately the stock has been sprinting up, as it becomes clearer that U.S. industrial production is rising and domestic growth may not be as bad as thought.
European ferro-molybdenum prices have stabilized in the $14.lb area for roasted 57% moly concentrate (see chart).
I believe the stock could revisit the $15 area with decent moly prices, which seem to have bottomed.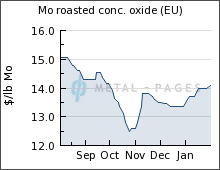 Chart: Metal Pages.
Thompson's Q3 2011 was somewhat weak with cash flow before working capital changes of $48.8 million U.S. (29 cents per share) on $154.8 million U.S. in revenues.
The company generated $209.3 million in cash flow in the first nine months of 2011.
Cash costs were high due to mine sequencing and heavy overburden removal. This situation should rectify itself in 2012/2013.
Molybdenum production is scheduled to decline from 30 million lbs in 2011 (midpoint of company estimated range) to 27 million lbs in 2012, but then rebound to 34 million lbs in 2013.
Molybdenum 2P reserves at the two mines total 560 million lbs with mine lives of 15 years at TC and 18 years at Endako.
We expect another weak quarter when TCM reports Q4, to be released in late February. Five analysts expect a loss of on average of 7 cents per share on $108.2 million in revenues.
In my view, investors, traders and hedge funds are looking past these results and responding to the rally in inflationary assets, as well as more likely M&A activity in the mining sector, triggered by the recent Xstrata (XTA) Glencore talks.
TCM obtained the Mt. Milligan copper and gold development by acquiring Terrane Metals for $650 million back in 2010.
TCM has sold forward 40% of the gold to Royal Gold (NASDAQ:RGLD) from the future mine to pay for its development, almost recouping the purchase price, receiving $581.5 million in stages. In addition, TCM will sell the contracted gold to Royal at $435/oz, providing additional revenue.
The Mt. Milligan deposit contains 2.1 billion lbs of copper and 6 million oz of gold in 2P reserves, plus 711 million lb copper and 1.48 million oz of gold in M&I resource.Mt. Milligan will cost another $882 million to complete after spending of $383 million YTD Q3 2011.
The company expects production to begin at the end of 2013. The project is fully funded and permitted, although some First Nations are appealing the permit issuance with the federal and provincial government.
The company will fund CAPEX with cash on hand, the Royal gold stream transaction, a $135 million lease financing for equipment made with Caterpillar, and $295 million in revolving credit facility.
TCM had Goldcorp (NYSE:GG) inherit stock from the Terrane transaction, and has added to that, owning 8.9% of the outstanding. BlackRock owns 5%. There is a short position on the NYSE of 11.3 million shares as of January 13, 2012, or 6.7% of the 168 million shares outstanding.
I consider TCM an attractive potential buyout candidate. You can buy TCM on Toronto or as TC on the NYSE.
Disclosure: I am long TC.