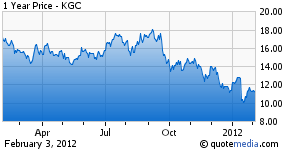 Kinross Gold Corp (NYSE:KGC) has found itself in some trouble of late. First, an investigation is being launched on behalf of shareholders accusing directors of deceiving shareholders in violation of securities laws. Secondly, the firm has made some poor acquisitions -- most notably its acquisition of the Tasiast mine in Mauritania, which the company paid 3X worth the value of the gold in the mine, according to this recent Business Week article. As a result, KGC has been left behind in the rally in gold stocks that has kicked off 2012; The ETF for senior firms, (NYSEARCA:GDX), is up over 10% thus year to date, while Kinross is down over 1.5%. Moreover, Kinross is trading at 1.18X its book value (according to the equity value of its Q3 2011 financial statement) -- well below many of its peers like Newmont (NYSE:NEM) and Goldcorp (NYSE:GG) that are trading at over 2.5X their book value. And if we subtract intangibles, Kinross is actually trading at 70% of its book value.
All of these factors make Kinross susceptible to an acquisition -- a view supported in a recent analysis conducted by Acquired Knowledge, an M&A Rating Agency and Prediction Market. I recently ahd the opportunity to view a special report by AcqKnow on the mining sector, which ranked a Newmont buyout of Kinross as one of the most likely deals to occur in the sector. AcqKnow has made a number of successful predictions, and I value their input as one of the clues of where to look based on a big data approach.
I'm still debating with myself whether I want to buy Kinross at these prices. With its dividend yield of 1.07% and a P/E ratio of under 14 at current prices, it certainly has some appeal -- even more so when one observes that its poor acquisitions have not tainted its balance sheet too much, as the firm still have a current ratio over 4 and a debt to asset ratio of under .08. And of course, I think there is potential for a very nice quick return if a bidding war between some of the seniors can emerge over Kinross and the portfolio of growth projects it has.
Disclosure: I am long NEM, GDX. I may initiate a long position in KGC in the upcoming week.