By and large, it's hard to feel sorry for, or be patient with, companies where the wounds are largely self-inflicted. Still, when a company has significant market share in multiple markets of size, investors would do well to keep an eye on the story. To that end,
CareFusion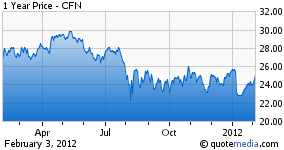 Carefusion (NYSE:CFN) has disappointed investors recently, but the long-term potential of this company is still quite a bit more than is reflected in the stock today.
Not Many Surprises In The Second Quarter
Given that CareFusion warned about this quarter's results, there weren't a lot of surprises in store when the final results came out. Revenue rose a bit more than 3%, with organic revenue up a little less than 3%. Growth was led by a fine performance in Medical Systems; revenue rose more than 9% on solid growth across dispensing, infusion, and respiratory. Procedural was the problem child - sales fell 2% on an adjusted basis as decent ChloraPrep results (up 5-6%) were offset by weakness in various disposables.
Margins always matter, but its arguably the #1 topic with CareFusion. The second quarter didn't show the progress that investors had hoped to see (prior to the warning). Gross margin slipped a bit on discounting in the pump business and price pressures in disposables. Operating income was flat for the quarter, with gross margin contracting about a half-point. To the extent that it matters, the company's Medical Systems did pretty well (up half a point from last year), but that was all lost with the three point decline in operating margin in Procedural.
Tailwinds Reversing Into Headwinds?
CareFusion may well see a few more challenges in growing revenue in the near term. The infusion business has definitely benefited from recalls at rivals Baxter (NYSE:BAX) and Hospira (NYSE:HSP), so much so that the company has grown its share to nearly 50%. Although CareFusion is likely to hang on to a lot of that, growth will likely slow as the impact of the Baxter recall abates and CareFusion has to deal more directly with the general softness in hospital spending.
That's likewise true in the dispensing business as well. The company's Pyxis platform is a winner (holding roughly 60% share), but its hard to grow share when you're already the leader and a smaller rival like Omnicell (NASDAQ:OMCL) is aggressively targeting your customers.
Something also seems amiss in the company's infusion disposables business. Although the company has talked about pricing pressures here, those concerns have not been echoed by Baxter or ICU Medical (NASDAQ:ICUI). Keep in mind, too, that CareFusion frequently charges a premium (15-20% more) and has been relatively slow to innovate.
There's Still Light At The End Of The Tunnel
Keep in mind, even with that negative backdrop, CareFusion is a company/stock that I like. The company is doing better than I thought it would in respiratory care and seems to have grabbed share from bigger rival Covidien (COV) this quarter. Moreover, while growth in dispensing and infusion may be a little more challenging, I still think CareFusion will grow these business and take share (it's just going to be harder than before).
I also think there are two deficiencies in the company's model that could drive better growth as they are corrected. First, CareFusion gets a very small amount of its revenue from overseas (around 20%) and compares poorly to companies like Baxter and Becton Dickinson (NYSE:BDX) that both get nearly 60% of revenue from outside the U.S. Although competing with Getinge (OTCPK:GNGBY) and B.Braun in Europe may be challenging (in respiratory and pumps/disposables, respectively), there's nevertheless a lot of opportunity there. Moreover, it's hard to see how the growing number of hospitals in markets like China, India, and Brazil aren't going to need medication dispensing equipment or infusion pumps.
The biggest opportunity is also the most talked about - simply improving the margins. I say "simple" not because it's easy, but because it's such an obvious weakness. Here, too, CareFusion looks up at Baxter and has ample room for improvement. The good news is that the more equipment-oriented part of the business (Medical Systems) is already pretty profitable, so improvements in the Procedural segments should really make a positive difference.
The Bottom Line
It's not really fair to call CareFusion a turnaround, though the needed improvement in margins has that feel to it. Like a turnaround, you don't bail on a stock just because it looks like the recovery may take 6-18 months longer than you originally thought (unless it begins a series of delays). Consequently, I think CareFusion is very much worth a second look.
I'm not looking for CareFusion to improve so much that it's an industry leader; average will do nicely. If the company can do this, free cash flow should grow at a compounded rate in the mid single-digits. That, in turn, would support a fair value in the low-to-mid-$30's. There are plenty of interesting med-tech stocks out there, but few have the multi-market leadership of CareFusion, nor the potential for such meaningful operating improvements in the coming two or three years.
Disclosure: I have no positions in any stocks mentioned, and no plans to initiate any positions within the next 72 hours.