It's no secret that Big Pharma companies live and die with their pipeline and their ability to drive sales from patent-protected branded drugs. Unfortunately, these two major drivers are both working against UK-based AstraZeneca (NYSE:AZN). Although current results weren't bad and the company's valuation looks compelling by some metrics, management has a lot of work ahead of it in refilling its pipeline and maintaining its earnings base.
An All-Around Decent Q4, For What It Matters
AstraZeneca actually reported a respectable fourth quarter. Revenue was up slightly, beating the averaged expectation of a modest decline. Revenue in the U.S. was up 5%, offsetting a 15% decline in Western Europe tied in part to generic competition for Nexium. While total Nexium sales did decline 13% this quarter, other major products like Seroquel, Crestor, and Symbicort delivered double-digit sales growth, with Seroquel especially strong relative to expectations.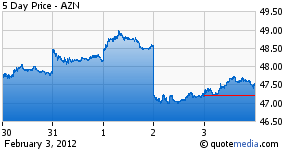 AstraZeneca also did well on its costs and profits. Gross margin improved about two full points from last year, while adjusted operating income rose more than 4%. AstraZeneca continues to spend aggressively on R&D - $1.9 billion in this quarter and more than 16% of sales for the full year year.
Guidance Only Part Of The Problem
AstraZeneca's stock certainly didn't get much benefit from this solid report. Although management announced a bigger-than-expected $4.5 billion share buyback, per-share earnings growth guidance for 2012 was weak.
Although it is way too soon to call anything decisive, the initial launch of Brillinta has not been very strong even though analysts had already been lowering expectations. Analysts have been fearing that competition from generic forms of Plavix (once marketed by Bristol-Myers Squibb (NYSE:BMY) and Sanofi (NYSE:SNY)) would cut into Brillinta, and it looks like that may be true.
That may well only add fuel to the fears that generic versions of Pfizer's (NYSE:PFE) Lipitor will likewise start compromising Crestor sales. It seems, then, that docs (and patients and payors) are perfectly willing to consider a range of branded drugs to see what works best for a patient, but when a major generic is available suddenly the analysis shifts to cost/benefit.
In any case, AstraZeneca announced another major restructuring and the latest mass-firings of about 7,300 people will bring the total cut from recent restructurings to around 20,000. Investors should note that that is not a "net" figure as management has simultaneously added personnel in other areas like emerging markets.
Patents And Pipeline Are A Problem
With Seroquel going off-patent soon and Nexium and Crestor also going generic by 2016, AstraZeneca is looking at about half of its revenue evaporating in under five years. Unfortunately, the company's Phase 3 and post-clinical pipeline is feeble.
Drugs like dapagliflozin (diabetes), olaparib (cancer), and TC-5214 (depression) were supposed to help fill the gap, but disappointing clinical and regulatory performance has significantly reduced those expectations. These major 2011 disappointments have left the cupboards pretty bare.
Fostamatinib (which AstraZeneca has partnered from Rigel (NASDAQ:RIGL) has shown promise, but will likely have to compete with Pfizer's tofactibinib, not to mention existing drugs like Abbott's (NYSE:ABT) Humira. AstraZeneca also has a sepsis drug in trials (with data coming out midyear 2012) and is developing NKTR-118 with Nektar Therapeutics (NASDAQ:NKTR) for opioid-induced constipation, but the former is risky and the latter is unlikely to be a huge sales blockbuster like Crestor or Seroquel.
Though there are some interesting cancer and auto-immune compounds in earlier studies, AstraZeneca's pipeline is very nearly broken at this point. Unfortunately, low pipeline productivity has been a problem for a number of years, despite a high level of spending. Some of this may just be bad luck, but AstraZeneca seems to have the same bad habit that Sanofi used to have in holding on too long to low-potential drugs and investing much too much money in their development.
AstraZeneca Has Two Options - Buy Up Or Run Off
Right now, I see two options for AstraZeneca management. Basically treat the company like a run-off operation; cut R&D down to maintenance levels, slash sales staff, and milk the existing product line-up for every last dollar. This is not an especially likely outcome, as it is very rarely done in Big Pharma.
The other option is for AstraZeneca to use its relatively healthy balance sheet and go out and do deals. Management said that they're not looking for a transformational deal, but there are plenty of biotechs with promising unpartnered drugs available. Of course there are no guarantees [the Targacept (TRGT) deal has yet to really pay off], but that's the nature of the business and I don't see any other way of recharging the pipeline and replacing those certain-to-be-lost sales exposed to upcoming generic competition.
The Bottom Line
It's hard to argue for buying AstraZeneca today. The dividend yield grabs attention and is well-covered by free cash flow, but companies like Bristol-Myers, Sanofi and Pfizer offer much better pipelines and long-term earnings potential relative to their lower yields. In other words, I'd rather earn 2% less in Pfizer or Sanofi than hold AstraZeneca.
AstraZeneca isn't past hope, but there's a lot of work in store for management. A few savvy deals can re-energize the pipeline, but this company is past the point where cost-cutting and share buybacks can paper over the problems.
Disclosure: I have no positions in any stocks mentioned, and no plans to initiate any positions within the next 72 hours.