Just a few days ago, I asked myself the same question, upon seeing natural gas rally on the Chesapeake Energy (NYSE:CHK) supply cut as well as Obama's State of the Union speech. My conclusion, based on what was still happening to natural gas inventories, was that it was not the bottom.
Natural gas took only days to wipe out that particular spike. But Thursday, it yet again tried a massive rally. The market (both stocks and commodities) is incredibly hot and willing to buy any story, no matter how far-fetched. This time the story was that the drawdown in inventories was larger than expected, at 132 bcf versus an expected 129 bcp draw.
So, is this it? Is this the bottom?
Again, the answer is no. The drawdown was not something out of the ordinary for this time of the year, and inventories are still wildly (25%) above historical norm, and on a trajectory that, come filling season, will probably exceed storage capacity unless wells are shut down.
The weekly report from EIA shows as much:
Click to enlarge
And it doesn't stop at the inventories. This is how the temperatures are shaping up versus normal (source: weather.com ):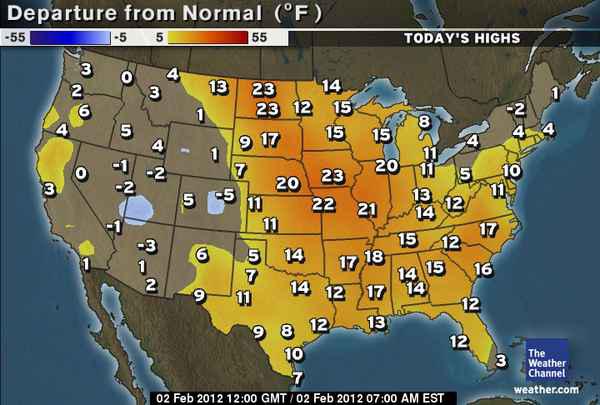 Do remember that the East is the largest consuming region, and that orange splotch is all over it.
So again, the production/consumption imbalance in natural gas remains, now aided not only by an excess in production, but also by unfavorable weather. Until this imbalance clears natural gas should not rally much if at all. It will clear in time. Natural gas rigs are already down year-on-year. But right now it's simply too soon to speculate on the long side. The same goes for mostly natural gas producers, such as Chesapeake Energy, EOG Resources (NYSE:EOG) and others.
In Other News ...

The United States Natural Gas Fund (NYSEARCA:UNG) plans on doing a 4:1 reverse split after the close on February 21. This will make the UNG share price trade at 4 times its previous value (for one-quarter the shares), but otherwise has no other impact on value. The only relevant variable remains what happens to natural gas. In the past, UNG has traded at a premium to the underlying, and the ETF is to be avoided if such happens again.
Disclosure: I have no positions in any stocks mentioned, and no plans to initiate any positions within the next 72 hours.