As I get more defensive on the market, I am looking more and more at boring, high-dividend stocks with low volatility. They have underperformed the market so far in 2012, but should be good safe havens if we get a pullback in equities. I expect this some time in the next few months, as I believe significant negative news will be forthcoming by the end of the quarter from Europe. If nothing else, the market is due for a breather. One stock I like here that provides an over a 4% dividend, and that an investor could tuck away for the next decade is CenterPoint Energy (NYSE:CNP).
CenterPoint Energy, Inc. operates as a public utility holding company in the United States. The company's Electric Transmission and Distribution segment provides transmission and distribution services to retail electric providers, municipalities, electric cooperatives, and other distribution companies serving approximately 2.1 million metered customers. (Business Description from Yahoo Finance)
7 reasons CNP is a solid dividend play at $18.50 a share:
It yields a solid 4.3% and has grown its dividend at roughly a 4% annual pace over the past five years.
CNP has beat earnings estimates the last three quarters, and insiders have sold less than 2% of their shares over the previous six months.
The states that CNP serves are growing faster than the nation as a whole. They are primarily located in business friendly environments as well. Analysts expect revenue growth to more than double FY2011's rate to 4.7% in FY2012.
CNP finally settled its 7 year old true-up appeal for a total of $1.7B in September which put a significant overhang behind it.
Credit Suisse has an "Outperform" rating on CNP and has a price target on the stock of $21 a share. S&P's price target on CenterPoint is $22.
The stock looks like it has short term technical support in the $18 to $19 level (see chart):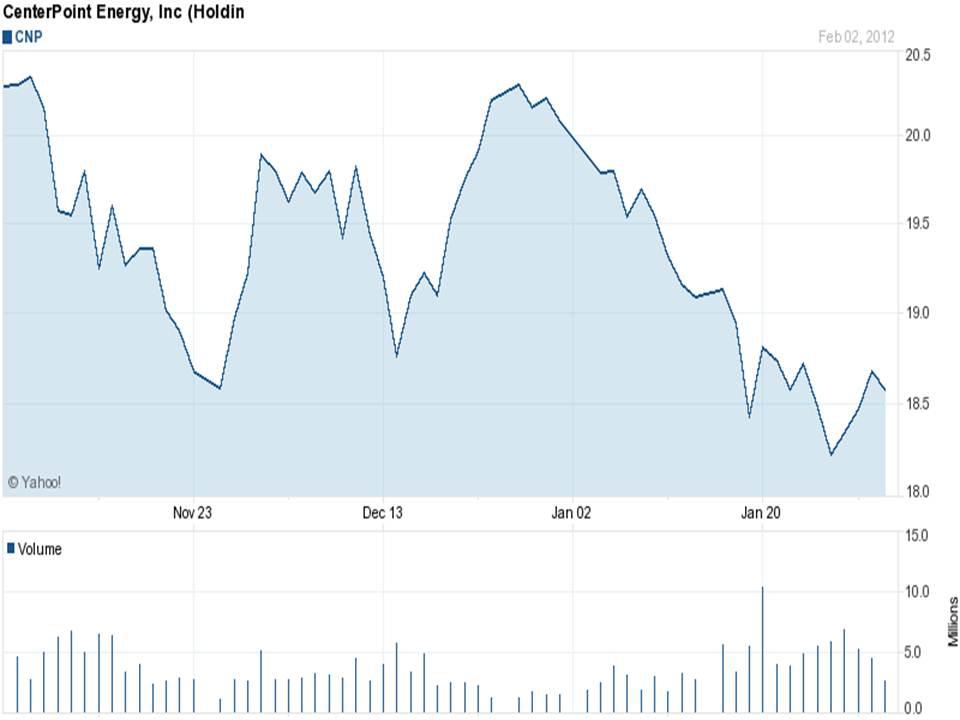 Click to enlarge
In its last earnings call, management reiterated the potential for stock buybacks and/or further debt retirement in future quarters.
Disclosure: I have no positions in any stocks mentioned, but may initiate a long position in CNP over the next 72 hours.