"Only those who will risk going too far can possibly find out how far one can go." - T.S. Eliot
I'm still unsure why the market is "surprised" by today's jobs data. I have noted in prior interviews that staffing companies have been strongly outperforming broader stock markets for several weeks in a way suggesting that investors - whether consciously or subconsciously - are indeed expecting a pick-up in growth. Sure - many may begin to position more aggressively into the stock market now because of this. It does appear to be the case that we are more likely to be positively surprised than negatively surprised. As I referenced in the latest article, Marc Faber of the Gloom Boom and Doom report published and the Minyanville article addressing why it's possible stocks end 2012 up over 40% (here), if we are indeed in a reflationary environment similar to 2003 and 2009, we're likely to continue to rally for longer than most think.
I was interviewed yesterday on CNBC making the case for why 2012 could result in a powerful move for risk assets, which can be viewed here. I reference the segment (which I would also love some feedback on from Seeking Alpha readers) the idea that low yields are likely to not remain low for much longer, and that TIPS are beginning to outperform. I have addressed on numerous prior articles as it relates to the Winter Resolution the idea that the direction of inflation expectations ultimately drives the asset allocation decision. And we appear to just be getting started in this regard.
Take a look below at the price ratio of the iShares TIPS Bond Fund ETF (NYSEARCA:TIP) relative to nominal 7-10 Year Treasuries (NYSEARCA:IEF). As a reminder, a rising price ratio means the numerator/TIP is outperforming (up more/down less) the denominator/IEF.
Click to enlarge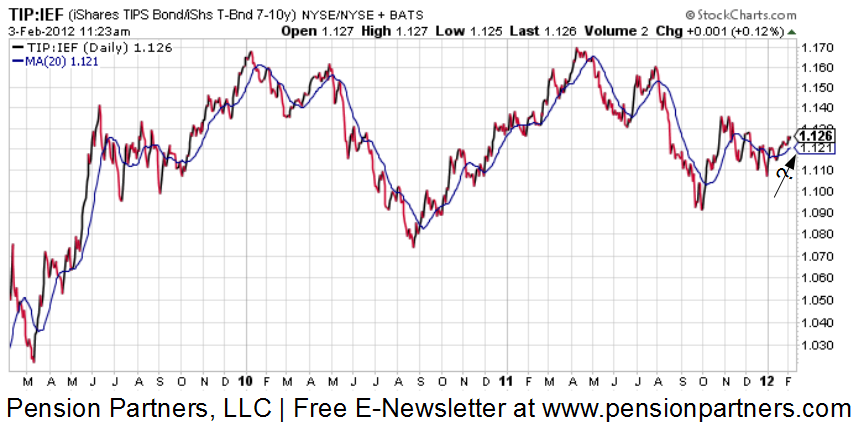 Notice the far right of the chart. Outperformance of TIP means investors are betting on inflation rising going forward. This alone means the stock market, and not just the S&P 500 (NYSEARCA:SPY) but also Emerging Markets (NYSEARCA:VWO) and even Europe (NYSEARCA:VEA) can rally substantially more than they already have. And for those who don't believe in the fundamental reason for stocks to rally because the economy is still in bad shape, consider that over the past four weeks, global equities have risen by more than $3 trillion. I plan on making a big point about this later today on Bloomberg Radio's Taking Stock with Courtney Donohoe. Markets have created wealth equal to if not greater than the balance sheet of the Fed. The stock market itself is the biggest stimulus of all right now.
And so the Winter Resolution continues.
Disclosure: I have no positions in any stocks mentioned, and no plans to initiate any positions within the next 72 hours.
Additional disclosure: This writing is for informational purposes only and does not constitute an offer to sell, a solicitation to buy, or a recommendation regarding any securities transaction, or as an offer to provide advisory or other services by Pension Partners, LLC in any jurisdiction in which such offer, solicitation, purchase or sale would be unlawful under the securities laws of such jurisdiction. The information contained in this writing should not be construed as financial or investment advice on any subject matter. Pension Partners, LLC expressly disclaims all liability in respect to actions taken based on any or all of the information on this writing.