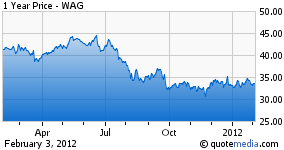 The last time I wrote about Walgreens (WAG), I was long Medco (NYSE:MHS), which ExpressScripts (NASDAQ:ESRX) was preparing to acquire. The news then was that Walgreens would lose any pharmacy benefit tied to the ExpressScripts Pharmacy Benefit Management (PBM) plans in January, and likely all of Medco's business soon afterward.
I have since closed out my MHS position at a profit, but it may be time to consider an outright short on WAG.
The business is rapidly losing its "moat," according to Morningstar. Sales were down 2.6% for January, same-store sales down 4.6%, as the pain of the ESRX cancellation started to kick in.
These losses are keeping Walgreens from executing on its other plans, like expanding its network of Take Care Clinics, which are becoming a first-line of care for more-and-more people. (Getting deals with foreign nationals doesn't make the pain go away.)
Walgreens is now pitching its pharmacies as "Well Experience" stores with beauty boutiques, updated snack bars with coffee, juice and wine, even fresh fruits in areas underserved by supermarkets. Plans are to re-make the Duane Reed stores it acquired in 2010 in this image, and to expand its e-commerce unit, Drugstore.com, buying BioScrip.com to expand its order pipeline.
But all this takes money, and right now WAG isn't making much. Its net income is trailing year-ago comparables, and the acquisition of new benefit files won't help if it can't fulfill them.
All this might change if the political or regulatory environment turned decisively against ExpressScripts, which is not only squeezing Walgreens but every independent pharmacy in the country.
Opponents of the merger are doing all they can and some ESRX bulls are starting to hedge their bets as the FTC considers whether to sue and block the merger and ExpressScripts, through the PBM trade group, starts advertising to defend itself.
Unfortunately, stock buyers right now are making a political bet. I don't like betting on politics. WAG is currently trading at a PE multiple of 11.28 while rival CVS, which has a Pharmacy Benefit Manager in Caremark, is trading at a PE of 17.40.
Unless the merger is blocked or WAG management surrenders, as some on the Street now advocate, the company can't go forward, and will be vulnerable to shorts.
A political win or tactical surrender would make WAG a screaming buy. Right now it's a speculative short.
Disclosure: I have no positions in any stocks mentioned, and no plans to initiate any positions within the next 72 hours.