We were not surprised to see Green Mountain Coffee (NASDAQ:GMCR) execute a turnaround in its fiscal 2012 Q1 following its disastrous Q4 2011 results.
In the quarter ending Dec. 24th, 2011, GMCR reported a 57% increase in EPS (Q-to-Q) on a 62% rise in sales (Q-to-Q). Not too shabby. More remarkable, it would seem, the company was able to achieve the sales spike on a very modest 10% decline in inventory!
If you do the math, almost $66 million of inventory was sufficient enough to generate sales growth of more than $400 million in fiscal Q1 2012 compared to Q4 2011.
Granted, inventory as a percentage of sales in the latest period returned to a normalized 52% (60% is average for the seven prior quarters) compared to the 94.4% of sales seen in Q4. However, it is the first quarterly period of the previous seven where the company reported both its highest revenue growth alongside declining inventory growth (Q-to-Q).
The last time GMCR reported a big jump in quarterly sales, Q1 of 2011 (revs +53.9%), inventory levels increased a modest +2.5% over the prior Q4 2010 levels ($262.5m vs $269.1m).
So, while we hate to steal the GMCR thunder, we do see a potential problem going forward as to how this all plays out. Inventory levels remain quite elevated and our regional (15 store sample) channel-checks of Costco (NASDAQ:COST), Bed, Bath & Beyond (NASDAQ:BBBY) and Target (NYSE:TGT) indicate higher than normal post-holiday season inventory levels on hand.
As far as GMCR's cash-flow growth is concerned, we note a very interesting "mirrored" trend emerging between cash generated by operations and "cash" created by balance sheet maneuvering.

What makes this so interesting to us is that we rarely if ever see such precise contrasts between the "dual" cash-flows over extended periods of time.
Typically, when operating cash flow trends improve with a company experiencing rapid growth, the declines in balance sheet cash-flows are more incremental and reflected by a gradual narrowing of the spreads between the two cash-flows.
Here, GMCR exhibits more geometrically similar changes, which often indicate structure to the "balance sheet engineering". Yes, it does appear that GMCR's operating cash-flows are improving, but the evolution between the two cash-flows suggests a considerable amount of effort to achieve a desired result. This in no way infers that management is attempting to "cook the books," but based on our observations the accounting remains fairly aggressive.
Given the history of GMCR's restated and reclassified reports it only makes sense to revisit the statement of cash-flows for clues as to how the various components of the earnings picture were constructed.
We will start with "Adjustments to reconcile net income to net cash (used in) provided by operating activities". Here are a few items which stand out: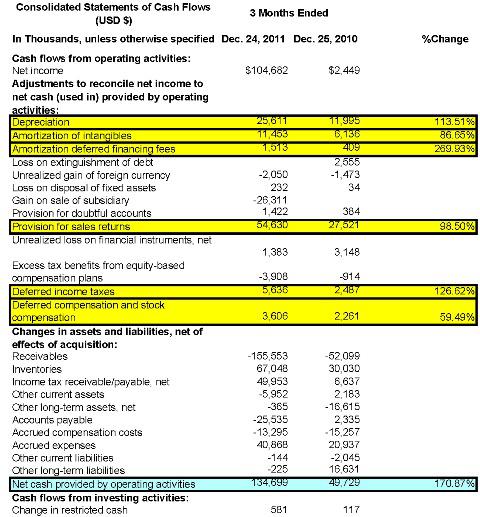 Depreciation, amortization of intangibles and deferred charges can make for messy adjustments to both the income statement and balance sheet. Notice that net cash provided by operating activities grew 170% in the most recent period compared to the similar period last year. In contrast, revenues for the similar periods doubled.
The largest reconciled adjustment (dollar amount) is Provision for Sales Returns. On the asset side of the ledger, income taxes receivable/payable and accrued expenses also display significant growth. Thus, it might be observed by some that a large portion of net income reported by GMCR in the most recent period is due to the effects of these "adjustments".
To GMCR's credit we do note significant improvement in revenue metrics and capital productivity. The lone exception would be cost-of-sales which increased to 70.94% of sales in the recent quarter compared to the 67.7% average of the previous seven quarters.
We also see improvements in collection cycles and payables, which indicates management is conscious of the need to improve working capital and income from operating assets. We believe the Q4 2011 results offer some hope that the company is aware to the scrutiny of their reported results.
Also of note was CEO Larry Blanford's announcement of a new contract which extends his employment with GMCR through December 2013. He also plans to retire from being a public company CEO when his employment commitment ends, but will remain on the board through 2014.
Additionally, the company offered a more tempered guidance for Q2 and fiscal year 2012 and indicated that due to the significant increase in the numbers of brewers sold in Q1, they did not feel comfortable projecting future portion pack demand.
Bottom Line: Green Mountain's stock price skyrocketed some 22% following the Q1 earnings release. Some of this robust advance can be attributed to short covering and it certainly didn't hurt having all the usual suspects (i.e. analysts affiliated w/ underwriters of GMCR's recent secondary) stacked-up in the earnings call Q&A session to pat each other on the back.
The sell-side analysts connected to the underwriting firms made some particularly bad calls leading up to the recent offering and after the issuance. This Q1 report appears to vindicate them somewhat, but the shares are still well below the price targets offered late last year.
Our dual cash-flow and accrual analysis for the previous seven quarters (through Dec. 24, 2011) points us to an estimated fair-value of $50.79 per share. This takes into account the noticeable market penetration of their products and adjusted for changes in the key accounting relationships we track.
As of Friday's close (2-4-12) the stock was $66.19, or 30% above our est. FV price. We encourage investors to be careful at these levels as the recent rally may have priced all the "good" news and then some.
It's not the growth potential we worry about per se. Our concern is how does a company manage its growth, improve its earnings quality and maintain healthy liquidity without issuing gobs of stock on a regular basis. Green Mountain is well into an expansion phase, and at some point great "earnings" require healthy cash-flows to substantiate their lofty multiples. The financials are telling us that there is still much work to be done.
Dual Cash-Flow data provided by merriamreport.com
Disclosure: I have no positions in any stocks mentioned, and no plans to initiate any positions within the next 72 hours.