We're certainly not in Kansas anymore.
Ever since the tornado that was the financial crisis struck investment markets back in late 2008, things have never been the same. I remember a time before the crisis when markets were being driven primarily by investors relying on their brains to make logical and fundamentally driven decisions. But in the years since the crisis, we have seen the unpredictable emotions of the heart overwhelm any rational market behavior.
Of course, this heart driven behavior is not limited to investment markets. Perhaps it is simply a product of the world we live in today. After all, we're seeing examples of the Tin Man dominating the Scarecrow everywhere. To wit:
In politics: We went from the one extreme of Mitt Romney being the presumptive Republican nominee following the New Hampshire primary on January 10 to the complete opposite extreme just 11 days later following the South Carolina primary with pundits widely considering the possibility of a brokered GOP convention (in late August, mind you, never mind the 47 other states still left to go to the voting booths through June). Just 10 days later, the pendulum was back to Romney being the presumptive nominee following the Florida primary just 10 days later on January 31.
Once again in politics: Newt Gingrich went from down double-digits to Mitt Romney in the South Carolina GOP primary to winning by double-digits over the course of about a week. Whether true or not, many experts cited his response to two specific debate questions as the primary driver of this massive swing.
Sports: New York Giants coach Tom Coughlin went from widespread calls for his termination following the 2011 season as recently as November to heaps of praise about his disciplined approach as he and his team prepare for Super Bowl XLVI on Sunday evening.
Entertainment: On the game show where Survivor meets The Dating Game, we watch participants on ABC's The Bachelor each Monday night proclaim that they've fallen in love and can picture spending the rest of their life with a man that they met for the first time only a few weeks ago and is simultaneously dating every woman on the show only to witness a sob filled limousine departure less than two hours later (let's see them set up a date where they have to get the monthly bills paid with a baby crying in the background and then we'll get a real sense of how meant for each other these people really are).
The economy: Amazingly, we went from the presumption of QE3 from the Fed in the next few months to an open debate in the financial media about when the Fed might begin raising interest rates all on the heels of Friday's surprisingly strong employment report. Really? Is there no in between? Let's chalk January up as a good month on an employment report filled with estimations and see what happens over the course of the next several months before we begin running out with calls that we're now in a full blown recovery.
We've seen these Tin Man driven swings in the stock market since the beginning of the financial crisis, and the last several months have certainly been no exception.
As we continue through this latest rally phase, it is important to be the Scarecrow instead of the Tin Man. Stick with the discipline of your brain instead of following the emotions of your heart. Watching a market melt higher day after day certainly raises the belief that things must truly be getting better. And wow, that was an unexpectedly great jobs number on Friday, which lines up with directly this notion of improvement. So maybe now is the time to get back on board with a full commitment to stocks says the Tin Man? Not so fast, says the Scarecrow.
click to enlarge image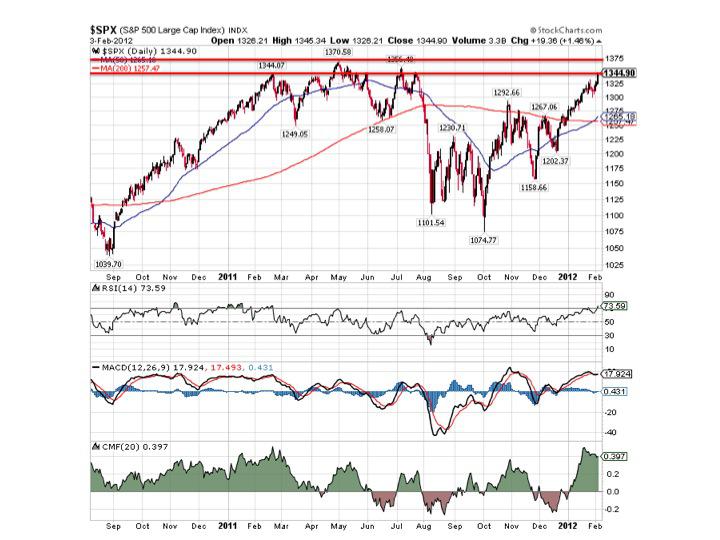 Stocks (NYSEARCA:SPY) have come a long way from their late 2011 lows, and they are now facing some heavy challenges at current levels. First, the stock market as measured by the S&P 500 closed on Friday at 1344. This marks the very bottom end of the 1344 to 1370 range that marked the previous peaks from the head-and-shoulders stock market top that occurred during the first half of 2011. A good portion of the money that entered the market from February to July will likely be eager to get their principal back, particularly as the problems in Europe continue to increasingly brew under the surface. Furthermore, the stock market is currently riddled with overbought readings including a Relative Strength Index of over 73 as well as momentum and money flow indicators now at previous peaks. Thus, stocks are well overdue for a pullback at this point, so now may not be the time to initiate new broadly based positions. And even if stocks do break out above current levels, it's likely that they will need to retreat and reload before moving to new post crisis highs, so patience may be rewarded even if you are bullish on the broader market.
If you decide to get long the stock market, be the Scarecrow, not the Tin Man. Don't get long stocks simply because you're hearing rumblings that the economy is finally getting better and that leaders in Europe will eventually show the political will to defeat the crisis across the Atlantic. Only do so if you actually believe these notions with conviction and have tested these forecasts yourself. I have found over the last many months that analysts that are bullish on these two points above are usually thin on details to support these conclusions (on Friday, I listened on the radio to an "expert" repeatedly stumble all over himself in this very regard), while those that are bearish on these same points are often armed with a wealth of supporting granular data and analysis.
This does not mean that you shouldn't get long the stock market. By all means, if its rising, you should identify a way to capture at least some the upside. But assume this risk with the right perspective.
Recognize that the primary reason the stock market is going up right now is aggressively stimulative monetary policy worldwide including Operation Twist from the U.S. Fed and LTRO from the European Central Bank (ECB), not the economy. And as we've seen in the recent past, the market response is absolutely ugly once these stimulus programs come to an end and the market is left to stand on its own. Also, keep a close watch, as the market seems to respond less and less with each successive round of stimulus applied. Perhaps we are soon approaching the end of monetary stimulus induced market euphoria. Or perhaps the magnitude of crisis in Europe will soon overwhelm the positive forces of monetary stimulus. Being long stocks has and continues to have merit, but be measured and keep a close watch, as this is a market that can turn on a dime and be absolutely unforgiving in the process. And keep allocations proportional to other asset classes in your portfolio. After all, stocks are only one of the many games in town.
Recognize that European sovereign bond yields are not falling because investors have all of the sudden discovered newfound faith in the outlook for at risk countries across the region. Instead, they are falling as a direct result of monetary policy actions from the ECB. Nothing fundamental has changed. Instead, it continues to get worse in many respects. The only thing that has changed is the policy response. And what will be the next step once the impact of the latest policy acrobatics fade away? How much further can the ECB go, and how much further will the policy makers that support the ECB allow it to go? Once again, reasons to stay on your toes with any long positions in stocks.
Recognize that while recent signs of improvement in the U.S. economy are terrific, they are very early and very fragile signs. We have a long, LONG way to go in getting the economy back on track. The rate of growth required to support the stock market at these levels is much higher than anything that is realistically attainable anytime soon. And this doesn't even factor in the impact of what is an inevitable recession in Europe over the coming months. So if you're faith in a continued market rally is based on an economic recovery, make sure you have conviction that the rally we've already seen in the stock market hasn't already priced in this economic improvement if not more so.
Recognize too that an economic recovery is a double-edged sword for stocks. If the economy is showing signs of recovery, sustainable or not, it makes it increasingly difficult for the Fed to engage in further monetary stimulus. Keep in mind that in many respects the worse outcome for the stock market is a limbo state where the economy is recovering slowly but just enough to keep the Fed on the sidelines. If there is any doubt about the political pressure on the Fed, the withering questioning of Fed Chairman Ben Bernanke by Congressman Paul Ryan on Thursday yet another reminder that the Fed has to watch its step going forward, which might diminish any future tailwind for stocks.
Recognize that a market that floats higher on rumors of good news but doesn't fall back to previous levels once these same rumors of good news have been refuted is not a healthy market. Frankly, a market that is so reactive to rumors and prone to being fooled time and time again (how many more times will we hear that a Greece deal is imminent) without any need for fundamental confirmation is a market that lacks discipline and should be viewed with apprehension. Be long stocks to participate, but take the measured approach of the Scarecrow with these longs to protect against these Tin Man driven emotional swings.
The best way to navigate the current market environment is to remain hedged. At times, one must also be the Lion at the same time as the Scarecrow. It requires courage to keep to your convictions of not getting fully back into the stock market when it is seemingly melting higher day after day. It also requires courage to allocate at all to a stock market in which you may not have full faith in its integrity or discipline. But this is the advantage of the hedged approach. Allocating to stocks allows for the ability to at least in part participate in the market upside.
But by making this stock allocation proportional to other asset classes that have equal merit if not more so in the current environment enables investors to neutralize the risk associated with this stock exposure while also capitalizing on upside opportunities that exist in other markets. For example, precious metal categories such as gold (NYSEARCA:GLD) and silver (NYSEARCA:SLV) directly benefit from persistently aggressive monetary policy while also providing hard asset protection against crisis. U.S. Treasury Inflation Protected Securities (NYSEARCA:TIP) also provide protection against the inflationary forces of aggressive monetary policy while at the same time providing safe haven protection through its status as a U.S. Treasury instrument. Long-Term U.S. Treasuries (NYSEARCA:TLT) provide the opportunity for dramatic upside if the global economy were to falter anew or if crisis were to erupt in Europe (or elsewhere around the globe including the U.S.). Agency MBS (NYSEARCA:MBB) provide high yields for a short-duration investment and will be the likely focus of any monetary stimulus program from the Fed in the coming months.
And returning to the stock allocation, emphasizing more defensive segments including consumer staples (NYSEARCA:XLP) and utilities (NYSEARCA:XLU) allows for upside participation while also protecting against downside risk to a degree. Representative names in this regard include McDonald's (NYSE:MCD), Family Dollar (NYSE:FDO), Bristol-Myers Squibb (NYSE:BMY), JM Smucker (NYSE:SJM), Atmos Energy (NYSE:ATO) and WGL Holdings (NYSE:WGL) among many others.
There's no place like home, and in the end it will be impossible to ever get back to normal until policy makers finally get out of the way and allow the global economy and its financial markets to clear. While some monetary policy makers believe that endless money printing is the vehicle that can get us back to Kansas, it's important to recall that The Wizard could not control the balloon that was supposed to ensure Dorothy's safe return to home. And unlike Dorothy, we do not have magical ruby shoes that we can simply click together to wish away the crisis as just a dream. Instead, policy makers would be best to learn the same lesson as Dorothy that we do not need to run away from our problems by endlessly postponing the crsis into the future to get back home to a normal economy and market. If we face up to our problems and begin constructively dealing with them today, we can finally begin working our way back to Kansas. In the meantime, be the Scarecrow, channel the Lion when necessary, and leave the Tin Man to watch the Wizard of Oz, the Super Bowl or The Bachelor instead of overseeing your portfolio.
Disclosure: I am long GLD, SLV, TLT, TIP, MCD, BMY, FDO, SJM, ATO, WGL, MBB, XLU.
This post is for information purposes only. There are risks involved with investing including loss of principal. Gerring Wealth Management (GWM) makes no explicit or implicit guarantee with respect to performance or the outcome of any investment or projections made by GWM. There is no guarantee that the goals of the strategies discussed by GWM will be met.