Due to the low-interest rates U.S. investors now get on cash, CDs and Treasuries, many investors are now looking for higher-yielding alternatives to supplement fixed income portfolios. A popular option that now offers some of the highest dividends offered by publicly traded equities are agency mortgage REITs.
Mortgage REITs own mortgages on real estate. Among residential mortgage REITs, there are two primary types: those holding residential mortgage backed securities insured by federal agencies and those that own RMBSs without agency insurance. Agency mortgage REITs should have portfolios virtually exclusively composed of mortgages insured by federal agencies.
Agency RMBS are similar to a U.S. Treasury, but they are different. Government agencies make mortgages and then issue a mortgage backed security. These agency RMBSs come with an agency backing and an implied U.S. government backing.
Though many borrowers are defaulting on these agency-backed loans, agencies continue to pay and/or buy out the defaulting obligations. Prepayment buying of loans can have a volatile affect upon an agency REIT's quarterly income, yield and asset valuation, but prepayment is preferable to a true default.
On Wednesday, January 25, 2012, Ben Bernanke extended the estimated time frame for keeping the Federal Funds Rate near zero through 2014. If borrowing rates for agency mREITs stay low for the next two years, it should help agency REITs maintain their spreads, at least in the near-term. Additionally, continued low rates should be expected to cause investors to seek out high-yielding income alternatives like REITs and MLPs.
Below, I have provided recent performance rates for five reasonably liquid and high yielding Agency Mortgage REITs: American Capital Agency Corp. (NASDAQ:AGNC), Annaly Capital Management, Inc. (NYSE:NLY) , Anworth Mortgage Asset Corporation (NYSE:ANH), Capstead Mortgage Corp (NYSE:CMO) and Hatteras Financial Corp (NYSE:HTS). I have provided 1-week, 2012-to-date and 3-month equity performance rates, as well as each REIT's yield.
Click to enlarge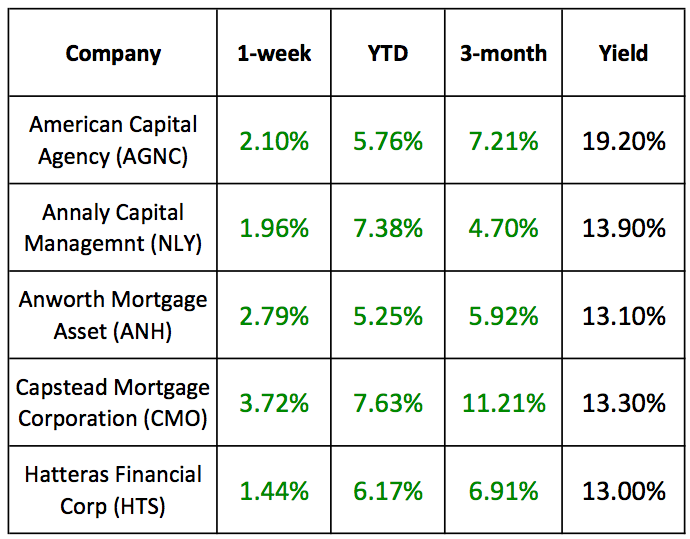 And below is a 2012-to-date performance comparison chart:
Click to enlarge

Most investors came to these names for their yields, but those investors will also take the 6.44 percent average appreciation so far in 2012.
Agency REITs achieve their substantial yields through leverage. In the next two weeks, most agency REITs will provide Q4 2011 reports, which should include their leverage rates at the end of 2011. At the end of Q3 2011, leverage rates for these REITs were between five and 10 times each REIT's underlying equity.
On Wednesday, February 1, 2012, Capstead Mortgage Corporation reported positive Q4 2011 results, as might several other agency REITs. American Capital Agency is set to release its Q4 2011 results on Monday, February 6, 2012. AGNC had several secondary offerings during 2011 and likely leveraged up during that last quarter, potentially increasing its leverage rate above 10x. AGNC has been one of the more aggressively leveraging agency REITs in the last few years, and the policy has worked out well for it so far.
Leverage risk may one day become a major concern. If interest rates do spike up, these REITs could suffer not only reduced spreads but also leveraged reductions to their book values. Until that happens, these agency REITs should continue to occupy some of the highest-yielding space in the market.
Disclosure: I am long NLY.
Disclaimer: This article is intended to be informative and should not be construed as personalized advice as it does not take into account your specific situation or objectives.