Last September 30th, the Economic Cycle Research Institute announced that the US was headed into a recession. The S&P 500 closed at 1131 on that date. On Friday February 3rd, the S&P 500 closed at 1344.
As much as I credit their last two right recession calls on the 2001-2002 and the 2008-2009 recessions, I must admit that I believe they got it wrong this time - even with their own publicly available WLI Growth Indices.
click to enlarge image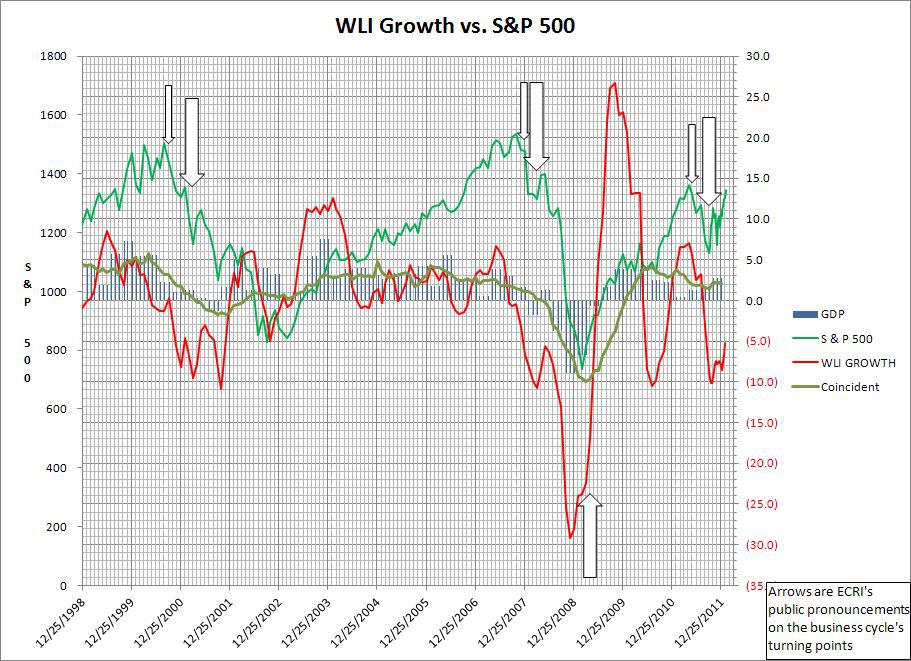 Click to enlarge
In addition, since September the following US Coincident Economic Indicators have been published:
US GDP - 3rd Qtr - 1.8, 4th Qtr - 2.8
ISM Mfg PMI: Oct. - 50.8, Nov. - 52.7, Dec. - 53.1, Jan. - 54.1
ISM Non Mfg. PMI: Jan. - 56.8 an 11 month high.
Employment: Dec. - 203K jobs added, Jan. - 243K jobs added
These results definitely do not look like an economy heading toward a recession. Now with the Facebook IPO filling (NASDAQ:FB), Nasdaq at a 11 year high, and the resurgence of tech, I have changed my investment decisions 180 degrees and now am long tech and the stock market in general.
Perhaps this is only a momentary respite but it sure looks very powerful and one way to profit from this is through the Nasdaq 100 ETF (NASDAQ:QQQ) or individual tech stocks and/or through the S&P 500 ETF (NYSEARCA:SPY).
Disclosure: I am long NVDA.