Market Cap: ~$20 B
"Up for grabs" were the words the jungle beast was growling, pounding its fists across its chest. The maker of world famous Gorilla Glass announced its results on 25th Jan, 2012 [see transcript].
Although the company reported record sales of $7.9 billion (19% increase YOY) in the company's 161 year history, the stock declined by about 14% in 3 days. The short selling was triggered by the not so glossy Q4, 2011 EPS, which was $0.31 versus $0.48, the previous quarter.
Corning (NYSE:GLW) has recently captured the spotlight for its newest innovation, the Gorilla Glass. Gorilla Glass is now used in over 600 product models, 30 major brands, and 600 millions devices. It has expanded the product line using the Gorilla Glass platform. Apart from this, Corning is also the market leader in optic-fiber communication technologies, display technologies, and a strong player in environmental technologies, and laboratory equipments.
Income Statement [click to enlarge images]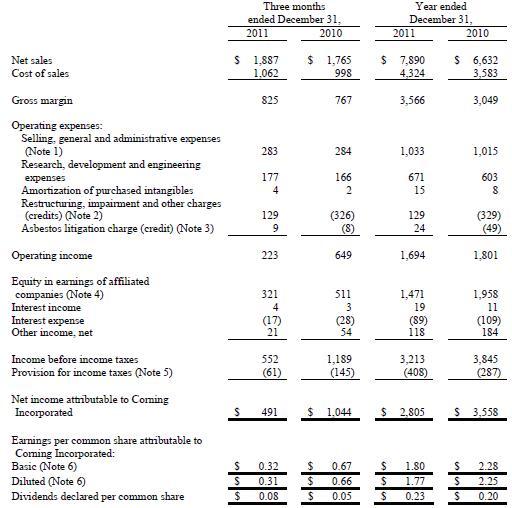 Source: http://investor.shareholder.com/corning/financials.cfm
The sales growth was not at all bad when considering the state the economy was in. In fact, the sales growth was consistent and positive across all the 4 major business segments.
The three components of the income statement that caused the 2011 bottom line to drop compared to 2010 were:
1. The one-time asset impairment charge of $130 million that happened in Q4, 2011
2. Drop in equity earning of affiliate companies, which was significant in Corning's income statement.
The three affiliates of Corning, which contribute to the income statement, are:
| | | | | |
| --- | --- | --- | --- | --- |
| | 2011 | 2010 | 2009 | 2008 |
| Samsung (OTC:SSNLF) Corning Precision | n/a | $1,473 | $1,115 | $ 927 |
| Dow (NYSE:DOW) Corning | n/a | 444 | 287 | 369 |
| All Others | n/a | 41 | 33 | 62 |
| Total | $1,471 | $1,958 | $1,435 | $1,358 |
The 2011 earning of Samsung Corning Precision, which is a major chunk of the affiliate earning, was affected by the loss of demand in LCD glass and also the drop in prices of the LCD glass segments.
Dow Corning also experienced a slump due to lower demand and pricing of its polysilicone products.
3. A favorable impact towards 2010 net income, which caused the 2011 income to look much lower than 2010.
In 2010, Corning received a settlement for business interruption due to the earthquake in Japan and the power disruption in Taiwan, where they have manufacturing facilities.
The top line - sales, is more than satisfactory. Its innovation in the Gorilla Glass line of products and its product line for the LED panel should offset the slump in the LCD glass segment.
The demand for the Gorilla glass seems to be exponential, with the proliferation of the smartphones and tablets. In fact, the net sales of the Specialty Materials (Gorilla Glass) almost doubled from $578 million in 2010, to $1,074 in 2011. At this pace, this will be a major contributor to the 2012 top line and potentially to a strong bottom line as shown in the chart below.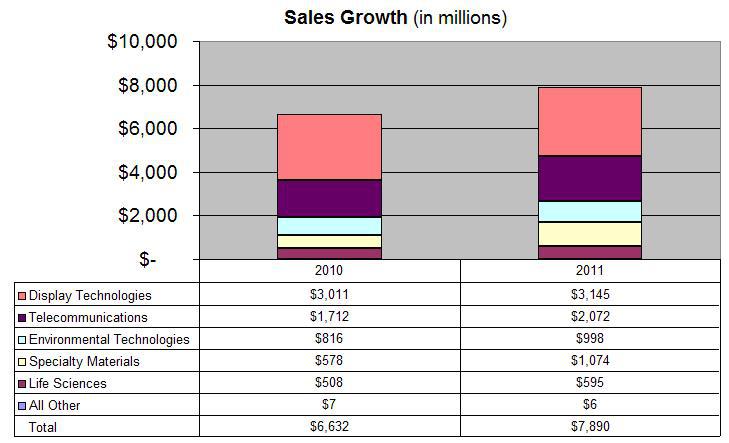 Stock fundamentals
- Stock is trading at about its tangible book value. P/B is about 1; P/E is around 7. At this price, this stock is a bargain.
Book Value growth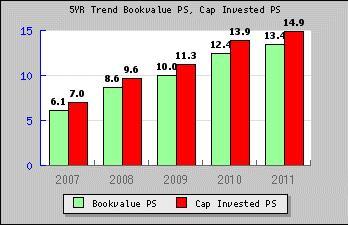 Source: http://www.advfn.com
- Gross profit margin is around 57%, and Net Profit Margin is 36%. With such huge margins, Corning stands above a majority of the industries.
- With Current Ratio of 4.1, Debt/Equity ratio of 0.25, Corning's financial strength is very sound.
Conclusion
At the current price of $13.58, Corning stock is a bargain. Traders may not expect quick returns from Corning. But for investors with a long time view (6 months to 2 years), this is one of the best stocks to own. This stock will definitely retain value of investment and investors only stand to gain from this panic price decline. It can also be noted that the dividend yield is around 2.5%. The quarterly dividend was increased to 7.5c from 5c.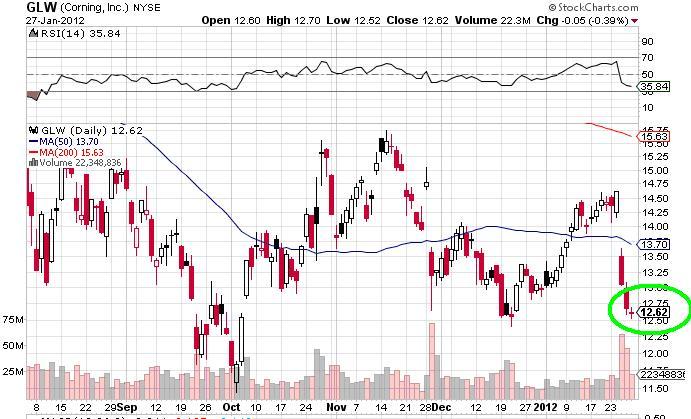 Source: Stockcharts.com
Disclosure: I am long GLW.