The stock market continued to rally last week on the back of a better than expected monthly jobs report. Although I am getting more cautious on whether this upward trend can continue, I have noticed that the most speculative part of my portfolio (Stocks I purchased for under $5 a share) have soared. My investments in Power-One (NASDAQ:PWER), Warren Resources (NASDAQ:WRES), TriQuint Semiconductor (TQNT) and MEMC Electronic Materials (WFR) have all popped more than 30% in the last month. I have taken profits in TriQuint and Warren and am looking for other opportunities in stocks under $4 to duplicate these results if the "risk on" trade continues. Here are two that have solid valuations and are 50% below consensus price targets.
DynaVox (DVOX) - "DynaVox Inc. develops and markets software, devices, and contents to assist people in overcoming their speech, language, or learning disabilities in the United States, Canada, Australia, and the United Kingdom". (Business Description from Yahoo Finance)
Four reasons DynaVox looks like a good play at under $4 a share:
The stock looks cheap at a forward PE of under 11 and a five year projected PEG of under 1 (.77).

Insiders bought 20,000 shares in December and the median analysts' price target on DynaVox is $6, or 50% above the company's current price.

The stock is selling at the bottom as its historical valuation range based on P/B, P/S, P/CF and P/E.

The stock looks like it has bottomed (See Chart)
Click to enlarge: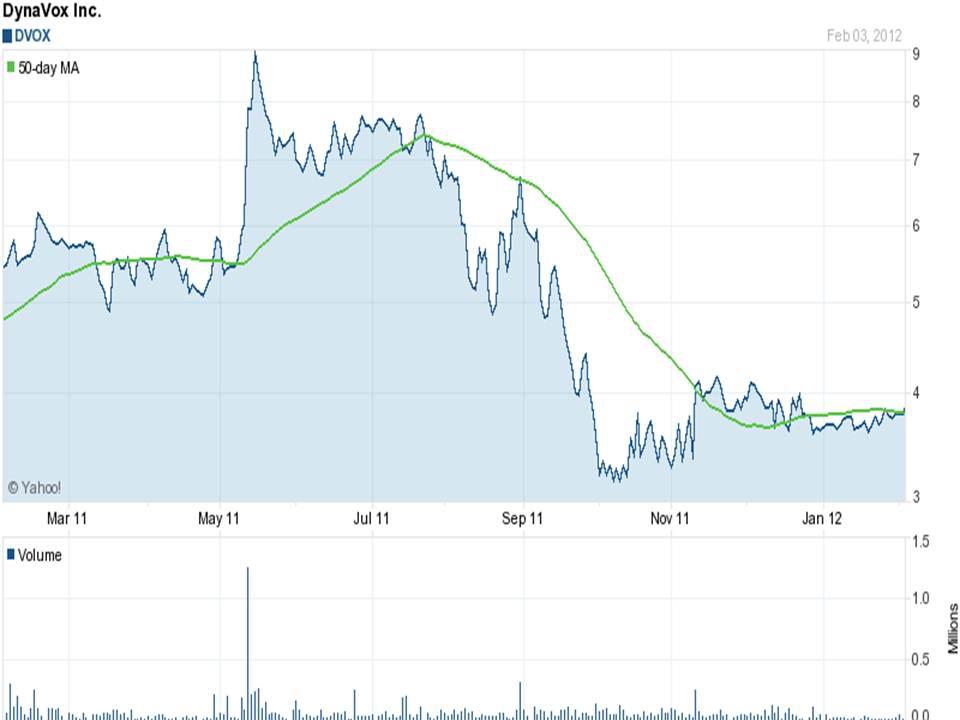 Hackett Group (NASDAQ:HCKT) - "The Hackett Group, Inc. operates as a strategic advisory and technology consulting firm primarily in the United States and western Europe. The company offers executive advisory programs, benchmarking, business transformation, and technology consulting services, as well as shared services, offshoring, and outsourcing advice". (Business Description from Yahoo Finance)
Four reasons Hackett is a solid buy at $4 a share:
Despite the economic challenges of the last five years, Hackett has grown EPS at an average 17% rate over the last half decade.

Despite this impressive growth, Hackett is trading 10.5 times forward earnings and a very low five year projected PEG (.62).

Insiders have not sold any shares in over a year and have a substantial stake in the company (Approximately 20%). The company also has a pristine balance sheet with over 10% of its market capitalization in net cash.

The stock is selling near the bottom of its five year valuation range based on P/E, P/B, P/CF and P/S. The median analysts' price target on Hackett is $6 a share and Northland Securities tagged it with an "outperform" rating in mid-January.
Disclosure: I am long WFR, PWER.
Additional disclosure: May also take long positions in HCKT and/or DVOX in next 72 hours