Energy utilities are providers of a growing necessity, and within the United States, usually at government-regulated prices and restricted competition. Because of utility distribution regulations, energy utility equities are considered generally reliable and predicable businesses, with stable and growing payouts.
The regulated nature of energy utilities makes their dividends reasonably secure, and also designates the equities as classic "widow and orphan" stocks. Their relative security means that the dividends and equity are unlikely to grow at a rapid pace, though utilities can outperform the broader market, and did in 2011.
Below are performance rates for six large cap (over $10 billion) utilities within the S&P 500 and with yields between 4.5% and 5%: American Electric Power (AEP), Duke Energy (DUK), Entergy Corp. (ETR), Excelon Corp. (EXC) FirstEnergy Corp. (FE), and PPL Corp. (PPL). I included their one-week, 2012-to-date and one-year equity performance rates (not including dividends paid), as well as their current yields.
Click to enlarge: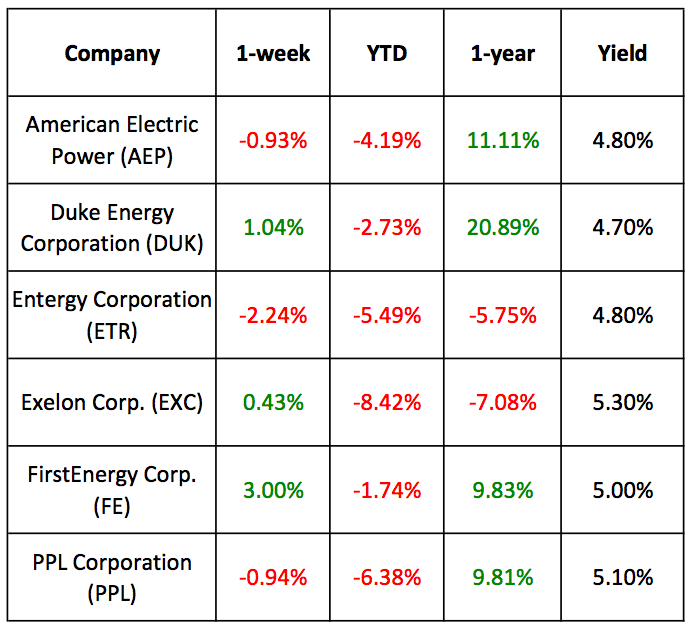 In 2011, most utilities experienced strong performance, though there was also a good deal of weakness among the group at the end of 2011 and the start of 2012. This likely indicates that these utilities were overbought and/or that end of the year selling hit the sector.
So far in 2012, the above-listed equities are down an average of 4.83%, moving down against the direction of the broader market. Such rotation appears somewhat normal and expected, but it should also be expected that some dividend seeking investors will return to well-priced utilities, many of which now offer a yield over 5%.
Investors looking to double their money in the next year or two are unlikely to look at utilities. Utilities are also generally far less volatile than the broader market, and the demand for utilities is only expected to increases over time, as technology advances into new realms and the population continues to grow.
Disclaimer: This article is intended to be informative and should not be construed as personalized advice as it does not take into account your specific situation or objectives.