There is no foolproof methodology to investing in which the risk is entirely mitigated and potential for gain is always realized. In light of this, the "right" approach to investing is not so easily defined as much as it is dependent upon one's thorough analysis of a company, when placed against the backdrop of one's own risk tolerance.
Conservative investors will often resort to investments that are more prone to be safe. For some, this approach on the stock market can be seen in the form of investing in large companies that pay consistent dividends. Yet there are more daring investors with stronger tolerance towards risk that approach investing with the expectation to realize greater gain potential through equities with increased volatility. For the latter investors, the following three companies offer potential opportunities to consider:
DryShips (NASDAQ:DRYS) is a shipping company that has evolved into a hybrid ship-based company specializing in dry bulk shipping and ultra deep water drilling rigs through its partially spun-off subsidiary Ocean Rig (NASDAQ:ORIG). As a result of this, the company has obtained an inherent diversification that helps mitigate against rising oil costs, and yet, shelters against times in which the dry bulk shipping business is in peril.
As witnessed through the Baltic Dry Index's wild ride in recent contract price history, this is a time of concern as dry bulk shippers fight to survive the overwhelming supply of shipping capacity that has come online this past year. Yet DRYS has also been scarred by a series of moves made by management that have been questionable at best, in regards to being investor-friendly. Investors expecting a recovery reaching the hights of 2008 that were north of $100/sh should be aware of the company's significant levels of dilution that prevent the likelihood of that scenario anytime soon. Nevertheless, the company trades at a price-to-book level of 0.27 with a forward price-to-earnings multiple of 4.37.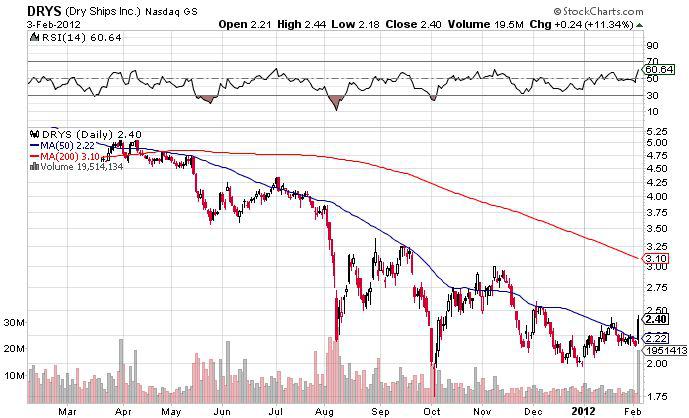 Quad Graphics (NYSE:QUAD) is printing services company based in Sussex, Wisconsin that has been in operation for 40 years and currently employs about 30,000 workers. A widely supported company by famous hedge fund investor John Paulson, Quad Graphics underwent an initial public offering in 2010 after acquiring World Color Press Inc. and subsequently raised about $980 million. Now valued with a $588 million market capitalization, the company continues to support a dividend of yield 6.7% with a payout ratio of 73%.
The company even recently announced the acquisition of Williamson Printing Corporation on February 1, 2012 in clear illustration of ongoing growth. Yet the company operates in what is perceived as a declining industry, as hard print is being replaced more and more in a digital era. Taking a dive in the middle of 2011 as the print industry suffered as a whole, QUAD has failed to recover in light of its large debt load and increasing competition from the likes of R.R. Donnelley & Sons (NASDAQ:RRD) and Consolidated Graphics (NYSE:CGX). Nevertheless, the company sports an attractive price-to-book ratio of 0.4, which could stand out to some investors as possibly wading in oversold territory.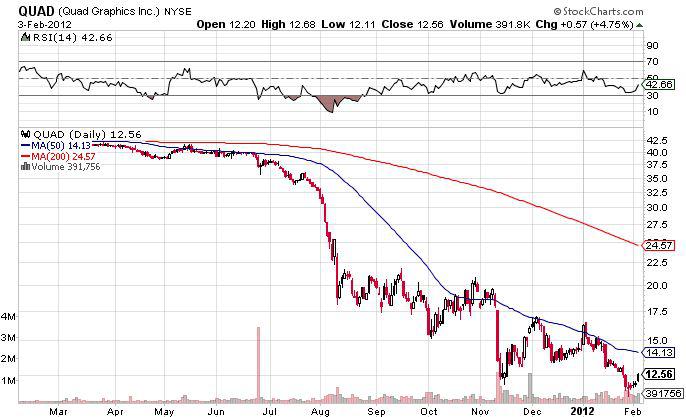 Primo Water (NASDAQ:PRMW) is the leading supplier of in-home water dispensers in the United states and has products found in over 16,000 retail locations. The company was founded in 2004, and prides itself as a means to be more environmentally friendly. With 90% of its water bottled at locations within 100 miles of where it's sold, the company the sells its brand of water through exchange and refill stations located throughout its network of major retailers that include Lowe's (NYSE:LOW), Wal-Mart (NYSE:WMT), and Walgreen (WAG).
The company had its initial public offering in 2010 raising $100 million, and raised another $60 million in a secondary offering in 2011. Yet the company currently trades at a meager $73 million market capitalization having seen its share price drop over 75% in the past year over poor earnings results. As a consequence, a slew of class action lawsuits have been filed on behalf of investors claiming misrepresentation by the company's management. Though such cases stand as a typical course of action by lawyers looking to exploit angry shareholders, the effect rarely leads to severe financial recourse for the company.
Nevertheless, as a rapidly growing company with a quarterly growth rate of 121%, Primo maintains growth plans to expand its reach into 50,000 retail locations. In a bid to compete head-on with Sodastream (NASDAQ:SODA) over its ever popular flavored carbonated water machines, Primo's growth into beverage makers offers a lucrative opportunity into a high-margin growth industry that is worthy of keeping an eye on.