Occidental Petroleum corp. (NYSE:OXY) is a major integrated oil company. It operates (with its subsidiaries) as an oil and gas exploration and production company primarily in the US (68%). The company operates in three segments: Oil and Gas; Chemical; and Midstream, Marketing, and Other.
The Oil and Gas segment is by far the biggest. OXY is a large, stable company with a market cap of $83.31B and an enterprise value of $85.06B (very little debt). With a 14% year over year production growth in the US, it is a top production grower among the majors with approximately 443,000 Boepd of production in the US at the end of Q4 2011 (approximately 745 mboepd worldwide at the end of Q3 2011). The chart below shows the recent production growth. It's been very steady.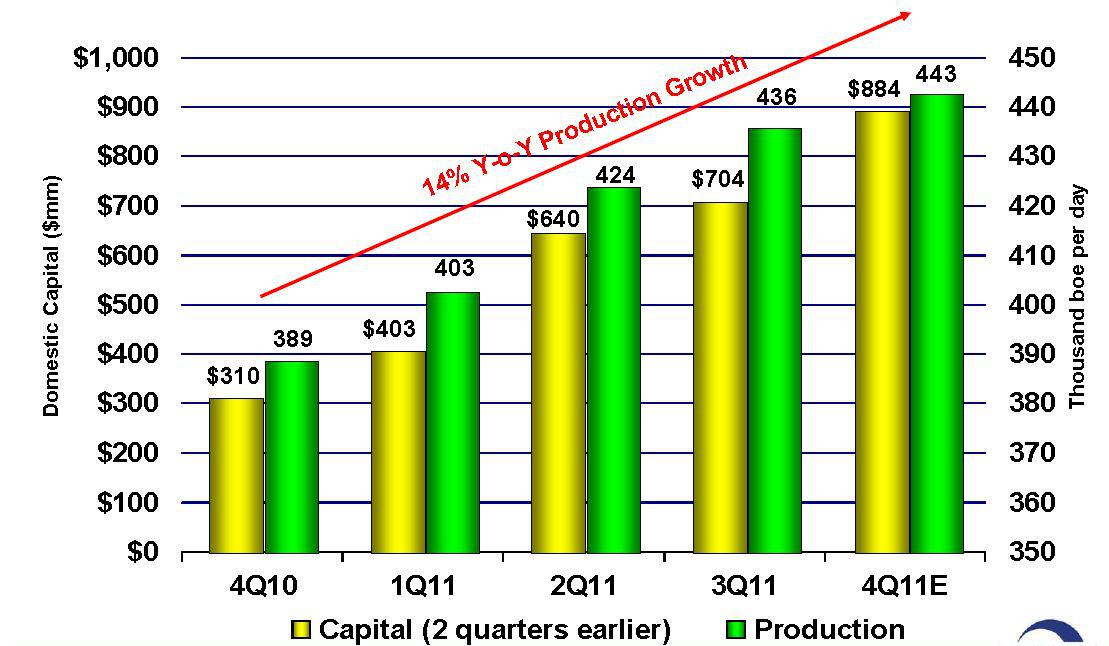 click to enlarge
The chart below shows where OXY plans to expand in the near future. OXY has approximately 174,000 Williston Basin (Bakken) net acres, but is that prolific area OXY's main focus? No, the rig count number in the chart below includes the Bakken in the "Midcontinent and Other" category. That area had the least number of operated domestic rigs at 2011E. California had the most, and OXY has been expanding the California drilling rapidly.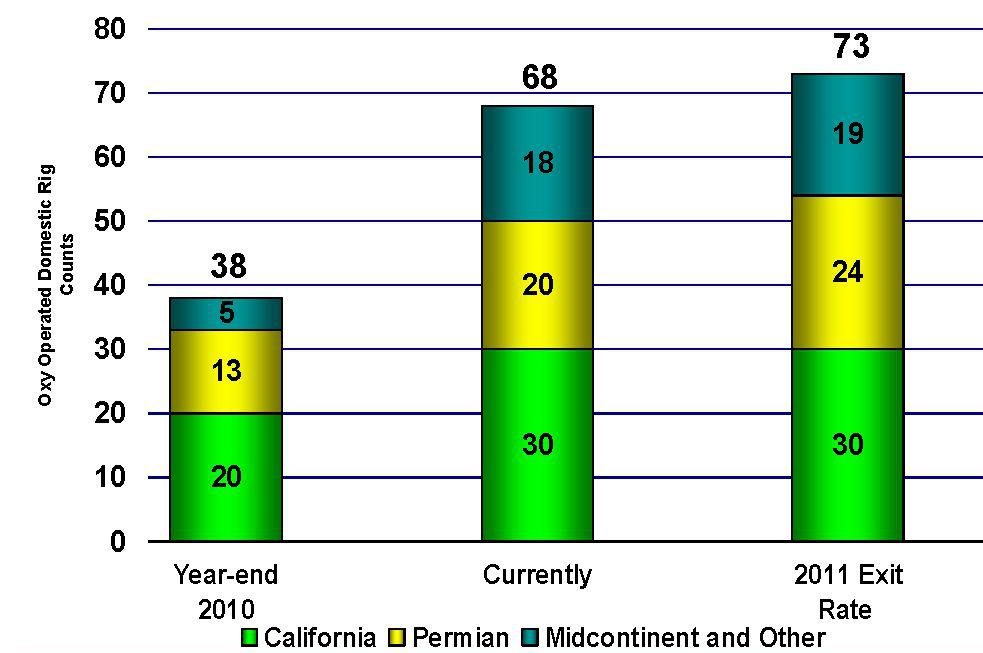 OXY expects most of its new upside from existing holdings to come from new California conventional and unconventional prospects, Permian exploration, and exploration in the Rockies. Further growth will also come from further domestic acquisitions and new Middles East projects, especially the Shah field in Abu Dhabi. Some may worry about this one. OXY is putting a low of money into it. It has geopolitical risk, but it has huge upside. In a more safe vein, OXY is putting money into California. OXY is the largest acreage holder in CA with approximately 1.6 million acres. It has a 78% interest in the Elk Hills Field -- the largest producer of gas and NGL's in California.
It has two new gas processing plants in the works there. OXY intents to shift its CA drilling to oil wells. OXY believes CA has significant remaining potential which includes many large undiscovered resources. It has been drilling approximately 154 shale wells outside of Elk Hills proper and 195 total shale wells including Elk Hills in 2011. The 30-day IP rate for these has averaged between 300 and 400 boepd. For the shale wells outside of Elk Hills the production has been approximately 80% oil and high value condensate.
The cost of drilling and completing has averaged approximately $3.5 million per well. Approximately 870,000 acres are within the most prospective shale plays. OXY's average NRI (net revenue interest) is approximately 95% on these wells. OXY expects that in 10 years California shale could become its largest business unit. The chart below gives you an idea of just how productive California shale could prove to be.

Only time will tell how successful OXY is in California, but just look at some of the numbers for the California shale. It has a play thickness of 500ft. - 3500ft. By comparison the thickness in the Bakken is more typically 20ft - 100ft and in the Eagle Ford 75ft - 300ft. Notably Oxy is using 10 acre spacing on these California wells (much less than a typical Bakken or Eagle Ford spacing). Plus the porosity of the California shale is much higher on average.
The TOC% (Total Organic Carbon) may be on average less than the Bakken, but it is still appreciable. The CA shale fields OXY is prospecting may be without par. Yet no one seems to have heard about this. Perhaps OXY is trying to keep it quiet, so that it can buy up more leases before others join the California "Black Gold" Rush. I am certainly impressed. You should be too. 
The investment OXY is making in the Shah field in Abu Dhabi is worrisome due to the geopolitical risk involved. However, the gas and oil field itself will almost certainly be prolific. It is comforting that OXY is getting back its Libyan assets. It is more comforting that OXY has such prolific prospects in relatively low geopolitical risk California. Even if the worst happens in Abu Dhabi, OXY should still do well with its US assets. California does appear to be a huge oil shale "gold mine" for OXY. Plus there is no reason to assume the worst about Abu Dhabi and other Middle East fields at this time.
As for OXY's current statistics, they are good to great too. The chart below shows it has a higher P/E and FPE than other US majors, but it also has a much higher EPS growth rate to justify this. That makes it a great buy. Plus it is hard to argue with those California shale statistics. The chart below gives a quick comparison of some of the US majors: Chevron (NYSE:CVX), Exxon Mobil (NYSE:XOM), ConocoPhillips (NYSE:COP), and Marathon Oil (NYSE:MRO). Most of these have some geopolitical risk too. The data are from Yahoo Finance.
| | | | | |
| --- | --- | --- | --- | --- |
| Stock | P/E | FPE | 5 yr. EPS Growth per annum | Dividend Yield % |
| | 12.33 | 10.65 | 13.78% | 1.80% |
| | 7.85 | 7.91 | 4.35% | 3.10% |
| | 10.09 | 9.35 | 7.11% | 2.20% |
| | 7.86 | 7.92 | 4.41% | 3.70% |
| | 7.83 | 7.31 | 9.04% | 2.10% |
OXY is very competitive on a value basis with these. In fact, one could contend that it is undervalued compared to most of its peers on a growth basis. It does have the lowest dividend yield, but if you are planning to hold OXY long term, which may be a good idea, you should know that it has a 15% CAGR on its dividend over the last 9-10 years. That is impressive.
The two year chart of OXY below lends some technical detail to this trade.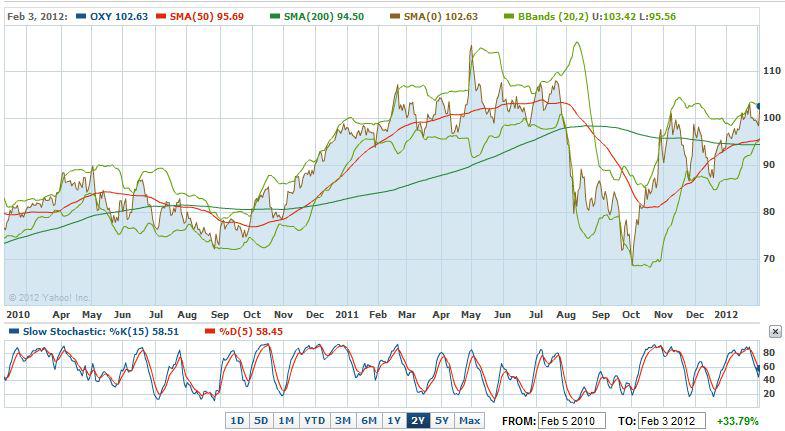 The slow stochastic sub chart indicates that OXY is neither over bought nor over sold at the current time. The main chart indicates that OXY has been in an effective consolidation phase for the last few months. With the overall market over bought, it is likely susceptible to a move down if the overall market retreats.

However, it appears that one could judiciously start to average in at this time. Trouble in the Middle East is something to keep in mind. OXY is pouring a lot of money into the Abu Dhabi Shah field, and OXY does have fields in other Middle East countries such as Iraq, Qatar, Libya, Yemen, Bahrain, and Oman. Overall this is a non-negligible part of its business. However, Yemen, Oman, and Libya are at least outside the Strait of Hormuz. For the long term trader, OXY is a great looking company.

Good Luck Trading.

Disclosure: I have no positions in any stocks mentioned, and no plans to initiate any positions within the next 72 hours.