General Electric (NYSE:GE) had a great run from 1980 to 2000, but has underperformed since the turn of the century. One reason for this is that it was overvalued in 2000, just like most stocks were at that time, and the other reason is its financial arm's exposure to the recent banking crisis. However, the stock is now undervalued and attractively positioned going forward.
Click to enlarge: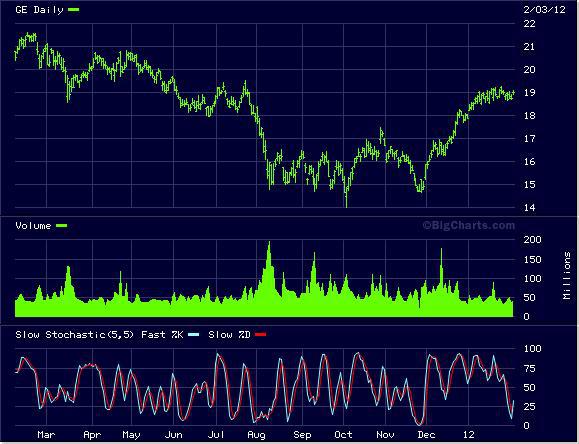 GE's previous weak point, GE Capital, is now strengthening in liquidity. It was ahead of plan in 2011, with $445 billion of ending net investment. It is now estimating its net investment to be between $425 billion to $440 billion for 2012. According to CEO, Jeffery Immelt, GE expects double-digit growth in its capital segment due to improving commercial real estate, better margins, and lower losses. This improvement in its GE Capital segment is one of the primary reasons for the company's turnaround.
General Electric is undervalued with a forward PE ratio of 10.75 and a PEG of 0.99. The stock trades at only 1.7 times book value per share - a nice low valuation. Although this valuation may not be as attractive as it was in March 2009, this still presents a good opportunity on a historical basis for starting a position in the company.
Its profit margin of 9.61% and operating margin of 14.09% show quality profitability. It has cash flow from operations of $33.87 billion and earnings per share of $1.24. GE exceeded earnings estimates for 3 out of 4 quarters in 2011 and met expectations for the other quarter.
GE's energy segment is firing on all cylinders.

Orders of $11 billion increased 19% in Q4 2011.

Equipment orders of $6 billion increased 33%.

Renewable orders of $2 billion increased 53%.

Orders for wind turbines were 1,023 in Q4 vs. 477 the previous year.

Thermal orders of $1.9 billion increased 88%.

It received 50 orders for gas turbines in Q4 2011 compared to 29 the previous year.
GE currently has a large backlog of equipment orders, which positions it well for double-digit growth in 2012. Energy equipment orders were $25.5 billion, a 39% increase in 2011. Its services backlog is $50 billion, so it is expecting a good year in its energy segment.
The aviation segment also experienced high flying results in Q4 2011:
Orders of $6.9 billion increased 18%.

Commercial engine orders of $3.3 billion increased 67%.

Military engine orders of $402 million increased 53%.

Segment profit of $850 million increased 4%.
In its transportation segment, GE shipped 210 domestic locomotives in Q4 2011 compared to 86 in Q4 2010. It shipped 48 locomotives internationally vs. 30 the prior year. Service revenues were up 30%.
In the healthcare segment, orders of $5.2 billion were flat. Equipment orders, clinical systems, and life sciences were up 1%, 5%, and 3% respectively. Diagnostic imaging was down 2%. Service orders were down 1%.
GE expects to have an improvement in the wind portion of its energy segment in 2012. It also expects to have an increase in cash flow from its industrial business.
The company has experienced weakness in Europe, particularly in the healthcare segment. Its healthcare orders were down 10% in Q4, with revenue down 7%.
GE is expected to grow earnings annually at 12.53% for the next five years. It has three upward earnings revisions for 2012 and two for 2013. It pays a respectable dividend of 3.6%. Investors can reasonably expect a total annual return of 16.13% for the next five years. I give it a price target of $34 per share by 2017.
This should be considered a stock for the moderate to conservative investor who wants to preserve capital but wants an above average market-beating return over the long haul. Its diversification across many sectors and high barriers to entry provide a wide protective moat around the business.
Disclosure: I have no positions in any stocks mentioned, and no plans to initiate any positions within the next 72 hours.