By Joseph Hogue, CFA
Yum Brands (YUM) reports quarterly earnings after the market closes with expectations for $0.74 per share, an increase of 17.5% over the same quarter last year. Strong growth in emerging markets, particularly in China, and solid brand strength should propel the company relative to peers going forward. While earnings and revenue will probably be in-line with estimates, the risk to shares is to the downside due to currency translation weakness and a tough economic environment for the first half of this year.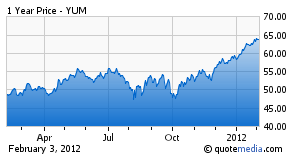 Yum Brands develops, operates, franchises and licenses the largest fast-food restaurant system in the world with more than 37,000 restaurants in 110 countries. Brands include KFC, Pizza Hut, Taco Bell, Long John Silver's, and A&W All-American Food. Yum has also developed a position in China through non-controlling interest in companies that operate franchises.
Brand strength is very strong for the company's core restaurants. KFC owns 40% of the U.S. chicken fast-food market. Pizza Hut is the world's largest restaurant chain with a 14% share of the U.S. pizza market. Taco Bell controls 52% of the Mexican fast-food market in the U.S. and Long John Silver's owns 37% of the U.S. seafood market in fast food.
The company currently trades for 23.7 times trailing earnings, roughly equivalent to the industry average of 22.0 times. Shares pay a dividend yield of 1.8%, also in-line with the industry. Profitability is well above the industry average with a return-on-assets at 15.1% and a return-on-equity of 69.7% from an effective use of leverage.
Growth is primarily coming from international sales and new stores. The company planned on opening about 1,500 new international stores in 2011, including 600 in China. Sales in the United States have held up relatively well over the recession, but margins have been under pressure due to high food costs. The company reported last quarter that sales were down 2% in the United States for the first three quarters.
Weakness in the last quarter could come from currency translation, as the company brings international profits back home into dollars. The dollar gained against most currencies last quarter, especially emerging markets, making foreign profits worth less in dollar terms.
The company will most likely report headwinds from food inflation as well, which was up in the fourth quarter relative to the third quarter. Costs should continue to pressure margins into this year but the company may be able to pass some of these along if the U.S. employment situation can continue to pick up steam.
McDonald's (MCD) reported earnings roughly in-line with expectations last month as commodity pressures and currency losses offset some momentum in same-store sales. The company reported an increase of 11% in earnings over the same quarter a year earlier. Starbucks (SBUX) also reported earnings in-line with expectations with a 10% increase in earnings on the year. The specialty coffee chain reported growth and weakness trends similar to McDonald's. These same risks to currency and commodity pressures and strength overseas will most likely be reiterated by Yum during its call.
Yum has outperformed both Starbucks and McDonald's, as well as the general market over the last month. Both competitors experienced a drop of 2.2% after their earnings announcements and the risk is for Yum to follow suit.
Stronger growth internationally and brand strength should help Yum relative to peers going forward. While investors may be cautious going into the earnings report, the long-term outlook remains in tact and positive.
Disclosure: I have no positions in any stocks mentioned, and no plans to initiate any positions within the next 72 hours.