By Joseph Hogue, CFA
Kohlberg Kravis Roberts (NYSE:KKR) reports fourth quarter earnings after the market close with consensus earnings of $0.71 per share, a loss of 30.4% from the same quarter last year but still positive over last quarter's loss of $0.91 per share. Though the market for core business continues to be soft, the rebound in asset prices over the last quarter puts the risk to an upside surprise in earnings.
KKR is a leading global investment firm specializing in private equity, acquisitions and asset management. Private markets have been weak as companies hoard cash and decide to wait out the crisis in Europe. The trend to higher allocations to alternative investments should help the company going forward as well as a possible pick-up in M&A activity in the second half of the year.
The company currently trades for 10.9 times trailing earnings and pays a dividend yield of 4.9%, higher than most peers.
Bristol-Myers Squibb (NYSE:BMY) announced the first major M&A deal of the new year with its $2.5 billion acquisition of Inhibitex (NASDAQ:INHX). Large pharmaceutical companies have been quick to protect revenues over the last year as major drugs come off patent protection but other sectors have not seen as much activity.
Increased volatility and the escalation of the European debt crisis slowed M&A activity in the second half of last year following a relatively strong beginning of the year. While expectations for the economy in 2012 are generally lower than last year, an historic stock of cash holdings and the need to buy revenue growth may drive increased merger and acquisition activity later this year.
The largest overhang to the market is uncertainty out of Europe, particularly for the amount of bank debt maturing in the first half of 2012. The region had relatively little problems issuing enough debt to cover maturities in 2010, with a net deficit of only EUR 3 billion. The deficit last year increased to EUR 110 billion which had to be financed by the ECB. The region will have EUR 802 billion in maturing debt this year, with over 300 billion of it in the first quarter.
This happened while the amount of cash reserves on corporate balance sheets swelled to almost $1.5 trillion towards the end of last year, almost a third of accruing over the last two years. Investors expect this money to be reinvested or to be returned as dividends. More than half of the corporate respondents to a McKinsey Survey last November replied that they had cut costs by more than ten percent since 2008 and marginal gains are seen as limited going forward.
Incremental gains may come from divestitures of orphan or non-core assets to unlock cash for other deal activity. Divestiture volume as a percentage of total disclosed deal volume has increased steadily from 30% in 2008 to 36% in 2011. Slower economic growth in developed markets is making organic growth hard to come by which means companies will increasingly need to look for revenue growth through acquisitions.
The graph below shows the stagnancy in private equity funds over the past five years. Buyout and Real Estate funds have lost share as the size of most other types of funds stayed relatively stable.
Private Equity Fund by Type & S&P500 Cash Balances
click to enlarge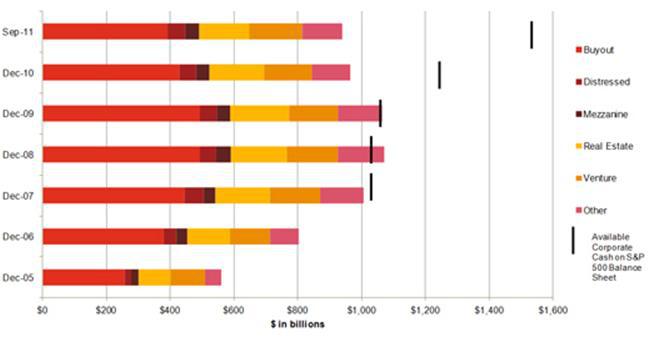 Source: Preqin, PricewaterhouseCoopers
The number of bank mergers and acquisitions has been declining since 2007 and is at multi-decade lows. European banks are aggressively divesting foreign assets in order to meet new liquidity and capital requirements. This could lead to increased deals as these assets are picked up by domestic firms. Large banks may continue to seek economies of scale as smaller banks decide to be acquired rather than cope with additional and more costly regulatory burdens.
Source: SNL Financial, Deloitte
Contrary to this environment of general strength in corporate balance sheets is the recently released 2012 CFO Survey by Bank of America. Six-hundred financial executives from U.S. companies with annual revenues of between $20 million and $2 billion were interviewed about their perspectives across five key categories: Economies and Sectors; Performance and People; Financing; Mergers and Acquisitions; and International Trade. Answers across almost every topic to the survey were more pessimistic compared to last year. The average scores given to the state of the U.S. economy and expectations for next year were both down.
Only 18% of respondents expected to participate in a merger or acquisition during the year, down from 26% in last year's survey. Executives also expressed their concern with asset prices with a sharp decrease in the perception of businesses available at attractive prices, 45% versus 55% in 2011 and 71% in the 2010 survey.
Though equity contributions as a percent of private equity value have increased to 40% in 2011, bank financing is still an important part of the M&A market. Credit lending remains restrictive but must eventually be allocated out of nearly negative real rates.
PricewaterhouseCoopers (PWC) sees the decade long dominance in technology M&A activity continuing within three primary areas: enterprise vendor consolidation; convergence of computing, communications and entertainment on consumer devices; and the disruptive impact of cloud computing. Revenue growth in the technology sector is the fourth highest at 14.3% on a trailing twelve-month basis though price to book valuations are relatively high at 4.3 times most recent quarter.
The Select Sector Technology SPDR (NYSEARCA:XLK) grants broad exposure into the sector with 78 stocks in wireless communications, semiconductors, consulting, computers and peripherals. Apple (NASDAQ:AAPL) is the top holding with almost twice the weight (15.7%) as the next highest holding. The fund pays a yield of 1.5% and trades at the 13 times trailing earnings.
The health care reform legislation passed in 2010 has been used as a catalyst for M&A activity in the sector. The most damaging provisions from a profitability standpoint do not take effect for some time and appear likely to be adjusted. Revenue growth in the sector is relatively low at only 7.4% on a trailing basis, but balance sheets in the sector are cash-rich and could be used to acquire revenue growth.
Investors may want to look to broad access into the health care sector through the Select Sector Health Care SPDR (NYSEARCA:XLV) which holds stocks in pharmaceuticals, medical equipment, biotechnology, and providers. The fund pays a dividend yield of 1.96% and trades at 12 times trailing earnings, slightly below the general market.
Aside from specific sectors, revenue growth acquisition in emerging markets will probably continue due to higher relative growth and a burgeoning consumer market. Investors should look to countries or regions with relatively fewer restrictions on foreign capital and ownership. Though transparency and lack of information may still be a problem in these markets, total deal activity in the emerging world could outpace that in the developed markets over the next year.
Though KKR may report a surprise after the market closes, the current and next quarter could remain weak. Second half earnings should improve on general market strength and operations remain strong relative to peers.
Disclosure: I am long XLK.