As I mentioned in my previous article on natural gas, I believe natural gas is one of the few bright spots in the US economy. It's clear that advances in hydraulic fracturing (aka "fracking") are pushing the price of natural gas down significantly. The table below, courtesy of the US Energy Information Administration, illustrates the situation.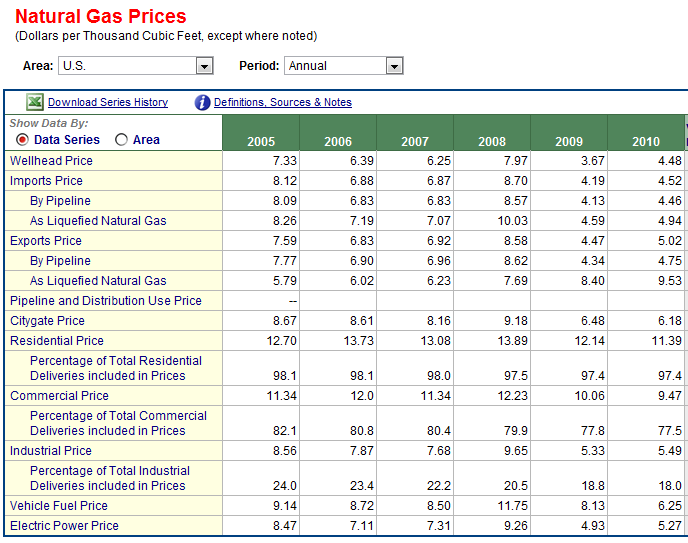 From the perspective of disruptive theory, fracking is clearly an enabling technology that will allow a new value network to emerge. Part of this new value network is natural gas, and it may include oil too - if fracking can swim upstream and become a technology used to extract oil from areas where oil is currently economically unfeasible to extract, as some are suggesting.
But while natural gas prices themselves may rise due to currency depreciation and increasing demand for all forms of energy, I increasingly think the real opportunity will be investing in firms that can build the infrastructure needed to transport the natural gas that is being derived via fracking to the world at large.
The infrastructure players building the pipelines are the ones who benefit immensely from fracking and its ability to create vast amounts of low-cost natural gas that is in high demand, and who can best solve the problem of how to move this newly fracked energy around so that the disruption in the US energy sector can continue. And as far as where the fracking-led disruption ultimately goes, I agree with Nick Hodge's assessment that the US is well-positioned to become a natural gas exporter.
So who are the companies that can profit from building out this new infrastructure? Here's a rundown of some of the candidates that are in the position to do so:
TC Pipelines (NYSE:TCP) - The Partnership has an ownership in terest in four natural gas interstate pipeline systems, capable of transporting approximately 5.6 billion cubic feed per day of natural gas. And with a P/E ratio under 15 and a dividend yield at a very nice 6.69% at the time of this writing, the dividend seekers and the value crowd should be interested here as well.
TransCanada Corp (NYSE:TRP) - TRP is heavily focused on pipelines, with natural gas pipelines accounting for 54% of its revenue in 2010. Its current P/E ratio is under 21 (just a tad below the average of the S&P 500) and it has a dividend yield of 3.93% at this time.
Kinder Morgan Energy Partners (NYSE:KMP) - KMP owns an interest in approxiamtely 28,000 miles of pipelines, and just spent $4.4 billion on a pipeline that goes from Wyoming to Ohio.
A contrary take on the case for pipeline bullishness comes from Keith Schaefer, who says that local demand obfuscates the need for these long pipelines. I'm not so sure about that, as I think the US transition towards becoming a natural gas exporter noted earlier is a dominant theme, consistent with the macroeconomic environment, that makes the pipeline/energy infrastructure play a thesis still on solid grounding.
With that said, I'm personally not taking a stake in this concept just yet. My main interest in natural gas and pipelines is to see how the development will impact opportunities in uranium and nuclear, which is my primary area of focus in the energy markets. If we see a significant price drop in this area based on some type of panic instead of a change in underlying fundamentals, though, I'll be inclined to re-visit this opportunity. And for investors with a focus on dividend income, I think this concept remains a viable one worth considering.
Disclosure: I have no positions in any stocks mentioned, and no plans to initiate any positions within the next 72 hours.