Apple (AAPL) was cofounded by the late visionary Steven Paul Jobs and has completely transformed every industry it operates in. The focus on innovation has made Apple one of the largest and best performing companies in the world. I have recommended option strategies for Apple since 2010 with tremendous results. For reference, please view the first and other articles in the series to fully understand the strategy and its strong potential returns.
As we enter the post-Jobs era, it is even more important to keep a close eye on your investment and execute care with your trades: since Jobs has passed the company's performance will be under a magnifying glass. Thus far Tim Cook has managed the Apple ship quite well but in such a dynamic industry, victory can be fleeting.

right click to enlarge
A brief recap of this week in Apple [Up $13.97 (3.1%)]:
Apple followed up last week's five percent stock price increase with another 3.1% this week to bring the two week tally to a staggering $36.15 share price increase. After briefly surpassing $460 on Friday the stock faced some resistance and towed-the-line up to the close before ending slightly under $460. The uncertainty at the close was likely partially due to the uncertainty regarding Motorola/Apple legal developments discussed below.
When either the Relative Strength Index (RSI) or Money Flow Index (MFI) reaches the gray bands it can be a signal that a stock is either overbought or oversold. RSI utilizes a 30-70 "normal band" while MFI utilizes a 20-80 band but the underlying theory is the same. The primary difference between the two metrics is that MFI incorporates the magnitude of the movement by including volume in the calculation. Using either the RSI or MFI in isolation is far from ideal (as you can see from the chart below you would have had at least three false RSI sell signs and one false MFI sell sign).
Using both metrics in conjunction can provide great insight into near-term price movements. While the RSI just cracked the overbought territory, the MFI exceeds 90 and was over 95 at 3 PM on Friday. For some perspective, it is unusual for a stock to enter the 90+ MFI territory or 80+ Again, this is no guarantee that Apple will decline but the signs are pointing towards a pullback after the phenomenal recent run to $430B market cap. To borrow one of my favorite Jim Cramer lines, "bulls make money, bears make money, pigs get slaughtered." I still fully stand behind my $500 near-term price target but as I stated last week, "I would not be surprised to see Apple have a minor correction before resuming its climb."

Apple could face added selling pressure as more news comes out of Germany related to Motorola's attempt to extract licensing fees from Apple. Motorola is seeking 2.25% of Apple's iPhone sales revenue from inception of the device which could amount to $2.08B. Apple will not go down without a fight as Steve Jobs stated that "I'm going to destroy Android, because it's a stolen product. I'm willing to go thermonuclear war on this." Now that Google (GOOG) is going to acquire Motorola, Apple will take these attacks extremely seriously and battle to maintain its supremacy over Android. I still think this is generally a distraction for Apple investors but it is certainly worth monitoring for any developments.
Below I present three possible scenarios and the potential returns for the Apple options. The first scenario represents a negative outlook for Apple while the final two scenarios are more reasonable. These scenarios are just projections and there is no guarantee that they will come to fruition. Even if you are optimistic it is important to generate both positive and negative circumstances in order to stress your assumptions. As a general rule, selling calls with higher strike prices has greater potential return but additional risk of loss due to the lower (or lack of) downside protection. For more information on the fundamentals of covered calls, consult Investopedia.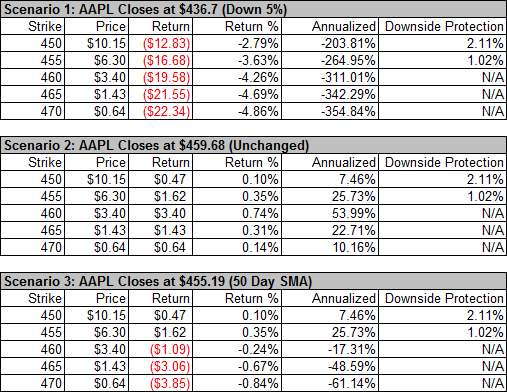 Additionally, if you would like even more information, I have prepared a sensitivity analysis for absolute return and percent returns, respectively. After studying the information above, these two charts make it easy to pick a strike price based on where you believe Apple will close at the end of the week. Estimate where you believe Apple will close and select the strike price with the highest return.

With this information, executing a buy-write on AAPL February 10 (Weekly) 460s is the optimal risk-return strategy. Please note that there is a higher probability of being called with these at-the-money options; therefore, you may wait to avoid them for tax purposes. Please consult with your accountant or personal financial planner. If you are uncomfortable with this strategy I suggest a buy-write 455s, 465s, or 470s.
Even if you are extremely bullish you can still profitably sell covered calls; Apple is volatile enough that you will have opportunities to repurchase on dips. An alternative approach is to sell out-of-the-money 450 puts and collect the premium without having to purchase the stock outright. Note that if the stock declines to the strike price, you are obligated to buy the stock (or closeout the position).