According to QQ Tech, Dangdang (NYSE:DANG) recently introduced two new updates in its iPhone app featuring a fashion recommendation engine and a book cover recognition function. The new updates will enhance shopping experience and solidify Dangdang's market leading position in online book sales, in my view.
The fashion recommendation engine, called "Hua Bao", features an intuitive interface that generates fashion ideas to the online shoppers, who can then obtain product information and make the purchase through Dangdang app. The app also provides recommendations on makeup and apparel combinations that best suits the shoppers' selections.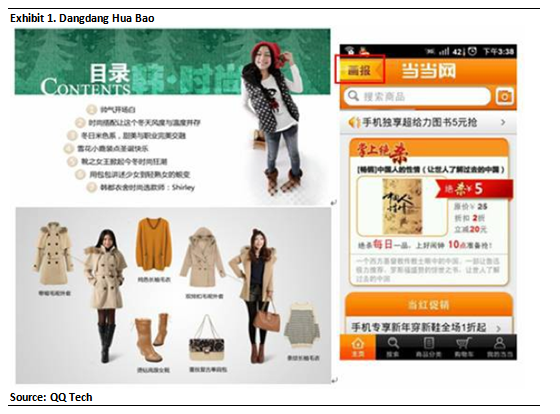 This update raises Dangdang's ecommerce platform to another level in which the company not only sells merchandise but also provides fashion ideas, apparel mix-and-match and cosmetic recommendations that encourage shoppers to make purchases. The platform is superior to that of Amazon (NASDAQ:AMZN) because Amazon.com only recommends the merchandise based on shoppers' viewing or purchasing history but does not provide the any insight on why the particular merchandise is relevant to the shoppers.
Dangdang's app platform greatly enhances shopping experience and will likely contribute to the strong momentum in merchandise sales that the company has been experiencing over the past several quarters.
right click to enlarge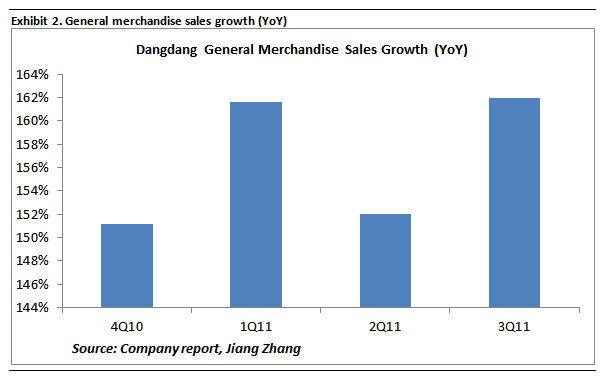 Mobile platform will be critical to Dangdang as it expands its brand awareness and expedite delivery services to the lower tier cities where the adoption of ecommerce is ramping up. According to MEC Global, ecommerce penetrations in Tier 3 and 4 cities have risen from 13% in 2007 to 23% in 2011. Spending power of female online shoppers in the lower tier cities increased 146% since 2009 compared to an increase of 45% among female online shoppers in the Tier 1 and 2 cities.
Because female online shoppers from the lower tier cities consist of younger demographics (20 - 29 years old vs. 20 - 39 years old in Tier 1 and 2 cities), 70% of female online shoppers of lower tier cities prefer to use mobile device for internet access and ecommerce. The younger demographics and rising spending power will likely drive further sales growth in general merchandise. I note that the top three shopping categories of the female online shoppers located in the lower tier cities are: 1) apparel/shoes/bags, 2) skincare/cosmetic/perfume, and 3) daily household consumables.
Another update in the Dangdang app is the book cover recognition feature that allows the user to take a snapshot of the book cover and instantly search for its availability on Dangdang's website via the mobile device. The app will then display the product information and the user can either purchase the product or save it for future purchase.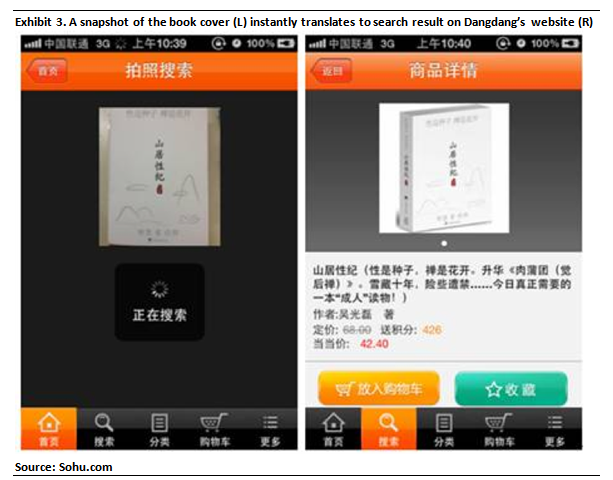 The book cover recognition feature allows Dangdang to maintain its leadership in online books and take market share away from traditional brick-and-mortar bookstores. As the company expands its same-day and next-day delivery services, consumers will likely purchase books via Dangdang app after seeing them in person at the bookstore because of the substantial saving and expedite delivery the company provides to the consumers.
Currently, Dangdang provides same-day shipping to 17 cities and next-day deliver to 72 cities as of 3Q11. I expect the company to continue ramp up its logistic services this year to improve shopping experience, expand product mix and take market share away from traditional merchandise and book stores.
Disclosure: I have no positions in any stocks mentioned, and no plans to initiate any positions within the next 72 hours.