This week has been a good one for equity investors, with several great data points being released. The U.S. unemployment report, which is one of the most widely followed market indicators, suggested surprisingly strong employment data. While analysts were expecting around 150,000 new jobs, the non-farm payroll employment rose by 243,000 in January.
That was not the only good news. The Bureau of Labor Statistics suggested that productivity was up by 0.7%, and wages rose by 1.2% in the last quarter. These catalysts pushed stocks to higher levels. The Dow Jones Index was back to pre-crisis level. It closed the day 156 points higher, up by 1.23%. Stocks ended the week with significant gains. In fact, several stocks made it to new highs in this week.
When we look at the sectors, financials were the best performers, followed by industrial companies, and technology stocks. The optimism over the Fed's expansionary monetary policy, and strong employment report, combined with the extended "January Effect," has pushed some stocks to overbought levels.
A stock is usually considered overbought when the relative strength index reaches above 70. That does not mean that these stocks are expensive stocks. I would rather consider them as momentum stocks, supported by short-term catalysts. Nevertheless, overbought stocks signal a red flag for contrarian investors. Here is a brief analysis of five stocks in the overbought territory. Let's see what is driving these stocks and whether they are still worth to consider after making significant gains recently.
ZYNGA (NASDAQ:ZNGA)
Zynga is the developer, marketer, and operator of several online social interaction games, which are available on several mainstream platforms. Its most popular games include Cityville, Farmville, and Mafia Wars. Established in 2007, the San Francisco-headquartered Zynga made a quick entry to the stock markets in 2011. Its IPO was initially priced at $10/share. But after high volume trading in the first few days, Zynga shares fell to $8 by January.
Click to enlarge: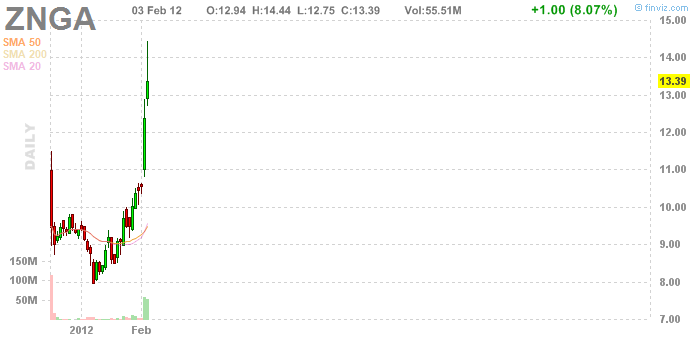 Since Facebook's (NASDAQ:FB) IPO talks started, Zynga initiated its upward move. The big jump in share prices came after Facebook's IPO prospectus hit the markets. The filing suggests that Zynga's activities constitute 12% of Facebook's revenues. It is also listed as the fastest growing segment among Facebook's revenue sources. Since Facebook is expected to be priced around $100 billion, based on revenue comparison, it would be fair to price Zynga around $12 billion. However, it is worth to note that both Zynga and Facebook are virtual companies, with not much real productivity. Their market valuations are way above the traditional fair value estimations. Their market caps are in huge bubbles that remind me of the technology bubble in late 90s. Zynga, a loss maker, is priced at 10 times its revenues. Its games are cool, and fun to play, but playing with Zynga stock can cost you a lot of money in the long-term.
Cemex, S.A.B de C.V. (NYSE:CX)
Cemex is one of the oldest and largest companies in Mexico. The Garza Garcia-headquartered Cemex was founded in 1906. The company produces, markets, and distributes cement, ready-mix concrete and other construction-related raw materials worldwide.
Click to enlarge: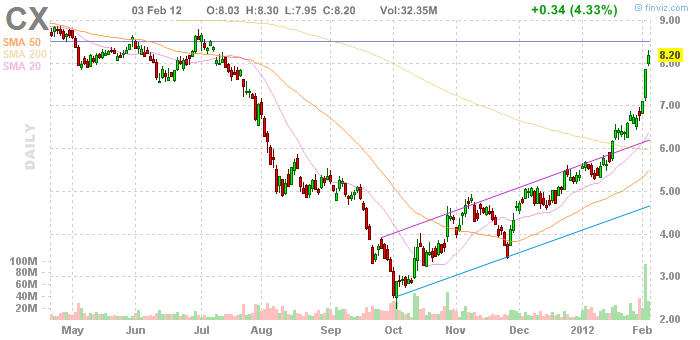 Cemex was among the loser stocks of the last year, but it is now in a strong upward momentum. Since October, the stock returned almost 220%. The year-to-date return of 52% suggests that the stock is in extremely overbought territory. Cemex is a cheap stock that is trading well below its book value. But after making significant gains in such a short period, I think the stock needs to cool down a bit.
Dell Company (NASDAQ:DELL)
Founded in 1984, Texas-headquartered Dell is among the largest retailers of computer and related technology components in the world. Dell generated sales of above $60 billion in the last four quarters. With a net profit margin of 5.92%, the company generated a net profit of $3.66 billion in the same period.
Click to enlarge: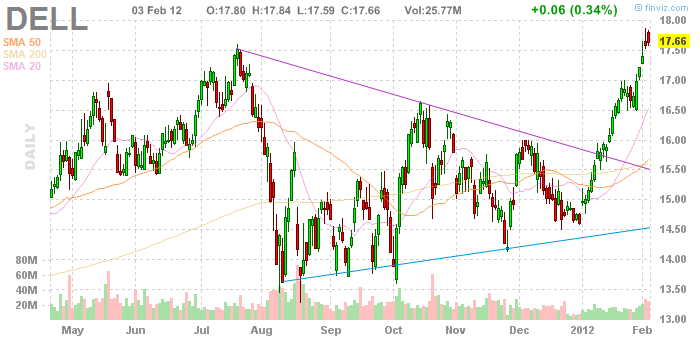 Dell recently broke its narrow trading range, and the stock is in a strong upward momentum. It returned 20.71% since January. Although Dell is in overbought territory with an RSI index of 78.5, I think the stock still has a lot of upside potential. It is trading at an attractive trailing P/E ratio of 9.15, and forward P/E ratio of 8.74. The price to free-cash-flow ratio of 7.05 is also among the lowest in the market. I rate Dell as a buy. While it is not as cheap as it was a month ago, Dell offers a good deal for investors.
General Motors (NYSE:GM)
General Motors was not just a loser; it was the disaster of 2011. Even after returning 30% in this year, the one-year return of -27% is highly disappointing.
Click to enlarge: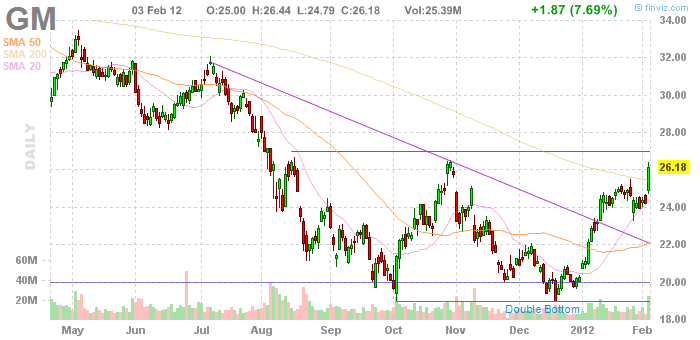 General Motors is one of the oldest automakers in the U.S. Established in 1908, GM survived several tough periods. However, the last financial crises took its toll on the company. The U.S. Treasury had to bail out the company. Right now, the government holds a stake of around 27%. That is one of the primary reasons that the stock is deeply undervalued. The possibility that the Treasury might engage in a secondary public offering puts significant pressure on the stock's valuation. Otherwise, GM is trading at a very attractive trailing P/E ratio of 5.9. Analysts' mean target price of $32.67 implies at least a 20% upside potential in the intermediate term.
Vale (NYSE:VAL)
The Brazilian Vale operates as a relatively diversified commodity producer. It is known as the world's largest miner of iron ore. However, that is not the only area Vale is involved in. The company is also a significant player in the fertilizer business, where it provides potash, phosphates, and nitrogen. In addition, Vale has a logistics business, where the company operates more than 10,000 kilometers of railroad infrastructure, and several seaport terminals.
Click to enlarge: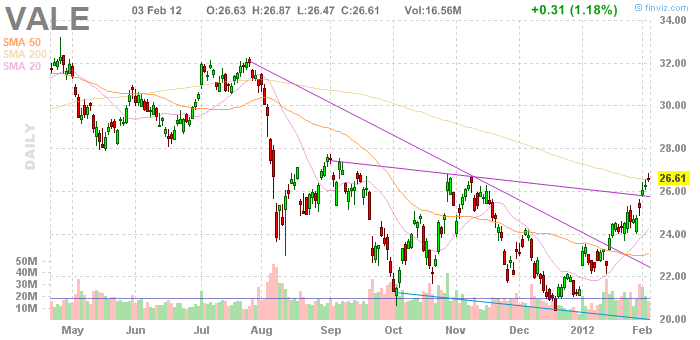 Vale is among my top commodity stock picks for strong income in 2012. The stock offers a yield of 7.2%. It is trading at a trailing P/E ratio of 5.85, whereas analysts estimate a forward P/E ratio of 6.79. The stock returned 24% this year, and it is still in solid upward momentum. I think Vale might test or even surpass its previous highs this year. It is also a good pick to play the global recovery, since the demand for Vale's products are highly cyclical.
Disclosure: I have no positions in any stocks mentioned, and no plans to initiate any positions within the next 72 hours.