The stock market continues to show impressive momentum to the upside, defying the constant top-calling by pundits. A big rally on Friday on strong volume sent stocks higher, allowing the Nasdaq to hit new 11-year highs. This rally is very strong and broad as stocks from multiple sectors are lifting higher. With so many stocks rising, it can sometimes be hard to find the gems in a mine full of coals.
Two key traits in spotting the best stocks are to look at stocks with strong Relative Strength to the overall market and then to make sure those stocks are sporting big growth on the top and bottom line. Strong earnings and strong sales are two of the most important characteristics when it comes to finding the best stocks in the stock market.
Following Friday's session, two of these stocks popped up on my scan for strong stocks with strong fundamentals. Let's take a look at both of these stocks, their respective fundamentals, and then their technicals to best enter a long position with a favorable risk/reward ratio.
Lithia Motors Inc.
The first stock on the list is one many may not be familiar with. Lithia Motors (NYSE:LAD). Lithia Motors is a Medford, Oregon operator of 84 car dealerships in 12 western states, offering 28 brands of new and used cars and light trucks.
Lithia Motors EPS growth has been on a tear, rising 900%, 23%, -10%, 800%, 313%, 100%, and 69% in the past seven quarters, respectively. Sales growth has been more consistent, growing 6%, 11%, 20%, 13%, 31%, 31%, 30%, and 29% the past eight quarters, respectively. This growth is expected to continue as 2012 annual EPS estimates are for a rise of 9% to $2.05 a share.
Lithia Motors sports a high (but normal for its industry) debt to shareholder equity of 84%, a cash flow of $1.60, and a return on equity of 8%. Value investors will like that it currently carries a P/E ratio of 14, which is in the lower end of the 5-year range of 8-96.
Management only owns 4% of the shares outstanding and while disappointing, it is not that important. What is important is mutual fund ownership. Mutual fund ownership has grown from 177 to 253 funds during the past six quarters. The growth in mutual fund ownership increases the odds that the stock will be supported during any meaningful pullback.
Lithia Motors is not the only stock in the Retail/Wholesale-Automobile industry group with strong EPS and sales growth as America's Car-Mart (NASDAQ:CRMT) also sports some impressive numbers. It is always good to have more than one stock with strong growth in a sector to help the stock produce large gains in a market uptrend.
Netgear Inc.
This next stock is a stock everyone is familiar with. Netgear (NASDAQ:NTGR). Netgear is a San Jose, California provider of wired and wireless networking devices for home users and small businesses.
Netgear is under some impressive growth, with EPS growing 586%, 999%, 999%, 45%, 29%, 35%, 71%, and 76% over the past eight quarters, respectively. Just as impressive, sales growth during this period has grown 36%, 39%, 35%, 38%, 18%, 32%, 49%, and 28%, respectively. Annual EPS estimates for 2011 and 2012 are for gains of 56% and 3%, respectively, compared to the year before.
Netgear does not carry any debt to shareholder equity, sports a return on equity of 14%, a cash flow of $1.98, an EPS growth rate of 2%, and spends 4.4% of sales on R&D. Value investors will find the stock attractive as its P/E ratio of 16 is in the lower end of its 5-year range of 8-118.
Just like Lithia Motors, Netgear's management only own 4% of the shares outstanding. More importantly, mutual fund ownership has increased from 311 to 363 funds the past six quarters. These new funds will be more than willing to support Netgear on any pullback it may have during this uptrend.
Netgear also comes with some strong company in its Computer-Networking industry group as Procera Networks (NYSEMKT:PKT) and Allot Communications (NASDAQ:ALLT) also carry incredibly strong EPS and sales growth.
Fundamentals are the most important item in my trading arsenal, when it comes to selecting which stocks I want to put large amount of funds to work. However, buying on fundamentals alone is foolish and borderline dangerous. To find the optimal entry points to maximize our risk/reward, we must use technical analysis.
Both stocks had very strong breakouts on Friday but are too extended to be considered safe purchases at current levels. I would like to see Netgear and Lithia Motors pull back to their 50 day moving averages (white line on upper panel) on low volume and then attempt a heavy volume bounce off this key support area. If this trade sets up, I would have no problem taking new long positions. My final cut loss area would then be with a close below the 50 day moving average as I hate losing money.
Click to enlarge: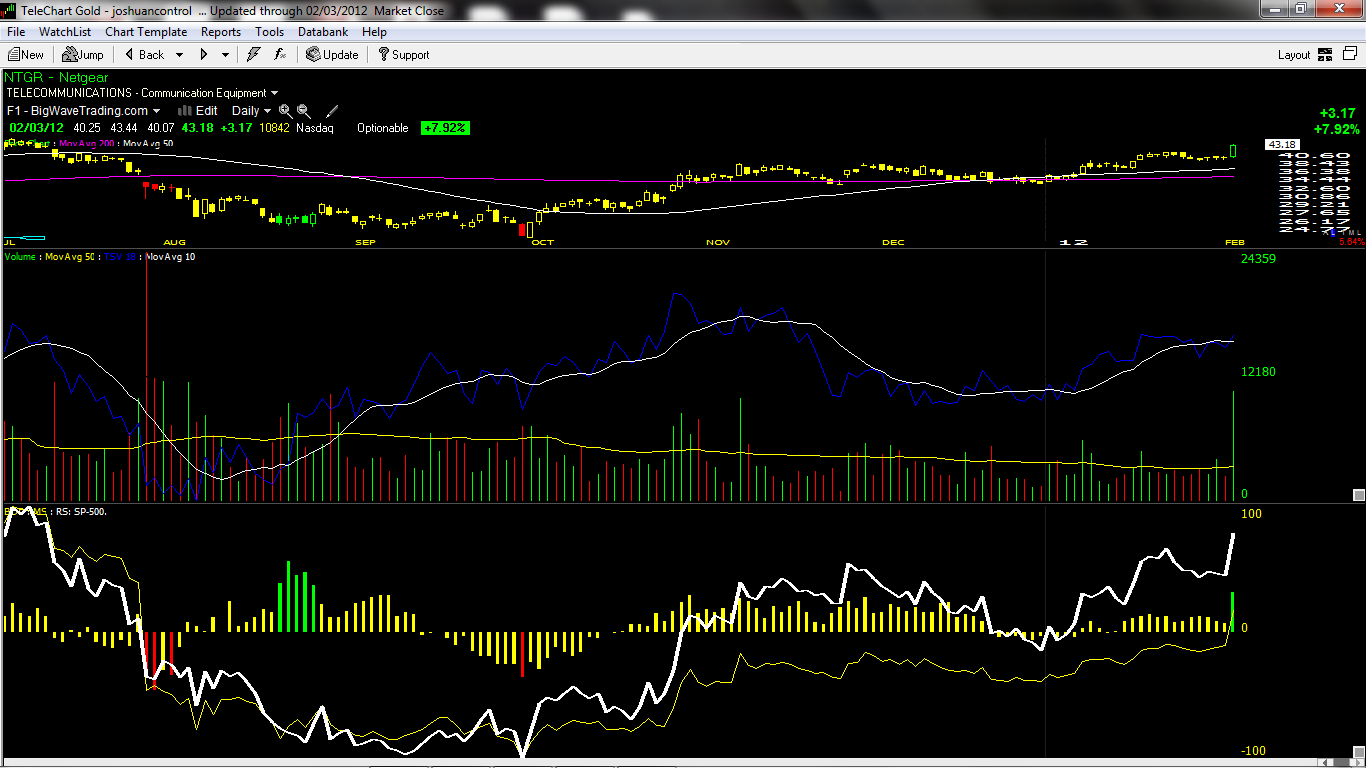 Click to enlarge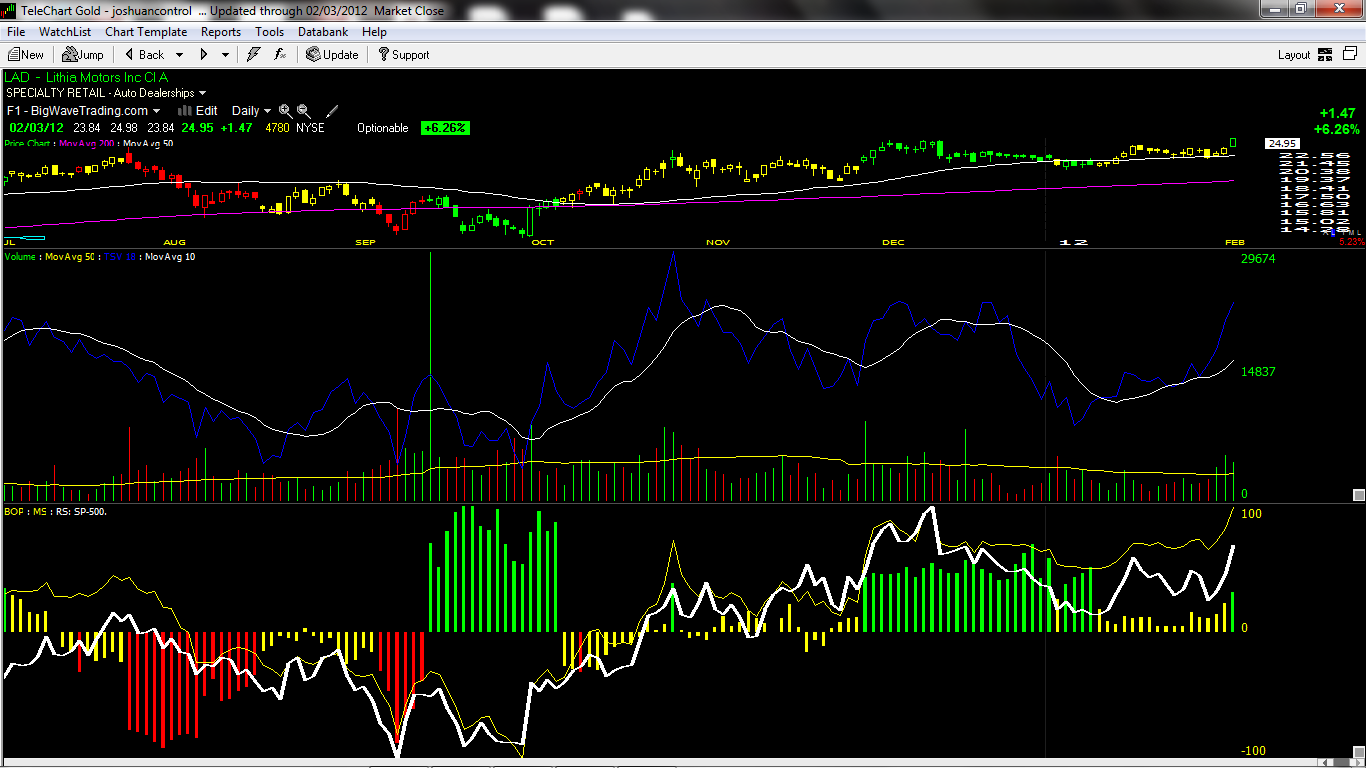 Click to enlarge
Longer-term investors, if you can handle the ups and downs of the stock market, you should be rewarded significantly as long as both companies continue to produce big growth numbers on the top and bottom line.
Disclosure: I am long CRMT.
Additional disclosure: I have no positions in NTGR, LAD but may initiate a long position over the next 72 hours. I receive no compensation to write about any specific stock, sector or theme.