To trade an ETF portfolio successfully, everything depends on correctly interpreting the trends of the market. Whole industries have evolved to cater to investors' propensities in the field of market analysis.
Over years of participating and studying the market, I have developed a three chart combo which I call the Troika. Please refer to these three Troika charts and note that for my method I'm using the S&P 500 as a proxy for the market, as it reacts to the either bullish or bearish configurations of the bull trend Direxion 3x large cap BGU, and the bear trend Direxion 3x large cap BGZ.
Also note that the trend of each index and thereby the market depends on the either bullish or bearish configurations of its yellow 10 day, red 20 day and green 50 day moving averages. I use the same method of deciphering bullish or bearish configurations of indexes, sectors and of course ETFs.
You can see by these charts that from last August to the beginning of October the bull trend index along with the S&P 500 was hitting bottom, while the bear trend index was flying high. Note the bullish MA lines for the bears, and the bearish MA lines for the bulls and the S&P Index.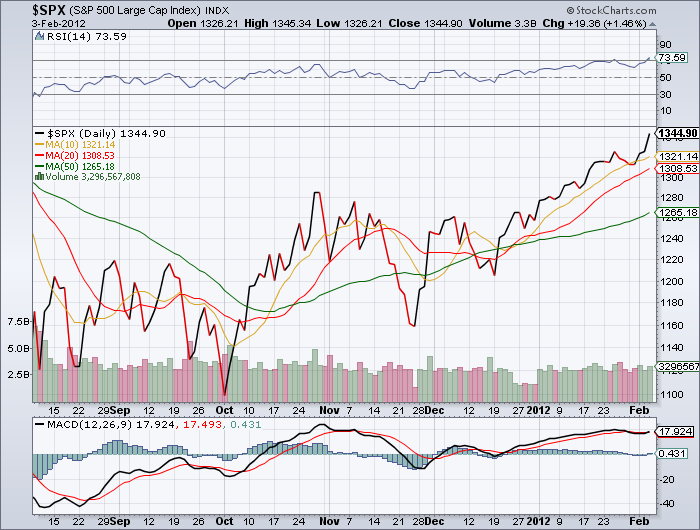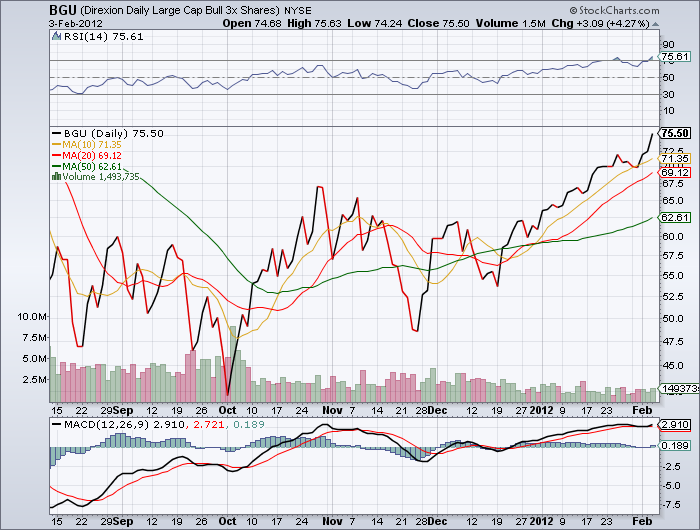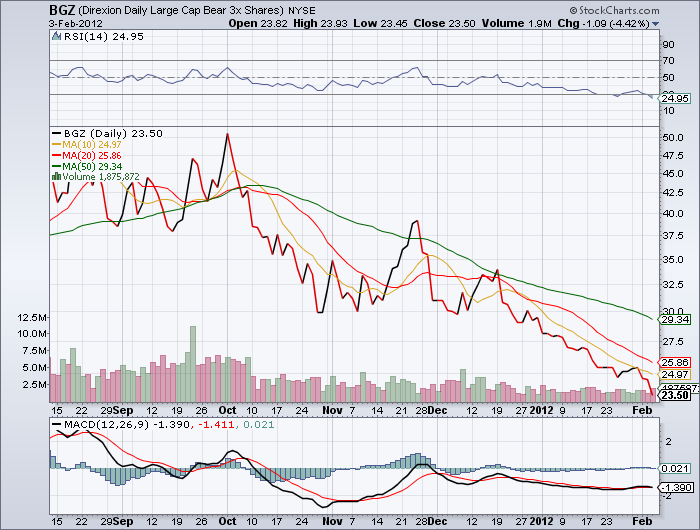 But by the middle of December these configurations and trends reversed so that now the bear is stuck in a deep hole at the bottom of a deep pit and thereby out of commission, while the S&P 500 and the bull trend are flying high, and had themselves a nice rally this Friday, February 3 with the DOW breaking through its highest close since May 2008.
But in this process the market became fairly overbought, a bit top heavy and in need for some retrenchment and consolidation. What is also supportive for the bull trend in the market are the S&P 500 MACD relative momentum index, and the RSI relative strength indicator, both of which are solidly in bullish territory.
All in all, the market finds itself at an inflection point from which it can go either way. Bullish market strategists are calling it the end of the beginning for a major market advance. Bearish strategists are calling it the beginning of the end for the current rally.
But for as long as this Troika maintains its bullish configurations, the Bulls have it. We'll see.
Disclosure: I have no positions in any stocks mentioned, and no plans to initiate any positions within the next 72 hours.