We'd like to look at a relatively under-covered potential value play from both a fundamental and technical perspective. La-Z-Boy (NYSE:LZB) is made up of three segments, the profitable upholstery segment, the case goods segment (think hutches, tables, chairs, etc.) and the super unprofitable retail segment. Two years removed from a complete miss in numbers attributed to the recession, LZB has the appearance of an improved company.
Strengths
La-Z-Boy brand name is known for quality.
Operating income has improved to over $15M (6 months ending 10/29/11) from $3.7M last year.
Average price paid in recent buyback of $8.30 is well below current market price. This shows us that management has the ability to recognize a value opportunity for current shareholders and can act on it.
Weaknesses
EPS improvement is almost completely due to tax loss carry forward.
Margins are already slim and a rise in commodity costs will cut into the bottom line. If the economy/housing does not rebound, LZB could experience serious losses that may damage the stock price.
It seems like the more we read about the furniture business the more it sounds like the clothing business, but with much higher upfront costs and greater risks. This seems like an industry to avoid completely as there is no true "moat" one company can create.
Opportunities
The case goods segment has seen decent growth in the face of a horrible recession. Could this business eventually be as valuable as the upholstery segment?
Threats
Commodity prices - major components of products are steel, wood and cotton.
The economy, housing and the ability of people and businesses to obtain credit.
While the retail business is losing less money than it has in the past, the case goods segment sales are down compared to last year. The company's upholstery segment should continue to keep the others afloat and if the economy comes back and housing turns a corner, it won't matter how bad management is running the company, La-Z-Boy will manage to post decent numbers and should continue to trade similar to the overall market.
Worst Case Scenario
The economy enters another recession and management continues to repurchase shares instead of investing in stores. $5.11 per share
Best Case Scenario
Interest rates remain low, US economy picks up and commodities don't go higher. $15.31 per share
Looking at LZB's technical picture, price has been in a strong uptrend since October and has convincingly broken through the highs of 2011. While the strong trend remains intact, overheated momentum indicators may be signaling a pause before any significantly higher levels are reached.
The weekly chart shows LZB closing at or above the previous high of $11.84 (May 2011) for the last five weeks. With a doubling of price since the early October low and the RSI in overbought territory, a short term pullback seems likely.
Chart 1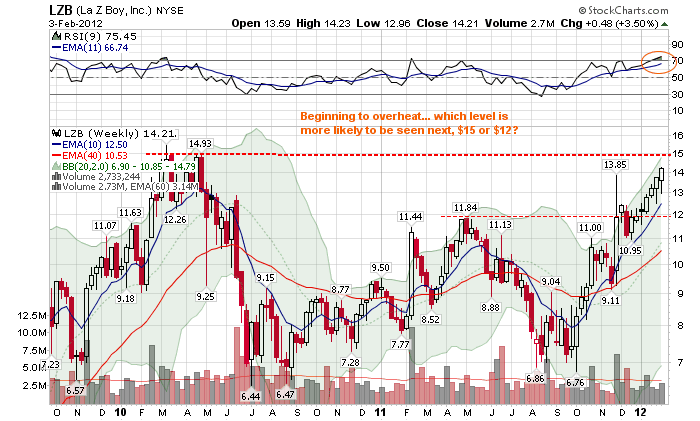 Looking at the shorter term daily chart, we see the same strong uptrend begun in October consisting of a series of resistance breaks that subsequently held as support. With the RSI signaling a bearish divergence, it's unlikely that LZB pushes much higher before a meaningful pullback causes a break of the trendline and a retest of the former resistance level.
Chart 2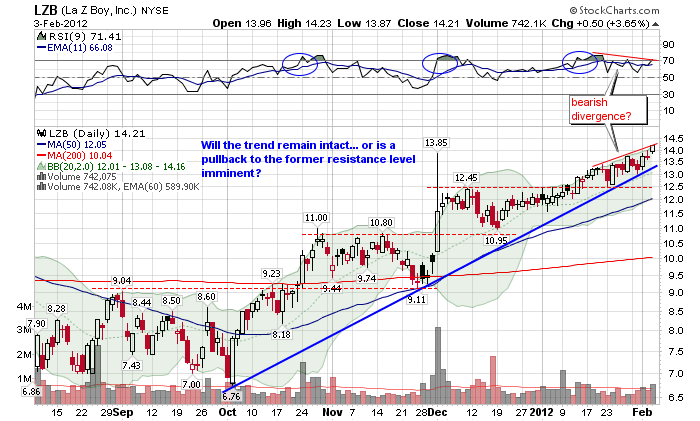 As LZB has been following the broader market's trend since its upturn in October, for any relative outperformance to occur, it would likely be with the tailwinds of a continued market uptrend and possibly the catalyst of marked improvement in the employment and housing markets. While both weekly and daily trend and momentum indicators remain in bullish territory, their current levels seem to signal an impending pullback (a possible range of support lies between $11.84 and $12.45). If current conditions persist, one possible scenario sees prices drift higher with the broader market, possibly even to the aforementioned upside target of $15.31, before heading lower.
While bearish in the short term due to these overheated and deteriorating technical conditions, a longer term bearish outlook is based on a better than seven year stretch with little to no activity above the $15-level - a level that seems like it may be tough to break through and sustain without some notable change in the business or industry or sustained improvement in relevant macroeconomic factors.
Disclosure: I have no positions in any stocks mentioned, and no plans to initiate any positions within the next 72 hours.