I'm hoping to get into the habit of writing a "Back of the Envelope" analysis weekly. Every week (hopefully!) i'll be featuring two similar companies, and quickly showing why any rational investor should prefer one over the other.
The popularity of the PEG ratio has dampened it's usefulness, but the idea of comparing value to growth is one that will always be useful. Simply dividing P/E by ROE, however, is not sufficient going forward. Sophisticated investors know the importance of top-line growth, as well as cash flow. Also, PEG comparisons taken statically provide no insight into which investment is truly superior. Looking at past performance and consistency of results is also necessary in order to separate the winners form the losers.
With that said, let's see this weeks comparison of two Canadian Media Companies:
Astral Media (OTC:AAIAF)
TV segment includes The Movie Network, HBO Canada, Super ECRAN, CINE POP, M PIX, Family, Disney Junior, Canal Vie, Canal D, Z TELE, HISTORIA, VRAK TV, Disney HD, MUSIQUEPLUS.COM, MUSIMAX.COM, TELETOON, and TELETOON RETRO. Founded in 1946.
and
Corus Entertainment (OTCPK:CJREF)
Its television assets include the kids services YTV, Treehouse, Nickelodeon, TELETOON, TELETOON Retro and the Nelvana content business channels; W Network, Cosmopolitan TV, Oprah Winfrey Network and W Movies, CMT, Sundance Channel, DUSK, and Telelatino for the women's services; and Movie Central and that provide pay TV services.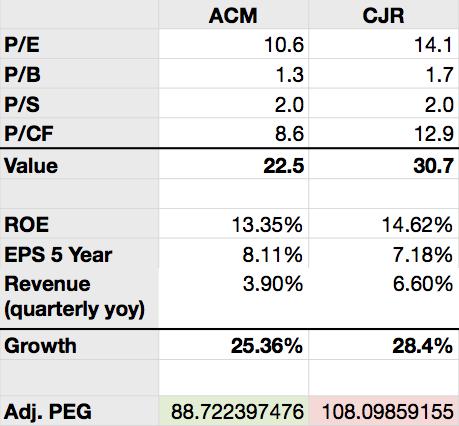 The above is an adjusted PEG to include more than just P/E and ROE. The numbers don't matter too much, what does is the difference between the companies. As with a regular PEG, lower is better, and this indicates prima facie that Astral is a sounder investment.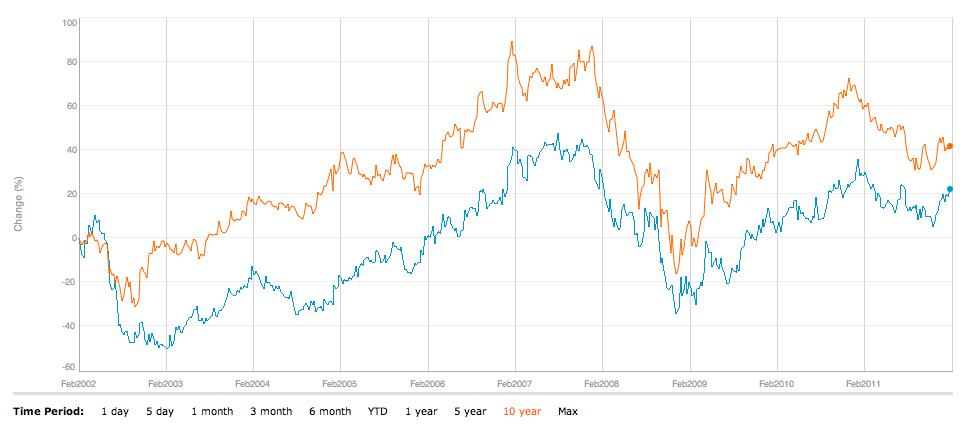 Click to enlarge
(Click to enlarge)
Astral is in the orange-red and Corus in blue. Ben Graham said that in the long run the market is a weighing machine, and in the short term a voting machine. The above chart indicates that Astral is the natural outperformer as weighed by the market.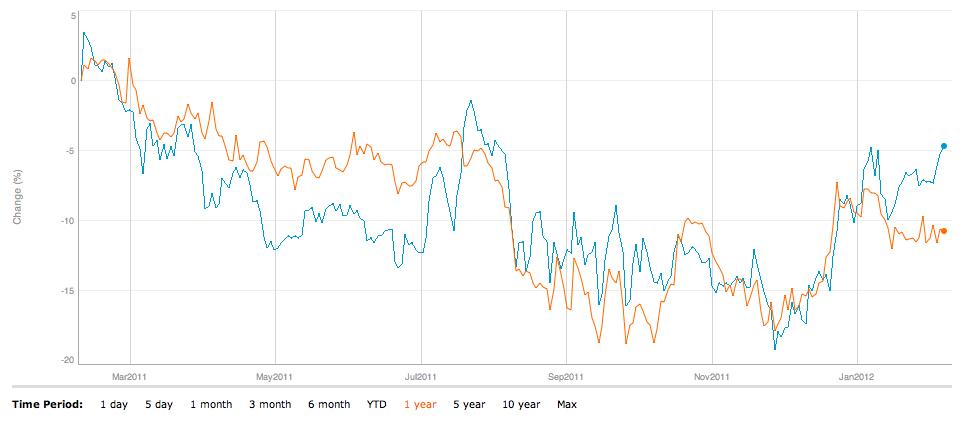 Click to enlarge
(Click to enlarge)
The above chart is on a one year time frame. Corus has closed the gap and now commands over a 5% premium to Astral; the market is voting differently than it usually weighs, so should we buy the trend or is Astral undervalued?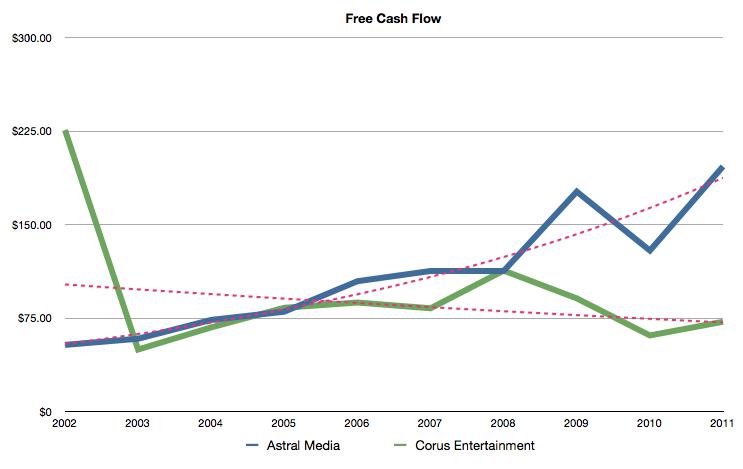 Click to enlarge
(Click to enlarge)
This is the most important chart (in my view) for the quickest analysis of any company. Astral has a far better FCF track record, explaining its historical market premium. In fact, Corus is trending negatively (in terms of free cash flow generation) over the past century. Astral, on the other hand, has a FCF yield over 10%. But what is the market paying RIGHT NOW for this past success?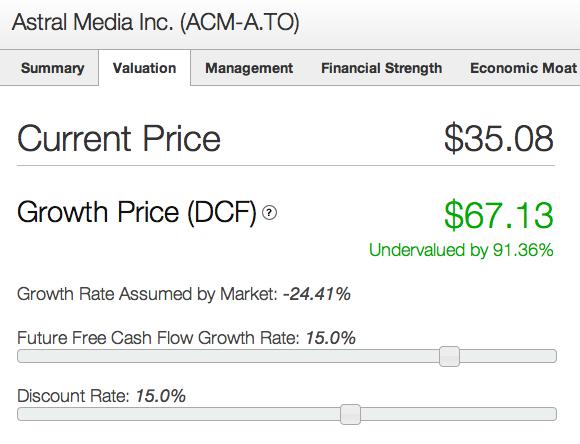 Click to enlarge
(Click to enlarge)
Pretty cheap. A 15% discount rate is a lot higher than most use as well, so I don't have to be too skeptical of the results. Maybe we don't get 15% FCF growth, but even 0% growth gives a price of $48.31 (over 37% upside). This is very good stuff, but how much is the market willing to pay for Corus' subpar track record?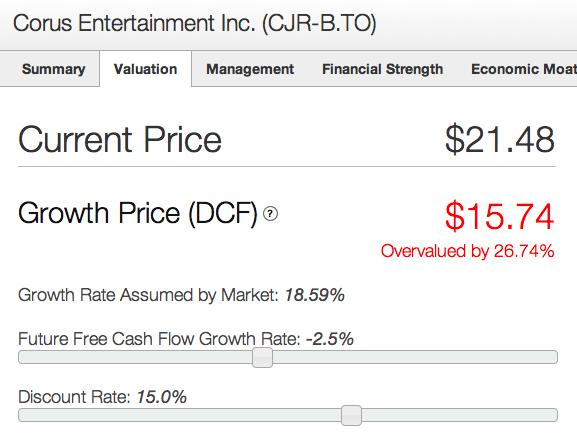 Click to enlarge
(Click to enlarge)
Well the market has itself backwards - it's paying more for the loser and less for the winner. I love when I spot these. I see examples like Corus everyday, the Astral's are a lot harder to find. I was over the moon when I found Dolby Laboratories (NYSE:DLB) in Astral's situation, bought in at $29 late last year, and can watch it at around $38 today. Just one example of course, but same strategy.
By no means does this mean you should just do this and invest in every company that seems to fit this strategy - end of the day you have to buy a business, not a bunch of charts. That being said, the numbers are the scorecard, and in a quick 10 minutes, I can comfortably recommend Astral over Corus and would feel comfortable owning the former.
Disclosure: I have no positions in any stocks mentioned, and no plans to initiate any positions within the next 72 hours.