India ETF products have started 2012 with outstanding performance gaining between 22 - 45%. Now it appears this performance may be positively affecting the 20+ India focused ETF products that are filed but have not launched yet.
This past Friday a new ETF, the 11th India ETP listed in the U.S., was launched by global ETF leader iShares. The iShares MSCI India Index Fund (BATS:INDA) owns around 70 of the largest and most liquid names listed on all Indian exchanges. Specifically the MSCI India index, which INDA tracks, focuses on companies whose market capitalization represents the top 85% of all Indian equities. At an expense ratio of 65bps, INDA becomes the least expensive India ETF available in the U.S. market. Here's a top holdings and sector breakdown from the iShares INDA fact card.

Click to enlarge
(Click to enlarge)
One item of note is the large amount of financial exposure INDA has at inception.
iShares existing India ETF offering, the iShares S&P India Nifty 50 Index Fund (NASDAQ:INDY), is priced higher at 89bps and tracks the S&P CNX Nifty Index which is comprised of 50 companies listed on the National Stock Exchange (NSE). Here is a top holdings and sector break down from iShares INDY fact sheet.

Click to enlarge
(Click to enlarge)
INDY is less concentrated by sector than INDA.
Fundamentally, there is a big difference between the indexes in terms of price to earnings (P/E) and price to book (P/B) ratios. This may be one of the reasons INDA was launched by iShares, as it is superior in both categories.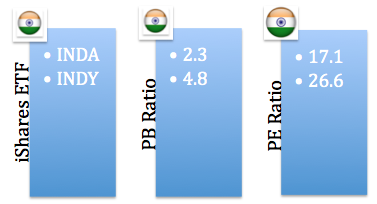 INDA is superior in both measures.
Overall it appears iShares has upgraded its offerings with the launch of INDA as it has superior fundamentals, tracks an index that selects from a broader universe of securities, and is priced about 35% less than INDY. INDY however will still remain attractive to some investors who value its large asset base and more concentrated nature.
The launch of INDA should signal more India ETF launches as a variety of products from firms like Direxion, EG Shares and iShares have been filed. These products cover areas including new India sectors and the first India fixed income ETF. In addition, iShares deployment of aggressive pricing with INDA signals lower expense ratios should be ahead for India ETFs - great news for investors.
Disclosure: I have no positions in any stocks mentioned, and no plans to initiate any positions within the next 72 hours.