Shares of PROLOR Biotech, Inc. (NYSEMKT:PBTH) have been on the move since we told readers about the company in January and jumped another 5.2% this past week.

The biopharmaceutical company which utilizes patented technology to develop longer-acting, proprietary versions of already approved therapeutic proteins led gains on the Bloomberg Israel-U.S. Index in January with a 45 percent surge after dropping 34 percent last year.
Just days after we told our premium subscribers that we were hearing positive clinical data chatter from various analysts and others at healthcare conferences in San Francisco, the company announced positive top-line results from their pilot study of their Long-Acting Human Growth Hormone Injected Twice Per Month. Dr. Avri Havron, Chief Executive Officer of PROLOR was very encouraged by the findings and hinted that hGH-CTP can potentially provide a safe and effective new therapeutic option for adults with growth hormone deficiency when injected once-weekly, versus the daily injections of conventional hGH that are currently required.
"The results from this new pilot study indicate that hGH-CTP may be able to achieve an even better administration regimen-requiring injections just twice per month," said Dr. Havron. "This is encouraging news for growth hormone deficient patients who would like to minimize their injection regimen."
We aren't the only ones we continue to expect some very positive developments from this company. Earlier in the week, Raghuram Selvaraju, Ph.D.-- an analyst at Morgan Joseph TriArtisan reminded clients that they would be well-advised to take note of PROLOR's recent progress and the prospects for future appreciation of the stock given the achievement of several notable near-term milestones. Selvaraju reiterated his firm's Buy rating and 12-month price target of $16.00 on PROLOR shares.
I continue to agree with the analyst that PROLOR continues to represent a compelling investment in the life sciences sector. They are taking a substantially risk-mitigated approach to drug development, focusing on validated targets and making improvements to existing drugs. We would not be surprised to see PROLOR's value continuing to rise, especially in the eyes of Big Pharma entities like Teva Pharmaceutical Industries Ltd. (NASDAQ:TEVA).
PROLOR is 21 percent owned by Teva's Chairman Philip Frost and there is little doubt that may come into play for PROLOR's valuation as more data and study results from key are revealed going forward.
Keep in mind also that Teva announced recently that Jeremy Levin, formerly of drugmaker Bristol-Myers Squibb Co. (NYSE:BMY), would be joining the firm as its CEO. Investors have been concerned that Teva's U.S.-traded shares plunged 23 percent last year, the most since 2006 and that the Big Pharma needs to find new sources of revenue.
"Levin's background will enable Teva to buy companies like Prolor that would fold particularly well with the company," Selvaraju told Bloomberg last week.
In recent weeks, speculators have been making a dash for shares of another company which appears to be on Teva's radar screen as well.
Even following their recent financing, there has been substantial volume and a surprisingly considerable number of big block buys for shares of Cel-Sci (CVM)-- a big board listed firm in Phase III trials with their immunotherapeutic agent, Multikine®, which is being developed as a potential first-line treatment for advanced primary head and neck cancer. Our sense is that the overhang from the most recent financing, plus the expiration of some old warrants over the weekend may finally allow the stock to start breathing after all the recent volume and consolidation.
Early in January, as volume was rising -- following reports that clinicians involved in the study were seeing positive, albeit anecdotal results in early patient dosings -- we advised our premium subscribers to set stop losses in case a financing was in the works. It was only logical to us that the firm would raise much needed capital and true to form as most biotechs do, Cel-Sci took advantage of the price action and volume to raise $5.76 million. Investors do credit them for being careful to structure their registered direct offering with an institutional investor in favorable terms only a few cents below their trading price and with warrants priced above current market prices.
As mentioned previously, Teva expanded their licensing deal with Cel-Sci in the fall in order to add two more countries (Croatia and Serbia) in which the firm can market Multikine®. Teva already owns an exclusive license to Multikine® in Israel and Turkey while CEL-SCI has retained the key European and U.S. markets.
Real data changes everything for these biotechs and we will continue watching for further developments for these two.
In the end, as analysts point out, the intrinsic value for a company and their product candidates is calculated based upon the size of the market, projected peak penetration rate, competitive landscape, probability of approval based on publicly available clinical data and other factors including length of patent term protection. So long as these biotechs keep performing and meeting key milestones, their shares should continue to appreciate in value.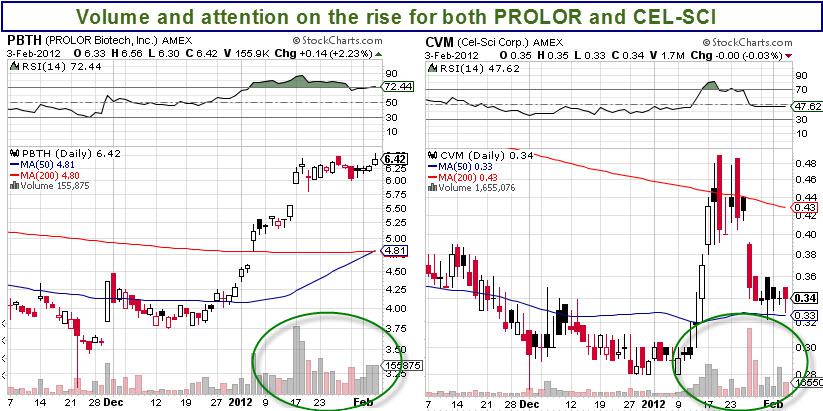 Click to enlarge
(Click to enlarge)
Disclosure: I have no positions in any stocks mentioned, and no plans to initiate any positions within the next 72 hours.