India ETF products and markets gained between 5% - 8% this past week as Indian stocks advanced for the fifth week in a row. Year to date India ETFs have rallied from their 2011 December lows and returned between 22% - 45%. Here's the one year of the S&P CNX Nifty Index showing the uptick in performance in 2012.
India has rallied in 2012 but is still below 2011 highs.
Despite the strong rally in 2012, Indian markets have only reached the middling highs of October 2011. April of 2011 saw market levels more than 10% higher. This is a sign Indian markets have more room to move upward in the short term.
Indian markets are awash in positive news of late. Decreased inflation and the recent decision by the Reserve Bank of India (RBI) to decrease the cash reserve ratio for banks has fueled the expectation of interest rate reductions. India's current interest rate of 8.5% is extremely high relative to most nations. In fact India's 8.5% interest rate level is 25bps higher than the troubled Middle Eastern country of Egypt. This interest rate policy has been in place to combat inflation risks but now many believe the larger risk to address is the slowdown in India's GDP growth. Here's the chart comparing various Asia Pacific interest rates from fxstreet.com.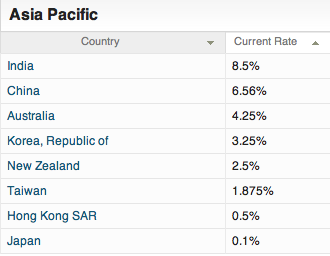 (Click to enlarge)
India leads the region in interest rates for now.
Speculation is growing that the RBI could cut rates as much as 2 - 3% in the coming months, releasing much needed liquidity into the system while reducing borrowing costs for businesses and investors.
Besides the slowdown in inflation and the potential for interest rate cuts - or likely due in part to those factors - Foreign Institutional Investment (FII) has become a positive force in Indian markets. Last year's net outflows from FII over $348 million dollars, pulled the markets down. This year has been a total reversal to the tune of over $2 billion in FII inflows in January alone, according to The Times of India. In stark contrast, January of 2011 saw outflows of $1 billion. This infusion of capital into Indian markets is propelling valuations upward across the board.
India ETFs with a small cap bias continue to experience the steepest ascent. This past week alone small cap India ETFs like Market Vectors' SCIF and EG Shares' SCIN were up over 8% a piece. For the year SCIN is the second best performing India ETF up 38%, while SCIF leads the pack with a sizzling 45% gain. It should be noted that both of these ETFs were off significantly over the last year however, and are still well below their one year highs. Here's the performance chart for both ETFs over the last year from Yahoo Finance.
Both ETFs lead the pack but have lost money over the last year.
The large cap focused and largest India ETFs in terms of assets, WisdomTree's EPI and PowerShares' PIN have experienced solid gains of 31% and 24% respectively. What is unusual about their lag in performance versus small cap ETFs is that the beginning of rallies in Indian markets has most often favored large caps initially. It has only been late in the rallies that small caps have traditionally outperformed. This current rally has been different as immediately the small cap ETFs outperformed the large cap ETFs. Some believe this is a sign that this rally has considerable life to it. Here's the performance chart of all India ETF products from IndiaETFs.com.
Small Cap India ETFs continue to lead 2012 India ETF performance.
A new India ETF launched this past week and is not included in the above chart. INDA, the iShares MSCI India Index ETF launched on the BATS exchange on Friday and will be included in next week's update. The most significant aspect of this ETF is that it is now the least expensive way to access India at 65bps. This is significantly lower than the previous peer group expense ratio low of 83bps. INDA is iShares second India ETF offering and selects its portfolio from a broader universe than INDY.
Going forward India appears to have positive momentum from internal and foreign investment. Chief risks remain any internal data that may slow or halt the sentiment that interest rates are likely to be cut soon. Specifically a surprising inflation number could cause a sharp pull back. The markets are expecting rate cuts soon and are beginning to price this in. Externally, the EU debt crisis must continue to simmer and not boil over. This has allowed investors to assume a "risk on" posture which benefits India significantly in terms of market and currency valuations. Should the EU crisis begin to boil or overflow, investors will flood into "risk off" positions which would severely diminish Indian market and currency valuations from current levels.
Disclosure: I have no positions in any stocks mentioned, and no plans to initiate any positions within the next 72 hours.