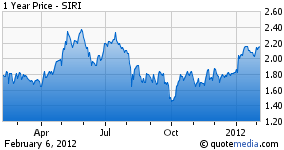 I love Sirius XM (NASDAQ:SIRI) and I think that everyone knows this as I have been for quite some time its unabashed cheerleader. Seeing as the market continues to trend higher as the economy improves there is more evidence to suggest that this will undoubtedly be the best year for auto sales and thus translate to increased subscribers for the company. This is why it saddens me to announce that I will sell the stock today ahead of its earnings report on Thursday February 9. Even though I feel that the stock is heading to $2.50, its recent pattern over the past couple of weeks have caused me to turn "lukewarm" on the likelihood that more upside is possible in the near term.
What if I'm wrong?
This is the question that I have been grappling with for quite some time and the risk that I am now willing to take. The reason is simply that the market has told investors over the past several weeks (by virtue of its $2.18 resistance price point) that the stock is now fairly valued. But this is not to be interpreted as the insult that some may perceive it to be.
In a recent article regarding Sirius, I gave you the good news as well as the bad news - in which I pointed out that the median analyst target for the stock was $2.35. But what we need to understand is that the target is on a 12-month projection and not leading into its current earnings announcement - this is a distinction that many Sirius investors fail to make. But that is not to say that it is impossible for the stock to rise post earnings on any possible shared surprise by its CEO, Mel Karmazin. In fact there are potentially numerous catalysts for this. But I'm just betting that all of the good news has already been priced in. And I am not afraid to be wrong on this.
"A no-brainer"
So with the stock currently trading at (let's just say) between $2.10 and $2.18 over the past several week with a few dips under the low target a few times, the question is how much more near term upside can there be if the high target is only 7.7 percent away from the media target of $2.35? Again $2.35 is a number projected out to 12 months. So during the course of the next 11 months Sirius' fair market value should appreciate by only 7.7 percent? This doesn't make sense does it?
What this means is that with $2.35 being the target, analyst expect the stock to fluctuate within a certain range during the 11 month period and with the possibility of falling below $2.00 a couple of more times during that period. The argument is going to be, "well Cameron if you are a long term investor, this does not matter." This is a fair point and I am in agreement. But for an investor (such as I) with a cost basis of $1.47, selling between $2.12 and $2.15 or (for that matter) even at $2.10 represents a pretty significant gain. And when you add the possibility of buying lower and at the same time increasing your shares, this is a no-brainer.
Taking a walk
In 2011, baseball was the theme for Sirius XM. The company went up to bat three times and remarkably, it recorded a hat trick by hitting three solo shots out of the park. My concern for the upcoming announcement on Thursday is that the company may not even take the bat off its shoulders and instead takes a free pass to first base. But again, this is far from striking out. My theory is this, the company has a long history of under-promising so it can over-deliver. Clearly this worked well in 2011, but I just don't think that this M.O. will be as effective going forward.
I was lauded recently for making this suggestion but I continue to think that if Sirius wants to become the market darling that many of its investors think it should be, it needs to start giving Wall Street what it wants. Until it shows that it can do that on a regular basis, hitting majestic home runs in "small stadiums" will be perceived on Wall Street as … well … hitting majestic home runs is small stadiums.
Summary
In closing, consensus estimate are at 1.5 million net subscribers for 2012 and coming from someone that appreciates both the good and the bad, I am eager to see if the company will low-ball guidance as has been the norm? With several of the auto manufactures - namely Ford (NYSE:F) having reported stellar earnings as well as positive outlooks it will be hard to this time to receive from Sirius guidance that does not align with projected auto sales.
For the stock, I think that any projection at 1.5 or below will likely send the shares lower. But any other nuggets regarding stock buyback, dividends or unknown projects may not only stabilize it, but send it higher. As I've said before, I remain bullish on the company long-term and feel that its prospect for this year is outstanding. But for a stock that rarely trades on fundamentals, I'm deciding to take my gains now - even at the risk of leaving a lot on the table.
Disclosure: I am long SIRI. Author may sell his position in SIRI at any time.