Hong Kong is one of the best parts of China to invest in. The government has a very good budget, essentially no debt (5% debt to GDP). Unemployment is lowest since 1998 (3.5% unemployment). Population is growing and production is growing. Hong Kong has a current account surplus. Down payments are very high on real estate (as high as 50% -pdf).
The Centa City Lead Index, which tracks the secondary private residential property price in Hong Kong is still in an uptrend, despite some weakness in 2011. Many articles out there predict Hong Kong property could fall 25%. I mean, we could have some setbacks, but the upside future is still intact.
(Click charts to expand)
To benefit from these good prospects there are some real estate companies that are a good buy at this moment, of which two are recommended:
Sun Hung Kai Properties (OTCPK:SUHJY)
Cheung Kong Limited (CHEUY.PK)
Of these two I highly recommend Sun Hung Kai Properties. This company is strong in Hong Kong and also has property in China: Shanghai, Beijing. So let's look at the Shanghai property index. The one-year chart looks like it's bottoming out and coincides with the Bernanke speech on keeping interest rates at zero until 2014. This event is not to be underestimated as people will rush out of the U.S. dollar to buy real assets like real estate in emerging markets. As interest rates will stay low for a long time, the real estate markets around the world will benefit from this.
The long-term chart of Sun Hung Kai Properties is bottoming out and correlates very well with the Shanghai Property Index chart. Technically, the trend is looking very good. Sun Hung Kai Properties is currently under book value (P/B = 0.9), which means it's good value and it pays out a dividend of 3%. Its P/E ratio is only at 5.86.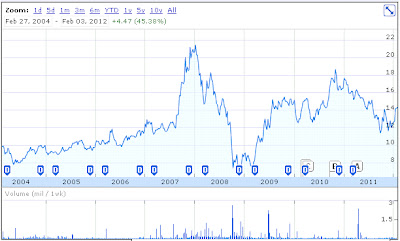 Sun Hung Kai Properties SUHJY
And last but not least: Marc Faber bought Sun Hung Kai Properties at the end of last year as disclosed in this video.
Disclosure: I am long OTCPK:SUHJY.