On January 18, I wrote a 2 part article giving a quick pick biopharma buy and sell list. Over 2 weeks later, we will revisit some of the original picks and commentary, then see how some of these picks are panning out. Furthermore, I will give an honest grade on my picks and offer further analysis and changes to my picks where warranted.
Human Genome Sciences (HGSI), PPS: $8.52
Human Genome Sciences Inc. operates as a biopharmaceutical company. Its principal products in development include Benlysta, for systemic lupus erythematosus; and raxibacumab, for inhalation anthrax.
Opinion: Buy HGSI for a swing trade.
HGSI is Coming off a recent 17% move up. 50 day MA is $7.74, 200 MA is $13. Chart suggests move up to near 200 day MA.
Results so far for HGSI: As of 2/3/11, pps $10.16.
Genome's lead drug, Benlysta, administered subcutaneously once weekly to autoantibody-positive adults with active systemic lupus erythematosus, may see better than expected sales for 2012. Goldman Sachs might need to revise its 268 million target sales upwards to over 280 million. Benlysta was co-created with GlaxoSmithKline (NYSE:GSK), so I expect Glaxo to benefit as well.
The chart technical;s have proven to be a correct indicator so far: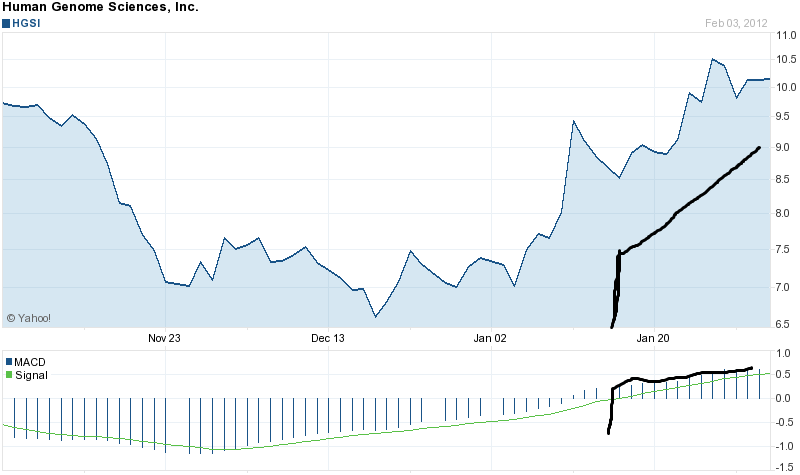 The vertical mark on the chart is where I made the call to buy HGSI.
Grade: A-
So far this pick is on course, as I pegged it a swing trade based on technical indicators, notwithstanding possibly better than expected revenue from Benlysta.
Arena Pharmaceuticals (NASDAQ:ARNA), PPS: $1.63
Arena Pharmaceuticals is a clinical-stage biopharmaceutical company that engages in discovering, developing, and commercializing oral drugs in the therapeutic areas of cardiovascular, central nervous system, inflammatory, and metabolic diseases.
Opinion: Sell ARNA
Arena is losing close to $1 a share and faces a big 2nd FDA decision on their drug Lorcaserin, which was rejected in 2009. The FDA gave a response letter back in 09 and ARNA resubmitted the drug application. Too risky to be buying this right now. Expect the FDA decision in June of this year. Consider a short term buy closer to the FDA decision.
Results so far for Arena: As of 2/3/11, pps $1.87.
Grade: F
This was a bad call from me and will likely continue to be a bad call. Although Arena is currently losing money, an FDA approval on Lorcaserin should turn this around. Arena appears to have done their homework this time around, so I expect Lorcaserin to receive approval. Lorcaserin is a weight-loss drug that has serotonergic properties and acts as an anorectic. If this drug proves to be successful, Arena will fly high.
I am admitting failure on this call and turning my call bullish. Arena might be a 3-bagger this year, if not more.
Vivus Inc. (NASDAQ:VVUS), PPS: $12.19
Vivus Inc. engages in the development and commercialization of therapeutic drugs for under-served markets worldwide. The company focuses on developing drug candidates for the treatment of obesity and related morbidities, such as sleep apnea, diabetes, and men's sexual health.
Opinion: Buy VVUS
Revive, their drug in Phase 3 clinical, has recently shown to be effective in treating erectile dysfunction. This is a major development (no pun intended), and if results continue to be good, VVUS will be sitting on a potential goldmine.
Results so far for VVUS: As of 2/3/11, pps $12.47.
There have been some collar trades occurring on VVUS. A collar trade is low-cost hedge for a shareholder via the option chain of the stock; 10,000 February 11 puts for $0.55 and the sale of an equal number of February 14 calls for $0.32. The current pps level may see some resistance and a push to the downside is possible before the stock goes much higher. The recent collar trades seem to suggest some investors are weary of possible downside risk in VVUS.
Grade: B
Anytime a company has an erectile dysfunction drug that shows the results of Revive, it's big, but consider the recent collar trade information.
Idenix Pharmaceuticals (NASDAQ:IDIX), PPS: $13.64
Idenix Pharmaceuticals Inc. engages in the discovery and development of drugs for the treatment of human viral diseases in the United States and Europe. Its primary research and development focus is on the treatment of patients with hepatitis C virus.
Opinion: Buy IDIX only if pps retraces back to the $8-9 level; otherwise stay away or short it.
IDIX on Jan. 9, 2012, gaped up $2.73, opening at $9.77. The shares have more than doubled since Jan. 7 when Bristol-Myers Squibb Co. (NYSE:BMY) said it would pay about $2.5 billion in cash for Inhibitex, a rival in a possible $20 billion hepatitis C market. Pharmasset (VRUS), the maker of another experimental treatment for the virus, agreed on Nov. 21 to be acquired by Gilead Sciences Inc. (NASDAQ:GILD) for $10.8 billion.
Major pharmaceuticals, fearing patent expirations for their aging blockbusters, have been buying promising bio-techs at a strong pace lately. IDIX is being speculated as one such biotech for a buy-out. It's never a good idea to buy a company simply on a possible buyout. If the rumor does not come to fruition, you will be left holding a heavy bag.
Results so far for Idenix: As of 2/3/11, pps $11.68 ($11.51 after hours)
Grade: B
Part of my call was to buy it at the $8-9 level; the other part was to short it or stay away. If you shorted it from 13.64 you have made yourself a very nice gain.
Gilead Sciences recently released new data that GS-7977, its own hepatitis-C drug, when combined with ribavirin, completely eliminated the hep-C virus in genotype 1 hep-C patients after four weeks. IDX-184, Idenix's lead hepatitis-C drug candidate could be dead on arrival if Gilead's data continues to show favorable for their drug.
I am revising my opinion on Idenix as I consider it a good short now to the $8-9 level, taking out my former buy call at that range.
Inhibitex Inc. (NASDAQ:INHX), PPS: $24.83
Inhibitex, Inc. focuses on the development of differentiated anti-infective products to prevent or treat serious infections. It primarily focuses to treat shingles caused by the varicella zoster virus and chronic infections caused by hepatitis C virus.
Opinion: Sell INXH
Bristol-Myers Squibb said it would pay about $2.5 billion in cash for Inhibitex. At $24.83 a share as of this writing, the pps is just too high. I look for shorts to come in here at these levels and bring the pps down to a more reasonable level to around $23.00, a 5 to 10 percent cut off premium buy out price.
Results so far for Inhibitex: As of 2/3/11, pps $25.74.
Grade: F
My prior commentary on this one was short-sighted and idiotic, to say the least. However, you should be selling it if you bought the stock at the much lower levels before the buy-out was announced rather than waiting for the deal to close. One never can be certain that the deal will go through as planned. It is highly unlikely Inhibitex will see the $23 level again unless the deal falls apart, which is also unlikely. My new opinion on this one is neutral.
Amarin (NASDAQ:AMRN), PPS: $7.68
Amarin Corporation Plc, a clinical-stage biopharmaceutical company, focuses on developing treatments for cardiovascular diseases.
Opinion: Day Trade it to the long side. (buy side)
This one is a tough call for me. The company history clearly shows constant missed self proclaimed projections, money burn, and not much of anything significantly positive lately. However, the stock has a high beta, which makes it a nice day trader. Consider day trading this one, and don't hold shares overnight. Any hint of bad news can cause a massive gap down overnight into the next trading session.
Results so far for Amarin: as of 2/3/11, pps $8.79.
Grade: A
My analysis of this one has been correct so far. Day trading Amarin to the long side has been very profitable, as we can see from the historical prices below:
| Date | Open | High | Low | Close | Volume | Adj Close* |
| --- | --- | --- | --- | --- | --- | --- |
| Feb 3, 2012 | 9.00 | 9.09 | 8.66 | 8.79 | 2,919,900 | 8.79 |
| Feb 2, 2012 | 9.00 | 9.05 | 8.77 | 8.83 | 2,384,500 | 8.83 |
| Feb 1, 2012 | 8.24 | 8.87 | 8.10 | 8.86 | 4,139,900 | 8.86 |
| Jan 31, 2012 | 8.34 | 8.35 | 8.10 | 8.16 | 1,381,500 | 8.16 |
| Jan 30, 2012 | 7.77 | 8.29 | 7.73 | 8.28 | 1,993,000 | 8.28 |
| Jan 27, 2012 | 7.70 | 8.09 | 7.55 | 7.93 | 1,890,100 | 7.93 |
| Jan 26, 2012 | 8.27 | 8.28 | 7.72 | 7.83 | 2,762,500 | 7.83 |
| Jan 25, 2012 | 8.07 | 8.43 | 7.92 | 8.21 | 3,754,800 | 8.21 |
| Jan 24, 2012 | 8.32 | 8.35 | 7.79 | 8.09 | 2,984,700 | 8.09 |
| Jan 23, 2012 | 8.21 | 8.41 | 8.15 | 8.37 | 1,887,400 | 8.37 |
| Jan 20, 2012 | 8.55 | 8.71 | 8.13 | 8.26 | 2,528,300 | 8.26 |
| Jan 19, 2012 | 8.36 | 9.00 | 8.28 | 8.55 | 5,340,200 | 8.55 |
| Jan 18, 2012 | 7.65 | 8.40 | 7.57 | 8.39 | 4,930,800 | 8.39 |
Amarin might be a good but very risky long term hold as the consensus analyst 12-month price target is $25, with the highest estimate being $26. Amarin's recent run-up has been generated by the two pivotal phase III data-reads for AMR-101 and the potential that the company will be acquired. The 52 week high of $19.87 on May 31, 2011 might very well be revisited again as the PDUFA date of July 26, 2012 for AMR-101 draws close and buy-out rumors continue. I still maintain that management needs to be more conservative with how they relate to the investment world. Nevertheless, Amarin is a very high risk, very high reward buy and hold investment.
Antares Pharma (AIS), PPS: $2.20
Antares Pharma, a pharmaceutical company, focuses on self-injection pharmaceutical products and technologies, and topical gel-based products.
Opinion: strong long term buy and hold
Antares announced on 1/17/11, a new royalty deal for their recently FDA approved Anturol, with a Korean Pharma. Antares already has a deal with Watson Pharma (WPI) as a partner who will market the drug in the USA and Canada.
Obviously I am bias towards Antares because I own a good amount of shares in the company. I bought Antares because I believe in the long term prospects, fundamentals, and management of this company. I believe once any savvy investor does the deeper DD on Antares, they will agree with me and buy and hold it for the long term.
Results so far for Antares: as of 2/3/11, pps $2.68.
Grade: A
Antares is receiving its just attention from savvy and patient investors as the pps has been rallying lately from $2.20 to $2.70 on increased volume. Rumor is that there is a single large short stuck in Antares because their computer trading system misread the sell off on Dec. 15th, 2011 and shorted near the level where the pps hit an intra-day low of $1.51, after the news of Biosante's (BPAX) failed Libigel efficacy data results. In my opinion, part of the Antares pps action lately is from this possible short position trying to churn out of their position trading both sides of the stock.
Antares does not have an option chain, so any short position has no real hedge. Therefore, shorting Antares is very foolish, as the stock is also in constant RegSho violation. The SEC tends to take notice when a stock continually shows up on the RegSho list.
The Antares 2011 10k is expected on March 12, 2012, and I have been informed by the company CEO Dr. Paul Wotton, that Antares is in an "quiet period" at this time.
The quiet period would not exclude any material press release such as news of a deal with a large pharma for NestraGel, which is a rub on birth control gel that has finished phase 2 clinical. Any such news of a deal for NestraGel should nicely gap the pps upwards. Antares VIBEX MTX has great money making potential as well, as I noted in these articles, here and here.
I expect the pps of Antares to be near the 3.25 range right before the 10k release in March. If earnings surprise to the upside, a move to $4 is not out of the question. An earnings suprise to the downside however would likely see Antares back below $2.50. I highly doubt this will be the case, but one never knows.
A quick self grading on most of my other picks:
Acorda (ACOR)
Grade: B- Acorda is somewhat adhering to my analysis. I recommend it for a mid to long term investment.
Questcore (QCOR)
Grade C+ My pick and analysis should win out in the long run on Questcore. A good mid to long term investment in my opinion.
IntelGenx Corp (IGXT.OB)
Grade: B. This is one of the most undervalued stocks I have ever seen. I suggest investors do deep due diligence on IntelGenx.
Disclosure: I am long AIS.
Additional disclosure: This article is for informational and entertainment purposes only and should not be construed as professional investment advice. Always do your own complete due diligence before buying or selling any stock.