BioSante Pharmaceuticals, Inc. (BPAX) has been on one heck of a wild ride over the last three months, with its stock trading as high as $2.66 and as low as $0.38. The after-hours session announcement of the company's highly disappointing LibiGel phase III results sent the stock spiraling to less than 50 cents a share, as though it had already packed its bags for a move to the pink sheets. Those that have completely counted BioSante out as a potentially relevant and successful commercial enterprise may be way off the mark.
3-Month Chart
(Click to enlarge images)
Shares of BPAX have rebounded by more than 94% from their December 19th low of $0.38, to where it closed on Friday at $0.74. Some chartists and technical traders have taken note of the fact that, at $0.74, the stock is on the verge of another leg up, with no real resistance until $2.01.
What will get BPAX back over $2.00?
CEO Stephen Simes from a company letter to shareholders:
We are committed to rebuilding BioSante in order to maximize value for our company and stockholders. Although we are disappointed about the recently reported LibiGel clinical efficacy results, we are optimistic about the future of BioSante. We thank our employees and stockholders for their loyalty and understanding.
Part of the "rebuilding" process entails Bio-T-Gel, which is a male testosterone gel NDA that was submitted to the FDA by Bio-T-Gel's very wealthy licensee, Teva Pharmaceuticals (NYSE:TEVA) in the first quarter of 2011. The FDA assigned a PDUFA date for the company's lead product candidate of February 14, 2012, which really means that final decisions on approval and, potentially, labeling could come at any time now. The US market for male testosterone products is $1.2B and the license agreement between BioSante and Teva for Bio-T-Gel is as follows:
An upfront payment of $1.5M paid to BioSante by Teva
Certain milestones and royalties on sales of the product
Teva is responsible under the terms of the agreement for continued development, regulatory filings and all manufacturing and marketing associated with the product.
While there is much debate and speculation about how the FDA will rule on Bio-T-Gel, there are many investors, myself included, that believe the FDA will approve it based on the efficacy and safety profiles as detailed in the company's many trial results and studies. It also doesn't hurt any that somewhat of a precedent has been set by the FDA, as the regulatory agency has already approved testosterone gels that are currently on the market.
When you combine a favorable FDA decision with the stock's current technicals, and then factor in the 18.80M share-strong short position as of 01/13/12, you have a recipe for a very strong upward break-out that could turn into a full-blown, multi-day short-squeeze with the potential to take out the $2.01 resistance level and keep going.
Furthermore, when considering the company's future, one shouldn't discount the fact that BioSante has a promising product candidate portfolio, as it currently has 17 Phase I and Phase II clinical studies, of which, many are being conducted at Johns Hopkins Sidney Kimmel Comprehensive Cancer Center.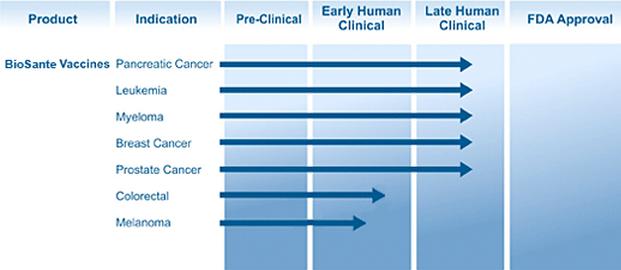 I must admit that after the LibiGel issues, I had nearly written the company off, but after taking a closer look and then taking all of the above into consideration, I realized you are not looking at a down-and-out company when you look at BioSante, rather a company whose stock has the potential to double in share price in the very near future, as well as a company that is moving into a new chapter of its young story -- perhaps a story that will develop into one of success, prosperity and durability.
Disclosure: I have no positions in any stocks mentioned, but may initiate a long position in BPAX over the next 72 hours.