In the past decade, e-commerce has overtaken brick and mortar electronic stores in market share and left only one standing, Best Buy (NYSE:BBY). The question is whether this decade will mark the time when Best Buy becomes obsolete and unsustainable. Many believe that Amazon (NASDAQ:AMZN), the internet's largest retailer, is the culprit for the fall of Circuit City in the last decade and will be the fall of Best Buy this decade. Though this holds a level of validity, the rise of Amazon is not the only reason for Best Buy's lackluster future. A changing consumer and a changing marketplace are responsible for the rise of internet shopping and the fall of technology stores. The fundamental flaws within Best Buy's business model are what have caused the financial downgrade of the stock and its poor market performance. For Best Buy to truly succeed, the company needs to show the consumer that it possesses a strategic advantage. The problem is, that advantage seems to be unknown.
Let's explore on a fundamental level why Best Buy is failing:
'Self-inflicted wounds'
In the company's 2011 annual report it stated:
We believe our dedicated and knowledgeable people, store and online experience, broad product assortment, distinct store formats and brand marketing strategies differentiate us from our competitors by positioning our stores and Web sites as the preferred destination for new technology and entertainment products in a fun and informative shopping environment.
The problem is that most consumers do not see Best Buy stores, customer service, pricing or convenience as being up to the standards they receive on the internet. Larry Dowes, a Forbes blogger, did an extensive report on why Best Buy is gradually heading toward bankruptcy. His analysis is so simple and fundamental, but at the same time encompasses the root of Best Buy's problem:
Best Buy's wounds are self inflicted… Many retailers have struggled to make the transition; some have fallen on their swords along the way. So far, Best Buy fails on every measure.
The advantage of having good locations is diminishing in the face of e-commerce
In the 1980's, the only way to obtain a product was to walk into the nearest store and pick it up. In the 1990's, mail order began to take hold and people began buying clothes, certain food items, and other CPG products via mail. What happened in the first decade of the 20th century, though, is what changed the landscape of retail forever: The internet. This created a new option to purchase goods, but in the early days it did not compare to what Best Buy or Circuit City could provide. Shipping, communication, and service all provided Best Buy with a strategic advantage that Amazon or Google (NASDAQ:GOOG) could not match. At the same time that Best Buy was resting upon its laurels, the internet retailers were just beginning their task of creating an online environment that could deliver the service of a retail store. Amazon, for example, implemented:
Free shipping on large purchases

A large staff of workers who could provide support for shoppers

An online community that could discuss what products were the best

A supply chain that worked without fail

Prices that were lower than retail outlets due to lower overhead
The fruits of this work are only taking hold now and being fully realized by a large percentage of consumers. As technology within everyday lives increase with the advent of the smartphone and tablet, these advantages become more pronounced and strip the old advantage of "location is everything" away from Best Buy.
Click to enlarge: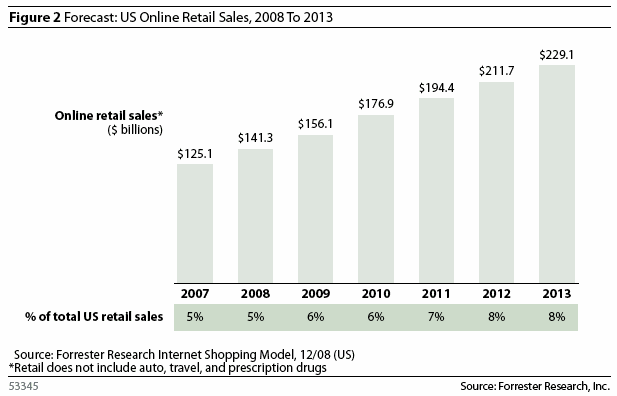 (Forrester Research)
Out of touch with the consumer
A few days before this past Christmas, Best Buy contacted 30,000 customers who were awaiting product and told them that due to stocking issues, their items were not going to arrive in time. This is the type of business practice that is enough to kill any retailer. To make matters worse, it took Best Buy CEO Brian Dunn almost three weeks to write an apology (after Downes' extensive report) that went further than deflecting blame and admitted the company was in the wrong:
The cancellation of some internet orders just before Christmas was our fault, and it's not representative of how we EVER want to treat our customers. I'll spare you the technical explanation of how and why it happened, but we know we did not deliver a good experience and we're truly sorry. We've worked to make amends with customers whose holidays were made less happy because of our mistake, and we're working diligently to make sure it doesn't happen again.
The problem lies in the fact that this occurred and it is one more reason why Best Buy is not satisfying the needs of its customers in the way that Amazon and other internet retailers are. With Amazon's supply chain, this does not occur, ever. If Best Buy is unable to differentiate and take advantage of its retail stores, the costs associated with such a business model will ultimately fail.
Is Radio Shack (NYSE:RSH) Best Buy's Crystal Ball?
Radio Shack reported dismal fourth quarter earnings this past week, which reinvigorated fears that electronics stores will fall this decade. Radio Shack shares fell nearly 30% the day the disconcerting earnings were released and Best Buy decreased 5% on fears that Radio Shack could be a sign of the times and may represent Best Buy in 10 years. Radio Shack has also struggled with its image and marketing plan, something that Best Buy may begin to struggle with due to the company's apparent inability to garner increased sales in a time when electronics spending is increasing. Robert Hunt of American Marketing Association said:
They've [Radio Shack] just got this whole conglomeration of offerings from mobile phones to remote control cars. It's just vague. It's confusing as to what they are really focused on.
The chart below illustrates that if Best Buy is unable to turn around its perception and value in the eyes of the consumer, Best Buy's chart may look ominously similar in just a few years.
Click to enlarge:
Net Profit Margin: Retail is a very low margin industry where volume is necessary to keep costs from eating away the bottom line. Best Buy's current net profit margin is 2.2%. This marks an area of extreme concern for investors in the long-term because, as analyst Charly Travers warns,
it doesn't take much of a swing in sales to really crash your profits. If sales decrease even slightly, the time to dump the stock may have already passed.
Momentum Downward: The stock has declined 31.81% in the past 52 weeks, while the S&P 500 has increased 1.96%. This is an incredible divergence of performance and illustrates the cycle that Best Buy could be entering. Although the stock is at a near 2 year low, the risk is too high for new lows to continue to be created due to a cycle to the downside that brought Best Buy's largest rival, Circuit City, to Chapter 11 Bankruptcy.
Click to enlarge: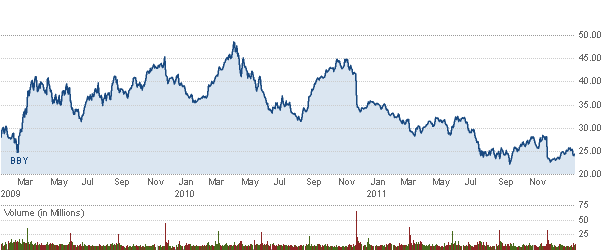 Shares Short: The company currently has about 12% of its shares shorted, marking poor investor sentiment on the retailers future. Due to the decline in earnings over the past several quarters, it is not likely that these shares will need to be covered. This opens room for further shorting, which will most definitely bring the company closer to being a repeat of Circuit City.
Conclusion: Between Best Buy's fundamental business flaws and its vulnerability to take a substantial hit in sales due to rising competition, Best Buy has a high risk of moving to the downside and making new lows a new reality. Unless substantial changes take place within Best Buy, where positive differentiations from Amazon and other competitors occur, Best Buy is poised to gradually decline over the coming years. This is not a company to hold out hope for, the warning signs are quite visible.
Disclosure: I have no positions in any stocks mentioned, and no plans to initiate any positions within the next 72 hours.