The one-year downtrend in industrial metals may be over.
Base metals are on the rebound after trending lower for all of 2011. Prices sold off amid global economic slowdown worries and the eurozone sovereign debt crisis. Now as those concerns abate, naturally, prices are recovering.
The outlook for the Chinese economy, in particular, has been of utmost importance for the sector. The People's Bank of China tightened monetary policy through much of 2010 and 2011. The benchmark one-year lending rate was raised from 5.31 percent to 6.56 percent, while the reserve requirement ratio was increased from 15.5 percent to a record 21.5 percent, before being cut by 50 basis points late last year.
As expected, the tighter monetary conditions slowed the world's fastest-growing major economy. Gross domestic product in the fourth quarter grew by only 8.9 percent year-over-year, the slowest rate since the second quarter of 2009.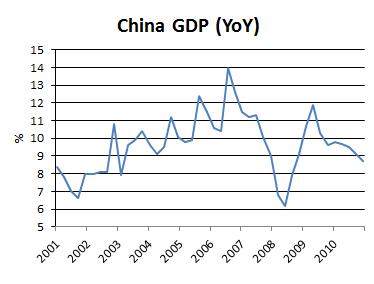 Meanwhile, China's PMI manufacturing gauge fell below 50 in November for the first time since February 2009. It has since rebounded to slightly more than 50.
Nevertheless, industrial metals — which had been pricing in a slowdown in China — have rebounded this month as traders speculate that officials in the country will be successful in reinvigorating economic growth.
After raising interest rates and reserve requirement ratios for almost a year, China has ample room to loosen monetary policy from here, especially as inflation has cooled. The consumer price index grew by only 4.1 percent in December, the slowest rate in more than a year.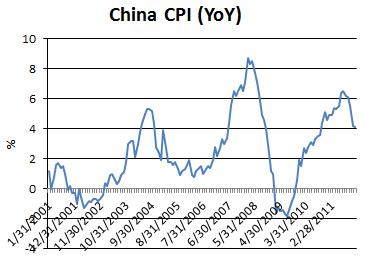 At the same time, economic conditions in the U.S. and even the eurozone have improved. In turn, we see copper at a four-month high and the other industrial metals following suit to the upside.
Can the rally continue? We believe so. The worst of the eurozone sovereign debt crisis has passed, and economic indicators in China and the United States are trending up. Moreover, copper inventories in LME-monitored warehouses have fallen below the five-year average, indicating a tightening in market fundamentals. That bodes well for a continued push higher in prices, with copper potentially surpassing $9,000/mt ($4.08/lb) in the coming weeks and months.